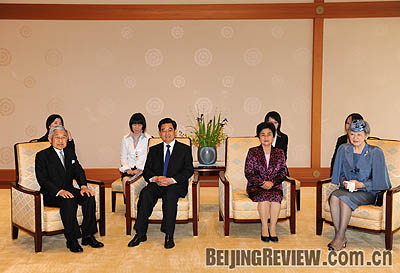 ROYAL MEETING: Visiting Chinese President Hu Jintao and his wife Liu Yongqing talk with Japanese Emperor Akihito and Empress Michiko in Tokyo on May 7            Photo by HONG JINGWEN
If descriptions of nature were diplomacy then Sino-Japanese relations are well on their way to flowering. The ice has been broken, to then be gently thawed and it is now watering what is heralded as a "warm spring" tour of Japan by Chinese President Hu Jintao as he embarks on his longest state visit to any nation since taking office.
Two days before this visit, Hu laid out his agenda to a group of 16 Japanese media organizations stationed in Beijing. He said he aimed to enhance mutual trust, friendship and cooperation, setting future programs and comprehensively push forward bilateral strategic reciprocal relations.
Hu described his tour on May 6-10 as one of "meeting old friends and making new friends." He met with the Japanese Emperor Akihito and Japanese Prime Minister Yasuo Fukuda, and signed the joint statement on promoting strategic, mutually beneficial ties between China and Japan. The two sides exchanged views on issues related to bilateral relationship, and regional and international issues as well.
Besides, Hu made a four-point proposal for further development of China-Japan economic and trade cooperation at the welcome luncheon hosted by key Japanese business groups on May 7.
Apart from official meetings, the Chinese president also participated a series of colorful activities.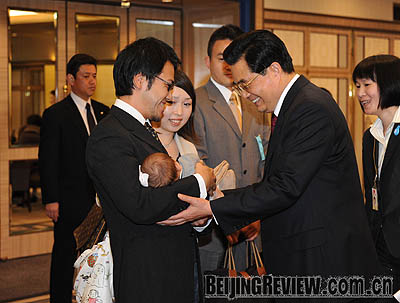 PAST AND PRESENT: Chinese President Hu Jintao meets with families of late Japanese friends who made great contributions to bilateral relationship in Tokyo on May 6     Photo by HONG JINGWEN
No sooner had he touched down in Tokyo, Hu met with Japanese and their families who have made great contributions toward normalizing diplomatic relations between the two countries, such as the family of former Prime Minister Kakuei Tanaka. Hu spoke at the famous Waseda University, where Fukuda graduated, and visited two other big Japanese cities Osaka and Nara. In Nara, he stopped over at Toshodai Temple and Horyuji Temple, which were the venue where communication between the two countries began 1,300 years ago.
Besides, Hu expressed that China was going to fulfill Japan's request and offer the country a pair of pandas.
Experts optimistic
Zheng Donghui, an expert on Japan studies at the China Institute of International Studies (CIIS), said Hu's trip marked an end to the frosty political situation of bygone years. It was the first visit by China's top leader to Japan in 10 years. "The Chinese president's visit is very important to regularize and instruct the development of bilateral relationships in the future," he told Beijing Review.
Zheng said that since China and Japan are two influential world powers, their relationship would affect not only the regional situation but also the international arena. He said both sides should cherish the warming spring they found themselves in now. "The president's visit showed that the two countries would inherit the tradition of friendship from the past and take it into the future, especially for the younger generation," Zheng said.
Jin Xide, a senior scholar of Japan studies at the Chinese Academy of Social Sciences (CASS), considered Hu's visit was a good opportunity to examine the experiences and lessons of the bilateral ties in the past decade. He said that after this visit, political communication, economic cooperation, cultural exchange and public opinion in both countries would all move to a better stage, he told Xinhua News Agency.
Gong Li, professor of international relations at the International Strategic Research Center of the Central Party School of the Communist Party of China, said that Hu's trip was a benchmark of bilateral ties indicating that Sino-Japanese relationship is entering a new stage of stability, according to Hong Kong-based newspaper Takungpao.
During Hu's visit, China and Japan signed the fourth political document between the two countries, the joint statement on promoting strategic, mutually beneficial ties. Under the framework of this document, the bilateral relations would face a long-term healthy and stable development, said the observers. The other three documents are the Treaty of Peace and Friendship between China and Japan in 1972, the Sino-Japan Joint Declaration in 1978 and the Sino-Japan Statement in 1998.
Zheng said that as the situation has changed, the bilateral cooperation would concentrate on wider areas. Besides strengthening bilateral ties, China and Japan should develop their teamwork when dealing with regional issues and coping with challenges brought by globalization, he said.
Focus on youth
Hu's meeting with members of Japan's trade and economic circle was expected to improve the two countries' cooperation in these areas too. In the meantime, their tightening trade and economic ties have now influenced regional cooperation as well. On May 4, finance ministers from China, Japan, South Korea and 10 ASEAN countries agreed on setting up a common foreign reserve fund to resist a possible financial crisis. China, Japan and South Korea would share 80 percent of the basic fund of at least $80 billion. "The economic connection among the three countries has been close, and they are relying on each other, which is unchangeable. How to strengthen the political mutual trust among them will decide the future of regional cooperation of the whole of East Asia," said Feng Zhaokui, another researcher on Japan studies from the CASS. He said that current regional trade volume makes up 55 percent of the total trade volume among the three countries.
Another spotlight of Hu's visit was strengthening exchanges among the young people. Several days before the tour, a 200-member Chinese youth delegation began a seven-day visit to Japan at the invitation of the Japanese Government. Moreover, the two governments expect exchanges can involve 4,000 Chinese and Japanese youth each year over the next four years.
Both countries realize the importance to improve common understanding between their youth. "This generation has a responsibility to relay our traditional friendship to the following generation," Zheng said.
Sino-Japanese Joint Statement
Chinese President Hu Jintao and Japanese Prime Minister Yasuo Fukuda signed a six-point Sino-Japanese joint statement on May 7 in Tokyo, on all-round promotion of their strategic and mutually beneficial relations.
--Bilateral relations: Both sides agree that the Sino-Japanese relationship is one of the most important bilateral ties for both countries. And they are dedicated to promoting a strategic and mutually beneficial relationship in an all-round way to realize the lofty goal of peaceful coexistence, friendship from generation to generation, mutually beneficial cooperation and common development.
--Political basis for stable development of bilateral relations: Both sides reiterate that the three documents signed in 1972, 1978 and 1998 constitute the political basis for the stable development of Sino-Japanese relations and the opening up of a bright future.
--New state of Sino-Japanese relations: The two sides agree to face history squarely, look forward to the future and make continuous joint efforts to open up new prospects in their strategic mutually beneficial relations. The two sides will continue to build mutual understanding and trust, expanding mutually beneficial cooperation.
--Cooperative partnership: The two countries reaffirm that they are cooperation partners, with neither side posing a threat to the other. Both countries commit to peace and development, which will bring enormous opportunities and benefits to Asia and the world.
--Taiwan: Japan reiterates adherence to its stance declared in the Japanese-Sino Joint Statement on the Taiwan question.
--All-around cooperation: Both sides agree to strengthen mutually beneficial cooperation in various fields.
(Source: Xinhua News Agency)