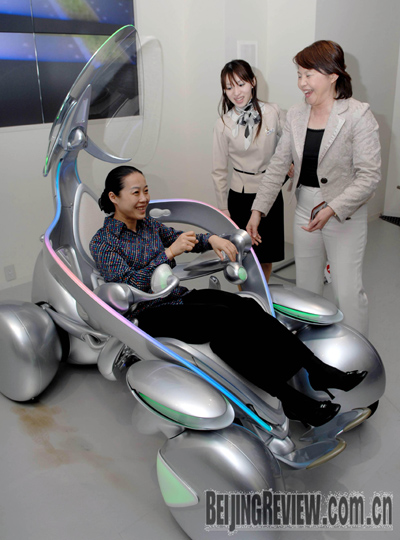 IT'S FUN: Zhang Xiaolan, head of the Chinese youth delegation, tries out the
Toyota "i-unit" concept car in Japan on May 6.  The delegation was in Japan under the
framework of the 2008 China-Japan Friendly Youth Exchange Year.
When neighbors turn bad, keep vigilant. When neighbors are disagreeable, avoid them. When neighbors are in trouble, go help them. When neighbors are better than us, learn from them. When neighbors are happy, be glad for them.
These tips apply to both the people living next door and neighboring countries, said a Chinese expert on Japan studies in Beijing at the July 31 symposium celebrating the 30th anniversary of the signing of the China-Japan Treaty of Peace and Friendship.
Besides suggestions to achieve good-neighborly diplomacy, approximately 100 Chinese and Japanese officials, scholars, businesspeople, and media professionals also discussed ways to improve China-Japan relations, the achievements the two nations have made in political, economic and cultural fields, and the future direction of bilateral ties.
China and Japan should reconcile through efforts made jointly by government, media and people-to-people exchanges, said Liu Jiangyong, professor of international relations at the Institute of International Studies, Tsinghua University. His brief suggestions written in Chinese characters, even without translation, could be easily read and understood by the Japanese due to cultural similarities, he told Beijing Review.
In a letter specially addressed to the symposium, President of the China-Japan Friendship Association Song Jian said that the potential for China and Japan to jointly contribute to world stability and development has never been as great as today. "Thus we should be aware of this and grasp this opportunity," he said.
In addition to comments on current China-Japan relations, Song pointed out that Japanese people from all walks of life donated money and materials for victims after the devastating May 12 Wenchuan earthquake. A rescue team and medical team won the hearts of the Chinese with their timely condolences and assistance. "Cooperation of the two governments and two peoples at the time of disaster added new connotation to the friendship between the two neighbors," Song said in his letter.