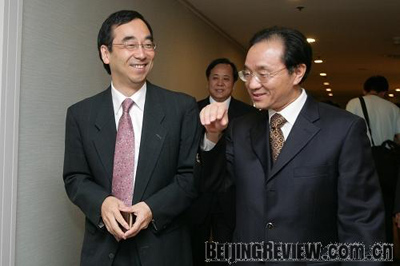 EXCHANGE OF VIEWS: Beijing Review President Wang Gangyi (right) talks with Wada Mitsuhiro,
Minister of the Embassy of Japan, at the symposium celebrating the 30th anniversary
of the signing of the China-Japan Treaty of Peace and Friendship on July 31 in Beijing.

Relations between the two countries have made marked progress in recent years. Former Japanese Prime Minister Shinzo Abe made a groundbreaking visit to Beijing in October 2006, a major step toward repairing ties that had been seriously undermined by his predecessor Junichiro Koizumi's repeated visits to the Yasukuni Shrine during his 2001-2006 term. Koizumi's paying homage to the shrine, which honors Class-A World War II war criminals, sparked wide criticism around Asia and chilled Beijing-Tokyo diplomacy.

Chinese Premier Wen Jiabao and President Hu Jintao made "ice-melting" and "warm spring" trips to Japan in April 2007 and May 2008, respectively. Japanese Prime Minister Yasuo Fukuda, who took office in September 2007, paid an official visit to China in December. All these high-level visits have been conducive to enhancing mutual political trust, boosting economic cooperation and developing programs for the future.

During Hu's stay in Tokyo, Hu and Fukuda issued a joint statement on advancing strategic and mutually beneficial relations. The statement is regarded as the fourth important document between the two countries. The other three are the China-Japan Joint Statement issued in September 1972, the China-Japan Treaty of Peace and Friendship signed in August 1978 and the China-Japan Joint Declaration released in November 1998.

The most recent joint statement between China and Japan is a blueprint for bilateral strategic and mutually beneficial relations, Wada Mitsuhiro, Minister of the Embassy of Japan, said at the symposium. "It shows the future direction of bilateral ties in a new era," he said.

The three pillars of these relations are cooperation, international contribution and mutual understanding, the minister said. He stressed the importance of political trust, people-to-people exchanges and strong bilateral cooperation to better implement the joint statement.

The June agreement on offshore energy exploration is an example of resolving disputes between the two countries through negotiation. China and Japan reached a "principled consensus" on joint development of the Chunxiao gas field in the East China Sea.

Recent years have also seen a rapid increase in trade, deepening interdependence between the two countries. According to statistics, trade volume in 1972 was merely $1.04 billion, but in 2006 it exceeded $200 billion. Since then bilateral trade volume has maintained double-digit growth, hitting $236 billion in 2007. China is Japan's largest trade partner and one of Japan's fastest growing export markets, while Japan is China's third largest trade partner and the second largest source of foreign direct investment. Japanese enterprises based in China now exceed 20,000, with employees approaching 10 million. Chinese investment in Japan has also been on the rise.