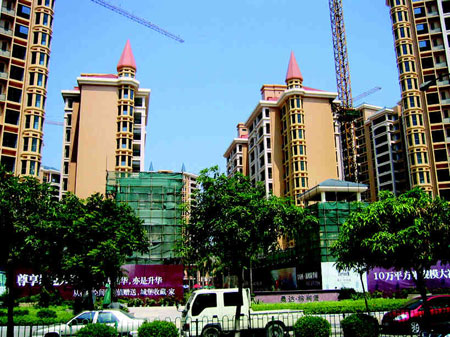 Apartments are everywhere nowadays in Shenzhen, south China's Guangdong Province. The year 2010 marks the 30th anniversary of the founding of Shenzhen Special Economic Zone.(XINHUA) 
Leung Chun-ying would have never, in his wildest dream, imagined Shenzhen's magic changes in 30 years when he became one of more than 20 Hong Kong-based enlighteners for Shenzhen's reform and opening-up drive in 1979.
Thirty years ago when China set up the Special Economic Zone, Shenzhen was nothing but several fishing villages. Now the city boasts the highest GDP per capita on China's mainland.
"As a professional in land and city planning, I think there has been no city in the human history which has been built into such a large-scale one in such a short period of time," Leung, a veteran land surveyor, told Xinhua in a recent interview.
Leung is Convenor of the non-official members of Hong Kong's Executive Council and a member of the National Standing Committee of the Chinese People's Political Consultative Conference, the country's top advisory body.
Leung attributed Shenzhen's success to the city's forerunners' ability to break through ideological barriers and their courage to ask, think, learn and act.
Early memories of Shenzhen
Leung's first trip to Shenzhen dated back to August 1977 when he had just come back to British-ruled Hong Kong after 3-year study in Britain. Then, Luohu was the sole boundary checkpoint between the two cities, offering 8-hour service for more than 40 travelers each day, he recalled.
Now, there are more than six -- four land and two marine -- boundary crossings. One of them, Huanggang, offers around-the- clock crossing service. Nearly 100 million commuters and other visitors used these checkpoints last year.
Now Hong Kong residents can pass the crossings in minutes with a "Homeland-return Permit". While over 30 year ago, Leung had to fill in a one-off document called "Homeland-return Letter of Introduction" before taking about half an hour, sometimes hours, to finish complicated entry procedure.
Immediately after passing the crossing, Leung had to report to a nearby police station by having his "Homeland-return Letter of Introduction" stamped.
From that day on, he needed to go to police station every day for the stamp before coming back to Hong Kong via the checkpoint, where customs officials would check whether the numbers of stamps and dates of stay had matched.
Also, Leung had to spend all renminbi cash before leaving Shenzhen, since at that time people was neither allowed to take renminbi out of the Chinese mainland, nor allowed to convert the renminbi back to the Hong Kong dollar.
Since early 1979 when the mainland started the reform and opening-up drive and decided to set up the first industrial zone at Shekou of Shenzhen, Leung was invited to give lectures to Shenzhen's officials and planners as a land surveyor and member of Hong Kong-based Association of Experts for the Modernization of China.
Among his memories still vivid today were Shenzhen's rugged roads, shaky and hard backseat on bikes, and smells in rooms and corridors at Overseas Chinese Rest House near Luohu Crossing.
Another unforgettable memory was about a crude toilet, built by local farmers and featuring bad smell and dirty conditions, at Shekou's industrial zone. While men lecturers from Hong Kong like Leung forced themselves to make it do, women lecturers ran into big trouble.
Eventually, China Merchants Group Hong Kong, which helped these experts on their trips to Shenzhen, bought a mobile toilet from Hong Kong to solve this pressing issue.
"Now these details sound incredible like the Arabian Nights, but they were my true experience," Leung said, grinning.
24-year-old lecturer
Among the more than 20 professionals from Hong Kong were economists, lawyers, architects, engineers and accountants.
Leung, then aged 24, was the youngest.
As land surveyor, his lectures were about land use systems and practices of land, property and planning in both Western countries and Hong Kong. His students, all older than him, were Shenzhen's city officials and planners as well as Shekou's officials and specialists.
Leung termed his first lecture in Shenzhen as "very embarrassing," not because of his age, but because he didn't speak the Chinese mandarin at that time. For the first three years, the Cantonese speaker needed a translator in the lecturers.
Maybe partly because of this, the students had little interaction with Leung in the first one or two years. Most of Leung's questions were met by embarrassing silence from the students, who didn't raise any question in the class either.
Leung, however, pointed to a much more important reason behind the silence -- the political sensitiveness of the land issue.
"The land issue is more sensitive than setting up factories or making trade. Many of them didn't want to speak out their own opinions in public, or to expose their viewpoints through questions."
He also said some of the students still had suspicion over the reform and opening-up drive, which was introduced in late 1978, and domestically there was much political resistance.
But soon, Leung found his students dispersing suspicion and overcoming ideological barriers, especially after August of 1980 when China declared the establishment of Shenzhen Special Economic Zone.
Partly thanks to enlightenment of lecturers like Leung, officials and specialists in Shenzhen and Shekou had taken the lead in the mainland in liberating their mindsets and opening eyes to the outside world.
And these students had shown high respect to Leung and later became his friends. They told him their surprise at their first face-to-face meeting.
"Initially when we heard your name, we had thought you must be an old mister. But you turned up to be a young man in the 20s," Leung recalled, laughing.
Shenzhen's change, integration with HK
Leung said it was the attitude and courage among these Shenzhen 's officials and specialists that had bolstered the city's quick rise.
"Many Hong Kongers, including manufacturers, traders and professionals, had the feeling that the most important reason behind Shenzhen's reform and development was the courage to ask, to think, to learn and to act," he said.
Within Leung's eight years of lecturing in Shenzhen, he saw notable progress made by the city. In the first several years, Shenzhen learnt from Hong Kong's past experience and lessons, but a few years later, some policies and planning in Shenzhen could be used for reference by Hong Kong.
Shenzhen's fast rise was just unthinkable, said Leung. If someone could make a five-minute slide show focusing on Shenzhen's changes in the last 30 years, it should be an exciting and aspiring piece.
Leung recalled that in early 1980s when he and several other Hong Kong professionals were asked by Shenzhen to assist city planning, the first major issue they encountered was the target population of Shenzhen.
How many people would Shenzhen, which then had a population of some 20,000, need to support a mature special economic zone?
Shenzhen's officials had put the target population at 300,000.
"We found it impossible since Shenzhen then was nothing but several fishing villages. How could we have 300,000 people? We doubted it a bit, but we finally made the planning based on this target population," Leung said.
Now Shenzhen has a total population of 14 million. In 2009, Shenzhen's GDP amounted to 824 billion yuan ($121 billion), nearly 60 percent of that of Hong Kong.
In such sectors as port trade and manufacturing, Shenzhen now represents a strong competitor against Hong Kong.
In Leung's viewpoints, Hong Kong and Shenzhen can learn from each other for a better future, and cooperation between them outweighs significantly over competition.
An economic integration between the two neighboring cities was eventually inevitable, and would be beneficial to both residents and businesses in the two cities, he added.
(Xinhua News Agency August 23, 2010)