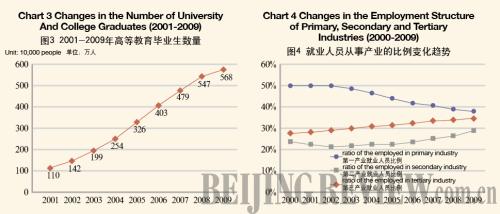 After the 2008 financial crisis swept the world, the Chinese Government adopted a more active employment policy to meet the challenge. For enterprises in difficulties, it postponed their payment of social insurance premiums or lowered the rate of some social insurance premiums; and it adopted relevant tax reduction or exemption policies, encouraging enterprises to maintain or increase their levels of employment. Moreover, the government carried out a special vocational training program, and launched a series of employment service activities, striving to create more jobs through multiple channels. Focusing on college graduates, it encouraged them to find jobs at the primary level, in medium-sized and small, and non-public enterprises. In 2009 a total of 11 million urban jobs were created; the employment rate of college graduates reached 87.4 percent; over five million laid-off workers found new jobs; and over 1.5 million people with difficulty finding jobs got re-employed.
Implementing the strategy of rejuvenating China through human resources development
Human resources are the primary factor in economic and social development, and are playing an increasingly important role in China's modernization. China has always paid great attention to human resources development. In the new century, China has made a major decision to rejuvenate the nation through human resources development, aiming to train thousands of millions of high-quality workers, hundreds of millions of professionals and a large group of top-notch innovative personnel, and set up a large-scale and rationally structured contingent of high-caliber personnel. In 2001 the Chinese Government incorporated this strategy into the Five-Year Plan for National Economic and Social Development. Since 2006 it has intensified efforts in the sphere of top-level design and systematic planning of human resources development. It formulated the Outline of the National Plan for Medium- and Long-term Scientific and Technological Development (2006-2020), Outline of the National Plan for Medium- and Long-term Human Resources Development (2010-2020) and Outline of the National Plan for Medium- and Long-term Educational Reform and Development (2010-2020), focusing on a strategy of prioritizing human resources development in the course of economic and social development. The plans formed the country's guidelines on the overall development of human resources in urban and rural areas, among different regions, industries and trades, and among the public and non-public sectors, ensuring that everyone has an equal opportunity in benefiting from related policies and participating in human resources development, and striving to realize a coordinated development of human resources of all types.
To meet the need of establishing an innovative nation, the Chinese Government has launched the National Hi-tech R&D Program (863 Program), National Key Basic Research Program (973 Program), National Key Technology R&D Program, National Natural Science Foundation and other national programs and foundations. It has also built the National Engineering Research Center and the National Engineering Laboratory, implemented the Skills Training Plan of the "Hundred-Thousand-Ten Thousand Project," Changjiang Scholars Program and some other major human resources-related programs. In addition, it has invested more in science and technology and implemented the Project on Upgrading the Knowledge of Technical Professionals. As a result, it has trained a large number of scientific and technical professionals with high qualifications, and attracted high-caliber personnel from overseas. In 2008 the full-time R&D personnel nationwide reached 1,965,400, some 2.9 times the 1991 figure. Among these there were 1,593,400 full-time scientists and engineers, 3.4 times the 1991 figure. A total of 2,146 centers for post-doctoral studies and 1,642 post-doctoral workstations were set up, and the number of post-doctoral researchers exceeded 70,000.
To meet the needs of taking a new road to industrialization and optimizing and upgrading the industrial structure, the Chinese Government has implemented the National Plan for Developing Skilled Personnel, set up public training bases and national demonstration bases for the training of highly-skilled personnel, and striven to create a contingent of skilled personnel for different industries. The state has made great efforts to train people with practical skills for the countryside, implemented a plan to enhance these people's quality and put in place a project to train such people for the new countryside, and worked hard to improve the scientific and technical attainments, vocational skills and business capabilities of such people. It has also trained teachers, doctors and agricultural technicians to meet the urgent needs of rural development, and encouraged and guided personnel with different qualifications to work in the countryside.
Promoting equity in education
Free nine-year compulsory education is now available to all children, urban or rural, throughout the country. Since 2006 the Chinese Government has reformed and adjusted the mechanism for ensuring funding for rural compulsory education; and since 2008 urban students undergoing compulsory education have been exempted from tuition and other fees. Nine-year compulsory education has been fully incorporated into the national financial security system.
China has been active in promoting balanced compulsory education. The government has prioritized rural areas, outlying poor areas and regions inhabited by ethnic-minority groups in allocating public educational resources, and implemented programs such as the National Compulsory Education in Poor Areas, Building Boarding Schools in Western China's Rural Areas, Modern Distance Education for Elementary and Middle Schools in Rural China, Renovating Junior Middle Schools in Central and Western China and the Plan for Special Education in Central and Western China, so as to narrow the gap between urban and rural areas and between different regions and guarantee that disadvantaged groups have access to education.
The financial aid system has been improved. The Chinese Government adopts a national scholarship system, student subsidy system and national student loan system applicable to regular institutions of higher learning and vocational schools. It has provided more financial aid to ensure that students from families with financial difficulties can continue their studies. By the end of 2009 some 90 percent of students from secondary vocational schools and 20 percent of university students had received financial aid on a total of 43.06 million occasions. Since 2009 students from poor rural families studying at secondary vocational schools and students studying agriculture-related subjects in such schools have been exempted from tuitions.
Strengthening human resources training
The Chinese Government has put cadre education and training in a prominent place. The state has drawn up and issued the Regulations on the Work of Cadre Education and Training (Trial), National Plan for Cadre Education and Training (2006-2010) and Opinions on the Implementation of Cadre Training Work on a Large Scale (2008-2012). With focus on the requirements of major government work and civil service posts, the government has conducted initial training, post-related training, professional training and in-service training, carried out training plans geared to the needs of the posts, promoted formal schooling training, and sent cadres to temporary posts in other places, thus effectively developing the human resources of the civil service and promoting career development for civil servants.
The Chinese Government has carried out the Project on Upgrading the Knowledge of Technical Professionals. The state has, with specific and effective plans and step by step, conducted special training programs on new theories, knowledge, technologies and methods for middle- and high-level professionals in the fields important for economic, social, scientific and technological development. From 2005 to 2009, altogether 3 million middle- and high-level professionals participated in such training programs. The government has worked hard to build a continuing education system for technical specialists, a system that sets clear levels and categories, and that brings into full play the initiative of all aspects, gradually forming a demand-driven, continuing education mechanism characterized by the combination of the government guidance and employers' initiative, individuals' fulfillment of their duties and studying on their own initiative. In 2009 professionals involved in continuing education around China reached 30 million person/times. To promote human resources development in west China, the Chinese Government issued the Opinions on Strengthening Human Resources Development in Western China and carried out a training plan for the backbone personnel in the scientific and technological field in the Xinjiang Uygur and Tibet autonomous regions, and for professionals in the Sanjiangyuan area of Qinghai Province. In 2009 China trained 2,888 backbone scientific and technical personnel and much-needed professionals of ethnic-minority groups.
To meet the demands of different groups in finding employment, and geared to different stages of careers, the government has conducted vocational training programs, set up a vocational training system with technical schools as the mainstay and vocational training institutions as the supplement, and given full play to the roles of trade unions, Communist Youth League, women's federation, and other mass and social organizations. By the end of 2009 there were over 6,000 technical schools and employment training centers, over 20,000 privately-run vocational training institutions, and over 260,000 demonstration bases of science and technology for women, providing different education and training programs for women on 120 million occasions and enhancing women's capability of self-development. For junior and senior high school graduates who have failed to gain higher education, the government offers pre-job training courses to help them master some vocational skills or obtain a professional certificate before job hunting. For unemployed people, the government offers re-employment training courses that are relevant, practical and effective, so as to better prepare unemployed people for re-employment. For urban and rural workers who want to start businesses of their own and who have the qualifications, the government offers entrepreneurship training courses to enhance their abilities to start small businesses. For surplus rural workers who want to transfer to non-agricultural fields and urban areas, the government offers vocational training and carries out such special programs as the Sunshine Project, Training Plan for the Transfer of Rural Labor Force, Spark Technical Training and Yulu Plan to enhance their abilities to find employment in new sectors.
Since 1994, in order to comprehensively improve the quality of workers and strengthen their capabilities in finding jobs and doing their work well, China has established a professional qualification certificate system. By the end of 2009 a total of 18.433 million professionals in various fields throughout the country had obtained the required qualifications, and over 100 million qualification certificates for workers of different skill levels were issued.
Improving public service for human resources
The Chinese Government has gradually increased its input in this area. In 2008 China's investment in human capital accounted for 10.75 percent of its GDP. In 2009 the state treasury spent 198.139 billion yuan on education, an increase of 84.1percent over 2007; 127.321 billion yuan on medical and health care, an increase of 91.66 percent over 2007; 329.667 billion yuan on employment and social security, an increase of 43.2 percent over 2007; and 151.202 billion yuan on science and technology, an increase of 51.2 percent over 2007.
The government has worked hard to improve the public employment and human resources service system. It has set up integrated service institutions at the county or district level, and service centers and entities providing employment training and entrepreneurship service at the sub-district (township) and community levels, thereby forming a five-level network providing services at the province, city, county or district, sub-district (town and township) and community (administrative village) levels. By the end of 2009 there were over 10,000 public employment and human resources service institutions at or above the county or district level nationwide, and 37,000 service centers at the sub-district, town or township level, covering 97 percent of the country's sub-districts and 89 percent of its towns and townships. The government has improved its functions in public employment and human resources service, providing free services such as policy information, release of supply and demand information of the market, information about job vacancies, vocational guidance, employment assistance and entrepreneurship training, shouldering responsibilities such as employment and unemployment registration and management, and providing such services as social security management, archive management, examination and certification, and specialized services.
The government has made human resources service more IT-based. It has carried out the Golden Social Security Project, and set up an e-government system of labor and social security that covers the whole country and is based on networks at three levels: the central government level, provincial and municipal levels. It provides services such as policy consultation, access to information, handling business-related affairs and personal account checking by issuing social security cards, activating the 12,333 public service lines and SMS centers, and building government service websites.
Deepening the reform of the personnel system for cadres
Since the reform and opening-up policies were introduced in 1978, China has made constant efforts to deepen the reform of the personnel system for cadres. It has successively issued the Guideline on Deepening the Reform of the Personnel System for Cadres and the Outline of the Plan on Deepening the Reform of the Personnel System for Cadres (2010-2020). It has adopted a system of classified management of cadres based on different characteristics of Party and government organs, public institutions and state-owned enterprises; and has gradually brought into being a personnel system for cadres that is fair and just, and full of vitality and under which people of ability have suitable posts, are able to display their abilities to the full, and can be promoted or demoted in their positions.
The civil servant system has been implemented in Party and government organs. A competitive mechanism, under which open selection, competition for positions and other competitive methods are used for cadre selection from appointment to promotion, has been introduced, and consequently competent cadres and personnel can stand out. From 2006 to 2009 over 528,000 people were recruited as civil servants through examinations. From 2003 to 2009 a total of 40,000 leading cadres of the Party and government were appointed through open selection, and 339,000 Party and government cadres at different levels took leading posts through competition. The principle of democracy is fully applied in the selection and appointment, performance assessment, management and supervision of cadres; democratic recommendation has become a compulsory procedure during the selection and appointment of cadres; public opinion surveys and democratic assessment are widely used; and cadre-related work has become more democratic. Cadre transfer work has been improved and has been institutionalized at key departments and critical posts. Centering on national strategies of economic and social development and strategies of human resources development, local plans for economic and social development, and the construction of pillar industries and major projects, leading Party and government cadres are transferred between cities, counties, provinces and central Party and government departments; and a large group of cadres have been selected from central organs and developed regions in Eastern China and sent to work in the western parts of the country. From 2003 to 2009 a total of 2.302 million cadres were transferred around China. The system regarding cadres' term of office, retirement, dismissal and resignation has been improved, making it possible for cadres to be promoted or demoted, and thus a mechanism for regular renewal and rotation of cadres has come into being. A wage system for civil servants that combines post and rank has been adopted, rationally showing the relationship between responsibilities and wages.