At the invitation of President and Mrs. Carter, Vice Premier Deng Xiaoping and his wife Madame Zhuo Lin made an official visit to the United States of America from January 29 to February 4.
During their three-day stay in Washington, D.C., Deng, his wife Zhuo Lin and his party were accorded a warm welcome. President Carter and Vice Premier Deng made important speeches on many occasions. Following are excerpts of their speeches:
At the welcoming ceremony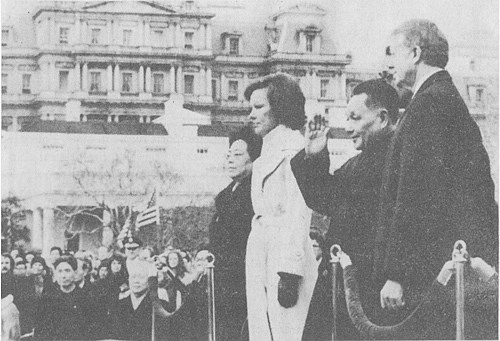 President and Mrs. Carter, Vice Premier Deng Xiaoping and Madame Zhuo Lin at the White House welcoming ceremony (XINHUA)
President Carter held a ceremony on the South Lawn of the White House on January 29 to welcome Vice Premier Deng and his party. Both host and guest spoke at the ceremony.
Both Sides Stressed Strengthening Relations Between China and the United States of America for World Peace, Security and Stability. President Carter said: "Today we take another step in the historic normalization of relations which we have begun this year." "We expect that normalization will help to move us together toward a world of diversity and of peace."
"Under the leadership of Premier Hua Guofeng and of you, Mr. Vice Premier," the President said, "the People's Republic of China has begun to move boldly toward modernization." The United States particularly welcomed the opportunity to exchange students and scholars and to improve trade, technological, scientific and cultural contacts with China, he went on.
"Let us pledge together that both the United States and China will exhibit the understanding, patience and persistence which will be needed in order for our new relations to survive," the U.S. President said.
Vice Premier Deng said: "The significance of the normalization of Sino-U.S. relations extends far beyond bilateral relations. Amicable co-operation between two major countries on opposite shores of the Pacific is undoubtedly an important factor working for peace in this area and in the world as a whole."
"The people of the world," Vice Premier Deng went on, "have the urgent task of redoubling their efforts to maintain world peace, security and stability, and our two countries are duty-bound to work together and make our due contribution to that end."
"Sino-U.S. relations have arrived at a fresh beginning," Vice Premier Deng said, "and the world situation is at a new turning point. China and the United States are great countries, and the Chinese and American peoples are two great peoples. Friendly cooperation between our two peoples is bound to exert a positive and far-reaching influence on the way the world situation evolves."