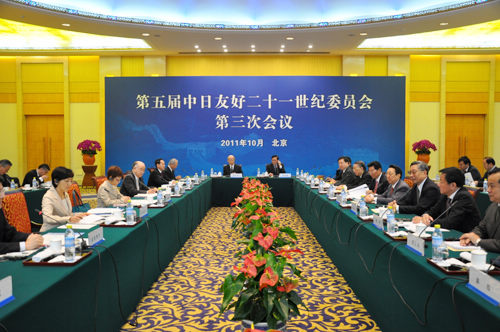 ADVISORY PANEL: Committee members attend the third meeting of the Fifth 21st Century Committee for China-Japan Friendship in Beijing on October 23 (MIAO XIAOYANG)
Zhou said social elites, opinion leaders and media of both sides have the responsibility to help the Chinese and Japanese governments and people adopt a reasonable attitude toward Sino-Japanese relations. In other words, when friction breaks out, the two countries should give top priority to their overall relationship, and shouldn't let problems in certain aspects influence the overall development of their relationship.
They should also guide public opinion in a positive direction, rather than playing up negative reports, he said.
For instance, over 60 percent of Chinese and nearly 80 percent Japanese respondents in a recent poll in both countries sponsored by China Daily and Japanese non-profit think tank Genron NPO said they did not have favorable opinions of the other country.
If viewed in a positive light, the poll can help Chinese and Japanese people realize the urgency and importance of enhancing friendship, Zhou said. But if approached negatively, it may magnify unconstructive factors in Sino-Japanese relations.
The media are obligated to present China and Japan truthfully to the general public, said Hiroko Kuniya, a well-known NHK announcer. Unfortunately, the two countries' national images portrayed by the media are often shaped by nationalism.
"Post-disaster reconstruction remains at the top of the Japanese Government's agenda," said Wei Jiafu, Chairman of the Board of the China Ocean Shipping (Group) Co. "There will be huge demand for cement, construction machines, and agricultural products in Japan."
China will provide massive assistance, such as building materials, labor services, consumer goods and food, for Japan during its post-disaster reconstruction, and cooperation will grow as reconstruction continues, he said.
Hiroshi Yoshikawa, a professor with the University of Tokyo, said the negative impact from the March 11 earthquake and tsunami on Japan's industry will be temporary.
Japan successfully recovered from the 1923 Tokyo earthquake, which was more devastating than this year's earthquake. "The earthquake will not adversely influence bilateral economic cooperation; instead, Sino-Japanese economic ties will be even stronger in the future," said Yoshikawa.
At a meeting with members of the Fifth 21st Century Committee for China-Japan Friendship in Beijing on October 24, Chinese Foreign Minister Yang Jiechi said the Sino-Japanese relationship has gone smoothly since the new Japanese cabinet was formed in September, and now is a precious opportunity to develop the bilateral relationship.
Nishimuro said it was time to encourage Japanese Foreign Minister Koichiro Gemba and Prime Minister Yoshihiko Noda to visit China as soon as possible.
He said China has made great efforts to boost the bilateral relationship since Japan's earthquake and Japan should also do something. Chinese Premier Wen Jiabao visited disaster-hit regions in Japan in May to demonstrate China's support for Japan's reconstruction efforts before attending the fourth trilateral summit of China, Japan and South Korea in Tokyo.
Nishimuro said the Japanese cabinet led by Noda is a "creative cabinet." He hoped Noda would be cautious and avoid making comments that might cause misunderstandings.
Tang said he hoped Noda would be an "Asia-oriented politician" willing to push forward mutually beneficial cooperation with China and other Asian nations.
Areas for Cooperation
At the third meeting of the Fifth China-Japan Friendship Committee for the 21st Century, Tang Jiaxuan, chair of the Chinese side, proposed five major areas for Sino-Japanese cooperation:
- Green economy. The two sides should actively develop big cooperative projects in this area and let them play a leading role in transforming and upgrading bilateral economic and trade cooperation.
- Post-disaster reconstruction and disaster prevention and reduction. The two sides should strengthen pragmatic exchange and cooperation and learn from each other. They should work together to build an effective safety network to jointly respond to major disasters.
- Asia-Pacific integration. The two sides should maintain close communication on major issues related to the future pattern of regional cooperation. They should engage in regional economic integration and promote regional cooperation along the track of mutual benefit and win-win cooperation. They should work together to promote the six-party talks aimed at resolving the Korean Peninsula nuclear issue and the building of a peace mechanism in Northeast Asia.
- Dealing with global issues. The two sides should make full use of the UN, the Group of 20, APEC and other multilateral platforms and maintain close communication and cooperation on global issues.
- Marine affairs. The two sides should handle marine-related issues through dialogue and consultation in a prudent and proper manner. Top priorities are to strengthen emergency management and control over marine affairs and to establish a marine emergency management mechanism. The two sides should try to make the East China Sea and the West Pacific peaceful, friendly and cooperative waters.
(Source: China's Ministry of Foreign Affairs)