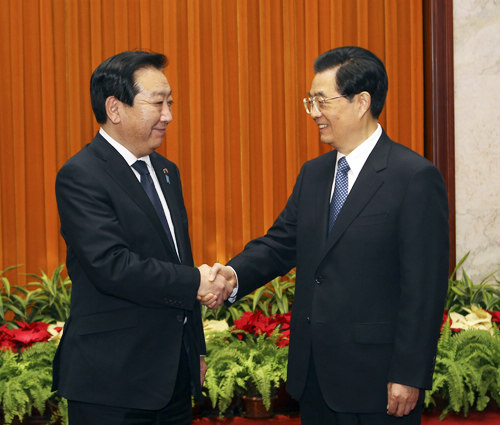 TIGHTENING LINKS: Chinese President Hu Jintao shakes hands with visiting Japanese Prime Minister Yoshihiko Noda in Beijing on December 26, 2011 (LIU WEIBING)
Despite rickety past relationships, it's never too late for two neighbors to make amends. Today, China and Japan seem willing to follow this adage, although there is still much to be done to resolve the myriad disputes between them.
Japanese Prime Minister Yoshihiko Noda's visit to Beijing on December 25-26, 2011, his first official visit to China since taking office in early September, is definitely a step in the right direction for improved ties.
During the visit, China and Japan reached a consensus on advancing their relationship based on mutual trust and cooperation.
"Noda's visit was a fruitful one. It relayed the message of the desire to strengthen the bilateral relationship," said Hu Jiping, Director of the Institute of Japanese Studies at the China Institutes of Contemporary International Relations (CICIR).
Considering the complex international and regional situation in 2011–like the devastating earthquake in Japan on March 11, lingering world financial crisis and leadership transition on the Korean Peninsula– deepening mutual trust and cooperation are significant for China and Japan, as well as the rest of the region.
During Noda's two-day visit, China and Japan both stressed the significance of developing bilateral ties. At a meeting with Chinese President Hu Jintao, Noda highlighted the political mutual trust as the major foundation for the development of these ties. He said China's development is an opportunity not only for Japan, but for the international community. Promoting a strategic and mutually beneficial relationship between the two countries is necessary for solving regional and international issues. President Hu said Noda's visit would further deepen this relationship.
Talking with the visiting Japanese prime minister, Chinese Premier Wen Jiabao said China and Japan should be good neighbors and partners rather than opponents. Wen said peaceful coexistence, long-term friendship, mutually beneficial cooperation and common development between the two nations serve the fundamental interests of both sides and their peoples and are beneficial to the peace, stability and prosperity of Asia and the whole world.
Zhou Yongsheng, a professor with the China Foreign Affairs University (CFAU), said Noda's visit created a good atmosphere for 2012, a year that marks the 40th anniversary of the normalization of Sino-Japanese diplomatic relations. Deepening political trust, promoting economic cooperation and enhancing friendship are important for the two East Asian nations to realize reciprocal benefit, jointly deal with aftermath of the financial crisis and maintain peace and stability in the region, he said.
In 2011, the Sino-Japanese relationship was on the track of reconciliation. China provided immediate assistance after the March 11 earthquake. President Hu offered his condolences at the Japanese Embassy in China. Premier Wen visited earthquake-hit areas during a trip to Japan in May.
Japanese Foreign Minister Koichiro Gemba said in a speech at the Japan National Press Club on December 14, 2011 that Japan has no plans to "encircle or exclude" China in constructing an "open, multilayered network" of cooperation in the Asia-Pacific region.
Gemba said it is vital to deepen the Japan-U.S. alliance to establish a new regional order, but at the same time "China's full participation is indispensable."
"It's obvious that peace and prosperity in this region cannot be achieved if the three major countries do not join hands and cooperate," said Gemba, suggesting that setting up a strategic dialogue and partnership between Japan, the United States and China is now more important than ever before.