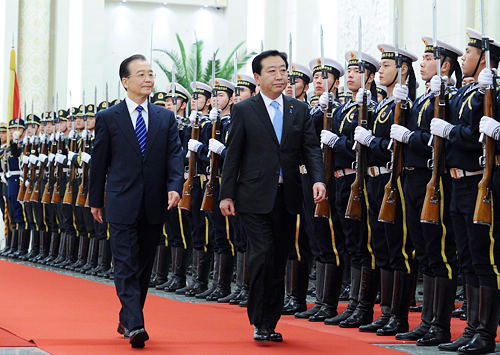 HEADING TO A BETTER FUTURE: Chinese Premier Wen Jiabao welcomes Japanese Prime Minister Yoshihiko Noda in Beijing on December 25, 2011 (ZHANG DUO)
Hu from the CICIR said deepening its relationship with China is a thoughtful choice of Japan. As an ally of the United States, Japan mainly is coordinating Washington's strategy of boosting its presence in Asia Pacific, which has triggered concerns in China.
"We must not forget, Japan has interests of its own," Hu Jiping stressed. Being a close neighbor of China, Japan is aware that a troublesome Sino-Japanese relationship will hurt itself. "To Japan, it hopes to establish a dependable, at least a stable, relationship with China."
A stable Sino-Japanese relationship will stabilize the situation in Northeast Asia, which is also in Washington's interests.
"Washington will be glad to encourage such a relationship on some level, as long as it is confident the relationship is not too close to threaten U.S. interests in the region," said Hu Jiping.
Since former North Korean leader Kim Jong Il passed away several days before Noda's visit, the regional situation has remained sensitive. China and Japan also exchanged views on the regional situation and agreed to settle the nuclear issue on the Korean Peninsula through peaceful negotiations under the framework of the six-party talks.
Like Premier Wen said, the deep influence of the global financial crisis has been continuously expanding while the complexity and seriousness of the global and regional situation are beyond prediction. So it is necessary for China and Japan to closely work together to deepen their strategic and mutually beneficial relations.
During Noda's visit, China and Japan agreed to establish a vice-minister level consulting mechanism to manage marine crises. "Such a mechanism will help to improve political mutual trust and ease up situation in the East China Sea," said Hu of the CICIR to Beijing Review.
China and Japan also vowed to improve cooperation in the financial market, energy conservation, environmental protection, green economy and hi-tech sectors, while pushing for a free trade zone between China, Japan and the Republic of Korea. China promised it will continue supporting and participating in Japan's post-disaster reconstruction.
Common economic interests favor improved cooperation, said Hu Jiping. As both Europe and the United States suffer from the financial crisis, China is one of Japan's only hopes for future economic development, he said.
China has remained Japan's top trade partner. Bilateral trade reached $312 billion from January to November 2011, up 16.5 percent year on year, making Japan China's fourth largest trade partner, according to China's Ministry of Commerce.
According to statistics from the Japan External Trade Organization, a government-related organization that promotes foreign trade and investment, there are more than 20,000 Japanese enterprises in China. Japan is the third biggest overseas investor on the Chinese mainland only after Hong Kong and Taiwan. About 60 percent of trade between the two sides, however, currently is conducted in U.S. dollars.
During Noda's visit, China and Japan decided to encourage direct currency exchange between them to boost bilateral trade. Japan declared its plan of buying yuan-denominated Chinese government bonds worth $10 billion.
"Buying each other's government bonds can improve their mutual trust and diversify their foreign exchange reserves," said Zhu Chenghu, a professor with the National Defense University of the People's Liberation Army.