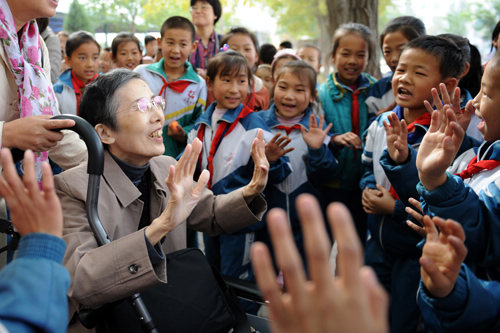 SINGING FOR FRIENDSHIP: A Japanese singer sings with students from a primary school in Yinchuan, capital of northwest China's Ningxia Hui Autonomous Region, on October 18, 2011 (CFP)
China and Japan are the two nations that hold the largest foreign exchange reserves. China started purchasing Japan's government bonds in 2005. In April 2011, it set a new record by buying 1.33-trillion-yen ($17.1 billion) in mid- and long-term government bonds of Japan. Japan worried that this might make Japan passive when making diplomatic decisions.
Japan's foreign exchange reserves are about $1.3 trillion, over 70 percent of which are in U.S. dollars. In early August 2011, the Standard & Poor's rating agency downgraded the credit rating of the United States for the first time.
"Considering the euro and U.S. dollar's unsteady exchange rates, buying China's government bonds is a wise and strategic choice for Japan to diversify its foreign exchange reserves," Zhu said.
He also said although the amount is small, it represents a big change in Japan's foreign exchange reserve policy. Japan's choice is a beneficial one to China, too. Japan will be the first developed economy to hold yuan reserves, marking a significant step forward for the yuan to become a global currency, Zhu said.
Differences between China and Japan, of course, cannot be solved through one visit. Improving mutual trust is always the crucial element for the Sino-Japanese relationship. This calls for efforts both to strengthen governmental exchanges and communication and to promote friendly feelings between the two peoples.
All existing problems between China and Japan are rooted in insufficient trust. Zhou from the CFAU pointed out the Noda administration has a growing sense of insecurity with China's rising power and position. As a result, it is trying to deter China's rise by joining forces with the United States.
The Noda administration's recent activities proved his conclusion. A day after Noda wrapped up his Beijing trip, the Japanese Government announced a controversial decision to relax a decades-old, self-imposed ban on weapon exports. The policy shift will allow Japan to participate in arms development and production with other countries.
"Japan and the United States have jointly conducted weapons research and development to step up their security alliance," said Japanese Chief Cabinet Secretary Osamu Fujimura. Japan is the world's sixth largest military spender, but up until now has paid disproportionately high premiums on military hardware as the previous restrictions meant that wholesale orders couldn't be made and Japan had to settle for high levies on small contracts.
By lifting the ban, Japan can deepen its military ties with the United States while making big money to save its economy, Zhou said.
The CICIR's Hu cautioned that potential conflicts in the East China Sea related to sovereignty over the Diaoyu Islands and energy exploitation and exploration is a hidden danger to the bilateral relationship. Once a conflict breaks out, it will bring up disastrous consequences to Sino-Japanese ties. Establishing a joint security management system will help, but it still is not the final solution, he said.
Moreover, he pointed out, Japan's frequent leadership changes are negatively influencing bilateral ties. "Being a neighbor and trade partner, we prefer a stable government in Japan rather than dealing with different parties and administrations," he said.
Observers noticed that in recent years, people in the two nations' likeability to each other have been decreasing. In a recent poll in Japan, about 85 percent Japanese respondents said they didn't trust Chinese. Hu believes some Japanese media outlets are partly responsible for the result because of their biased reporting.
"But the Japanese Government has the responsibility of clarifying false and inaccurate reports and guide the bilateral relationship on the right track," he said.
The two governments should also provide more opportunities for communication and exchanges between Chinese and Japanese peoples, so as to improve their feelings toward each other, he said.
Email us at: dingying@bjreview.com