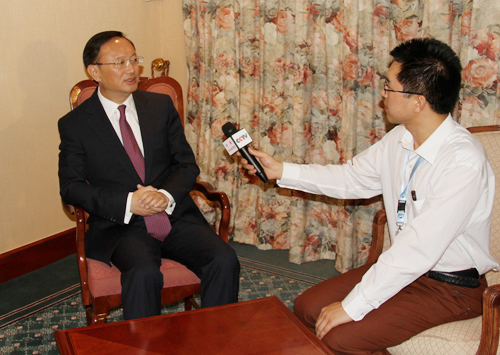 CONFIDENCE: Chinese Foreign Minister Yang Jiechi (left) talks to a Chinese reporter in Windhoek, Namibia on January 6 (HUANG JINGWEN)
Chinese Foreign Minister Yang Jiechi started his diplomatic trips in 2012 with a three-nation African tour on January 2-7 to Cote d' Ivoire, Niger and Namibia. He held discussions with leaders of the three African countries, signed cooperative agreements and reached broad consensus on implementing the outcomes of the fourth Ministerial Conference of the Forum on China-Africa Cooperation (FOCAC) and on issues concerning the fifth FOCAC Ministerial Conference to be held in China this year.
Since 1991, Chinese foreign ministers have traditionally chosen African nations to start their diplomatic trips every year, a way to demonstrate how China cherishes its friendship with Africa. "The visit has achieved the goal of enhancing political mutual trust, promoting practical cooperation and carrying forward traditional friendships," Yang said after the trip.
Besides following this tradition, Yang's three-nation African tour is of special significance because 2012 is an important year for China-Africa relations. "As the fifth FOCAC Ministerial Conference will be held in China this year, it is important for China to listen to African nations' opinions before it mapping out a new blueprint for promoting its cooperation with African nations," said Xu Weizhong, Deputy Director of the Institute of West Asia and Africa at the China Institute of Contemporary International Relations (CICIR).
Wang Hongyi, Secretary General of the Center for African Studies at China Institute of International Studies (CIIS), said that 2011 was the first year of China's 12th Five-Year Plan period (2011-15), which is crucial to China's transformation to a more sustainable growth mode. But as the international financial crisis kept spreading last year, Chinese and world economies encountered severe problems. "China and African countries need to discuss all those situations thoroughly through high-level exchanges," Wang said.
Despite impacts of the international financial crisis, trade between China and Africa developed very quickly in recent years. Wang predicted that the China-Africa trade volume would hit a new record of $150 billion in 2011. China is now Africa's largest trading partner. Chinese investment in Africa is growing rapidly. There are a total of more than 2,000 Chinese businesses of various types operating in Africa. But some problems have also emerged amid the growth of trade. "Dialogues between senior officials are conducive to finding out solutions to these problems," Wang said.
Promoting relations benefits both sides. For example, Africa is thirsty for foreign investment to realize its development. Due to the deteriorating global financial crisis, investment from developed economies has dropped remarkably, which leaves China a reliable and stable investor. To China, investing in Africa is a good way to use its foreign exchange reserves. "The rate of return of investing in Africa is almost the highest in the world," Wang said.
According to statistics from the European Union and the United States, their investment in Africa has a rate of return nearly 30 percent. Plus, Wang mentioned, Africa is a major resources supplier in the world and it has a fast-growing market