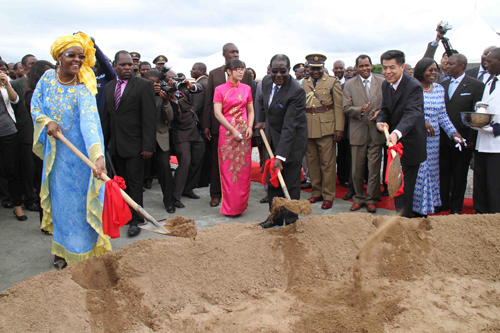 ASSISTANCE: China's Ambassador to Zimbabwe Xin Shunkang (front right), along with Zimbabwean President Robert Mugabe and his wife, lays the foundation for an orphan school project funded by the Chinese Government in Mashonaland Central Province on November 3, 2011 (LI PING)
Today, the international community is facing greater challenges from issues such as food security, fight against terrorism and the sweeping financial crisis. The world needs a new international political and economic order. African nations' status in the world are increasing with their recent development. Last April, South Africa formally joined the important bloc of emerging economies that formerly grouped Brazil, Russia, India and China. As a result, the bloc's name has changed from BRIC to BRICS.
As Yang concluded after his trip, African countries share a stronger wish to strengthen links with China, and have proposed to broaden the scope, increase the scale and upgrade the level of bilateral cooperation.
"This will go a long way in boosting China-Africa cooperation," Yang said. He outlined the following steps to strengthen Sino-African relations: maintain the momentum of high-level exchanges between China and Africa, continue to give full play to the leading role of FOCAC, take a more active part in affairs crucial to Africa's peace and security, and further strengthen unity and cooperation with Africa in international affairs.
At the upcoming fifth FOCAC Ministerial Conference, China and African nations will dig deeper on how to promote cooperation. Chinese observers have many expectations of the meeting. They believe the two sides will expand their cooperation to more fields in accordance with both sides' needs.
"In future cooperation, both sides should pay more attention to quality of cooperation rather than quantity," Xu Weizhong from CICIR suggested. China always values mutual benefit of cooperation. For example, he said, the trade structure should be improved. China's current exports to Africa are still mainly low- and middle-end products, due to African nations' consumption power and China's processing technology. With China's industrial upgrading and Africa's economic development, China and Africa should focus more on high-end products in bilateral trade.
Xu also encourages more Chinese businesses to invest in Africa. Investment in Africa not only helps China realize industrial upgrading, but also promotes recipient countries' economic development.
According to Xu, in the past, China and Africa shared common faith of fighting for national liberation and shaking off colonial rule. But today's people should forge a new common stance to develop an all-weather friendship under a different international background.
Xu said that China can share its development experiences with these countries. For example, China has paid a big environmental price for its economic development. China's experiences can prevent African nations from repeating the mistake.
Wang from CIIS stressed that the China-Africa relationship used to focus on political and diplomatic cooperation and economic assistance, but economic development and trade are now the priorities of cooperation. Since the FOCAC Summit was held in China in 2006, investment has been an important element. "China and Africa should work together to find their new approaches of cooperation under current circumstances," he said. Moreover, China can provide more agricultural and processing technologies to Africa instead of contracting projects in the traditional way.
Wang said that the China-Africa strategic partnership should be more specific and mutually beneficial. According to him, priority should be given to climate change solutions, infrastructure construction, and cooperation programs in agricultural, financial, cultural and social fields.
Email us at: dingying@bjreview.com