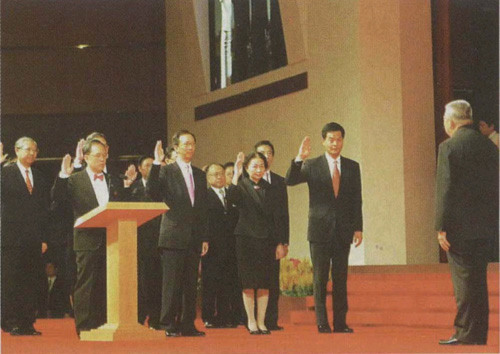 The inauguration of the 19 members of HKSAR's Executive Council (WANG HAIYAN)
Hong Kong Special Administrative Region (HKSAR) Chief Executive, Tung Chee-hwa announced a new list of principal officials under the accountability system on June 24, 2002.
The appointments, approved by the Central Government, heralded "the dawning of a new era" of government in Hong Kong, said Tung at a press conference.
The core idea of the HKSAR's accountability system is to make top-echelon officials more responsive to the needs of the community and hold them responsible for policy failures. Six of the 11 bureau directors are from the civil service, while the other five are from business, professional and academic fields. "This reflects the resolve of the government to attract talent from a broad spectrum to take care of each policy portfolio," said Tung.
He also said, "In the next five years, we will be a government that is more accountable to the people to Hong Kong. Ours will be an open, enlightened and progressive government."