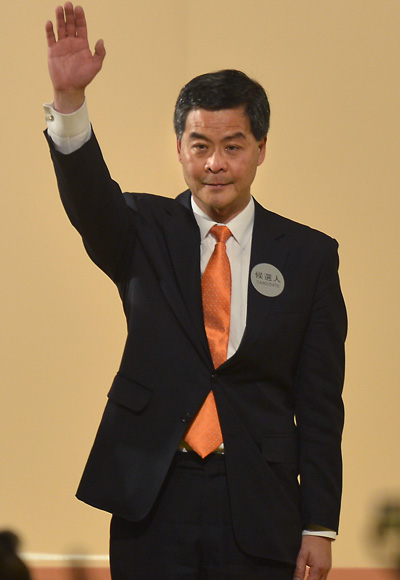 BRAND-NEW LEADERSHIP: Leung Chun-ying waves to people after winning the election of the fourth-term chief executive of Hong Kong Special Administrative Region on March 25 (LU XIAOWEI)
On July 1, Leung Chun-ying was sworn in as the third chief executive of Hong Kong Special Administrative Region (SAR) since its establishment on July 1, 1997. Before Leung's assumption of the post and the end of Donald Tsang Yam-kuen's second term as chief executive of the SAR Government, Leung and Tsang gave an interview respectively to Beijing Review special correspondent Qiao Zhenqi in Hong Kong. Excerpts follow:
Beijing Review: What brought you the victory in Hong Kong's chief executive election?
Leung Chun-ying: The chief executive of Hong Kong SAR must win support and recognition from Hong Kong residents. I visited people from all walks of life. I told people about my policy agenda and learned their concerns during these visits, which were warmly welcomed by voters.
Meanwhile, I put forward the principle of "seeking changes while maintaining stability" in my policy agenda. As social problems have been accumulating during Hong Kong's development, residents have actively voiced their requests for changes. The "changes" in my agenda are not major changes, but minor ones introduced in the midst of stability. Still, seeking changes is the core.
What is your understanding of "Hong Kong's return to China?"
"Hong Kong's return to China" has double meanings. In legal principle, the Chinese Government resumed exercise of sovereignty over Hong Kong on July 1, 1997, and a SAR was set up. The Basic Law of Hong Kong SAR, which serves as its mini-constitution for the region, went into force and the principle of "one country, two systems" was successfully implemented.
Regarding the popular feelings of the people, we need to work harder in a place that was under colonial rule for more than a century. This work, including our national education, will take a long time.
Hong Kong enjoys the Central Government's support, which is one of its development advantages. How will Hong Kong achieve even faster development by making use of this advantage?
The Outline of the 12th Five-Year Plan for the National Economic and Social Development (2011-15) of China says that the Central Government supports Hong Kong to consolidate and enhance its status as an international financial, trade and shipping center and expand its global clout as a financial center. We are grateful for the state's support.
What is the real meaning of enhancing Hong Kong's status as an international financial, trade and shipping center? I believe that such status would not be enhanced simply by doubling the throughput of Hong Kong's container terminal. In contrast, as an international shipping center, London does not even have a port. Without being involved in onshore cargo handling, London is engaged with more technically complicated businesses, such as trade, leasing, registration, management, financing and insurance of vessels. I would say that Hong Kong's status would be truly enhanced if we could develop into an international shipping center like London.
Hong Kong has become economically closer to the mainland after its return to China. How has Hong Kong benefited from this development? What measures will Hong Kong take to strengthen its economic and trade cooperation with the mainland in the future?
Hong Kong's economic cooperation with the mainland is reflected in three policy arrangements. First, the Mainland-Hong Kong Closer Economic Partnership Arrangement was signed in 2003. Second, for the first time the Outline of the 12th Five-Year Plan dedicates a whole chapter on Hong Kong and Macao, which contains a lot of content on Hong Kong's future development. Third, Vice Premier Li Keqiang announced 36 measures set out by the Central Government to support Hong Kong's social and economic development during his visit to Hong Kong in August 2011. Moreover, Hong Kong has signed separate cooperation agreements with Guangdong Province and Shenzhen, a boomtown in Guangdong. As the next step, we will focus on implementing policies and arrangements in these documents.