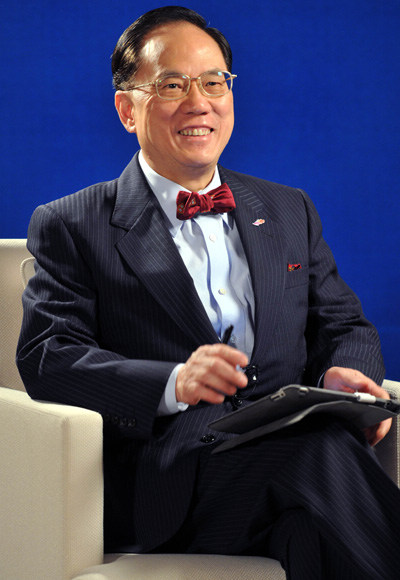 FULL OF CONFIDENCE: Donald Tsang Yam-kuen, then Chief Executive of Hong Kong Special Administrative Region, at an interview on May 21, 2012 (LIU XIAOWEI)
Beijing Review: The principle of "one country, two systems" has been implemented in Hong Kong since its return to China on July 1, 1997. Now, some people say that the reality is too much "one country," not so much "two systems." How do you see this?
Donald Tsang Yam-kuen: Since Hong Kong's return to China, its social and economic systems and lifestyle remain unchanged. Some people say that the country has grown stronger now, and has exerted more and more influence on Hong Kong.  Nonetheless, China's impact is global, not only on Hong Kong, but also on the United States and the European Union. Most importantly, the Central Government adheres to the principle of "one country, two systems" stipulated in the Basic Law of Hong Kong SAR. The freedom enjoyed by Hong Kong has never changed, and the lifestyle of Hong Kong people has never changed. What we have done is not perfect, we can make it better. I have every reason to say that the principle of "one country, two systems" has been successfully implemented in Hong Kong.
After Hong Kong returned to the motherland, has there been any change in its status in the global economy?
Credit rating agency Standard & Poor's has upgraded Hong Kong's credit rating to the highest AAA. Currently, only two Asian economies, Singapore and Hong Kong, are rated AAA. Most of the recipients of this rating are developed economies in Europe and North America. So we can see that Hong Kong's overall financial system has come on par with that of developed economies, and Hong Kong's status in the global economy has been recognized.
After weathering two financial tsunamis in 1997 and 2008, Hong Kong has enhanced its status as an international financial center. In the last 15 years, Hong Kong has never had financing difficulties. The most difficult time occurred after the 2008 financial crisis, yet even then, there was foreign capital entering Hong Kong. This indicates that international investors believe Hong Kong is a stable and reliable market with relatively high returns.
Hong Kong has shifted from an economic structure dominated by manufacturing to one dominated by services. Its service industry has gradually upgraded to high-end services with high added value such as financial, shipping and logistical services. Recently, we have found a new direction, that is, to develop environmentfriendly industries and creative industries. So, Hong Kong is always going forward.
The Central Government actively supports Hong Kong's efforts to develop itself into an offshore renminbi business center. Right now, how is Hong Kong's offshore renminbi business going? How will this strengthen Hong Kong's status as an international financial center?
The pilot scheme of renminbi settlement for cross-border trade was introduced in 2009, which is an important milestone in the sustained development of Hong Kong's renminbi business. Last year, renminbi trade settlements processed in Hong Kong totaled 1.9 trillion yuan ($299.84 billion). Hong Kong has the largest pool of offshore renminbi liquidity, and has become the largest renminbi trade settlement center and the global hub for renminbi dim-sum bonds. Hong Kong has played an important role in the internationalization of the renminbi. Driven by increasing renminbi trade settlements, renminbi deposits in Hong Kong banks are surging. As of the end of this March, renminbi deposits in Hong Kong had reached 54.43 billion yuan ($8.59 billion), accounting for 8.7 percent of the total deposits in local banks.
Currently, 9 percent of China's foreign trade is settled in renminbi, of which 90 percent is handled by banks in Hong Kong. It is very important for Hong Kong. On one hand, it is an important boost to Hong Kong's role as a financial center, and Hong Kong can profit profusely from it; on the other hand, Hong Kong has made real contribution to the process of making the renminbi a convertible currency.
Email us at: yaobin@bjreview.com