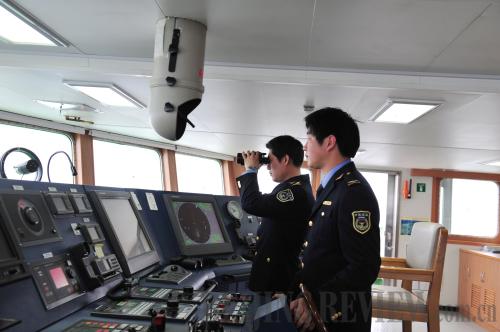 REGULAR INSPECTION: Chinese maritime surveillance officials on a routine patrol mission to the Diaoyu Islands on March 16 (ZHANG JIANSONG)
Hu from the CICIR lamented, "On some level, one party and politician's political ambition is kidnapping the country's diplomatic policy." Like Ishihara, Noda and the DPJ also hope to elevate their public authority to win the elections, Hu said, which explains why Noda pronounced to "nationalize" the islands.
As Japanese politicians try to win political points by provoking nationalism, observers worry that Japan's domestic political disputes and growing conservative emotions might harm the Sino-Japanese relationship. Just as a recent poll showed China's popularity is on the decrease among Japanese people, Chinese people are enraged by Japan's radical actions on the Diaoyu Islands.
Chinese Foreign Ministry spokesman Liu Weimin reiterated Beijing's position that the islands belong to China. "China's territory simply cannot be bought or sold by any person," Liu said in a statement. Liu said the Chinese Government would continue to take necessary measures to "resolutely safeguard the sovereign rights of the Diaoyu Islands and adjacent islets."
"We cannot let territorial disputes damage the bilateral friendship of the past 40 years, but we will persist in our stance of sovereignty and territorial integrity," Hu said. He suggested strengthening communication with all involved Japanese parties to decrease strategic misunderstanding and boost mutual trust.
Regional stability benefits all countries involved, including Japan's ally, the United States, he stressed, mentioning U.S. Secretary of State Hillary Clinton's recent statement on holding a neutral position on territorial disputes between China and Japan.
Liu from Tsinghua University said the Japanese Government must keep a clear mind when rising right-wing forces try to gain political credit by provoking territorial disputes. He stressed that Japan's key problem is whether it should stop jeopardizing the Sino-Japanese relationship over the Diaoyu Islands. "The Noda administration is being manipulated by right-wing forces," Liu warned.
Feng Zhaokui, a senior research fellow on Japanese studies with the CASS, stressed that the Diaoyu Islands dispute does not constitute the whole Sino-Japanese relationship, and is not expected to be solved immediately. "The two countries have more practical joint efforts to make in economic cooperation and people-to-people exchanges," Feng said. He suggested that on the one hand, China should stick to the principle of solving the dispute through cooperation and coordination. On the other hand, China must persist in its stance of maintaining sovereignty and territorial integrity and let Japan know the serious consequences of irrational diplomatic policy.
Hu added that growing territorial disputes with neighboring countries are an inevitable process of China's peaceful rise. "Some countries are afraid of China's rise and are trying to profit from it," Hu said, "but China will not give up its sovereignty and national interests."
Hu said China's stance on disputed territories is to put aside disputes and develop them peacefully together. "Personally, I abhor open warfare," he said. "But if there is no other option when a country escalates territorial disputes, war will be the final solution."
Email us at: dingying@bjreview.com