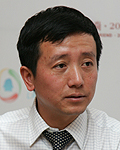 Mei Xinyu
The achievements of emerging economies in recent years brought risks of an economic backlash because they attracted huge inflows of money that grew into capital bubbles
Emerging markets' economies have been rising and falling since the second half of 2011. Their economic growth has slowed; foreign capital has started to flee; and their currencies continue depreciating against the U.S. dollar. Even leading emerging markets like the BRICS (Brazil, Russia, India, China and South Africa) cannot escape from the global trend.
BRAZIL'S STIMULUS PACKAGE: Brazilian President Dilma Rousseff announces new measures to bolster Brazil's struggling national industry in Brasilia on April 3 (XINHUA/AFP) 
Brazil's economic growth rate dropped from 2010's 7.5 percent to 2.7 percent in 2011. Its growth rate for the first quarter of 2012 fell further, to just 0.8 percent. The Brazilian real's depreciation rate to the U.S. dollar reached a double-digit percentage. Brazilian enterprises have trouble securing financing from international markets due to the country's currency depreciation and slow economic growth, facing mounting risks of a foreign debt crisis. Brazilian enterprises received $47 billion in financing from international markets last year. But in 2012, they may take in only $100 million according to estimates. Statistics of the Central Bank of Brazil show the volume of Brazilian enterprises' due debt by 2012 will be about $27.3 billion.
India's economic growth rate slid to 7.2 percent in 2011 from 2010's 10.6 percent. Its growth rate in the first quarter of 2012 fell to a nine-year low of 5.3 percent. By the end of June, the Indian rupee's exchange rate to the U.S. dollar depreciated over 10 percent from that of March, and about 30 percent from that of June 2011. The Indian economy is so bad that some Western institutes and media outlets took a break from badmouthing the Chinese economy to take a hard look at India. According to Standard & Poor's, India's credit level is only one level above junk status. On June 11, the credit rating agency warned that it may degrade India's credit rating down to junk category, making India the first member of the much-hyped BRICS to lose its investment-grade credit rating.
The Russian ruble's exchange rate to the dollar decreased about 11 percent during the second quarter of 2012. Capital flight has been a problem in Russia since 1991, but the old problem has worsened since the second half of 2011.
Under these circumstances, the renminbi exchange rate, which had seen appreciation pressure for years, started to reverse.
Economic risks of emerging markets stem from the chronic weaknesses of their economies, such as India's trade deficit and current account deficit. The country has been in a trade deficit since its independence in 1947, except for two-year stretches in 1972-73 and again in 1976-77. Despite its inclusion in the BRICS group, India's trade deficit increased to 2008's $95.81 billion from 2003's $7.19 billion. India's current account surplus fell into a deficit in 2005. In 2008, its current account deficit reached $36.09 billion. As the country has been under the double pressure of a trade deficit and a current account deficit, it could find itself in the vicious circle of capital flight leading to exchange rate depreciation followed by more intensified capital flight. The Indian rupee has greatly depreciated to the dollar, and the country has been under high pressure of inflation. To contain inflation, India's central bank often has to sacrifice the country's economic growth.
To avoid a disastrous international payment crisis and subsequent monetary and financial crises, countries like India have to keep interest rates and reserve requirements high. They may even further tighten their monetary policy to attract portfolio investment. For example, the Indian central bank raised interest rates 13 times during the 2010-11 fiscal year. The tight monetary policy led to a further slowdown in the real economy.
The achievements of emerging economies in recent years brought risks of an economic backlash because they attracted huge inflows of money that grew into capital bubbles. As governments and enterprises chasing big ambitions expanded haphazard investment, they were also causing the hidden danger of inflation.