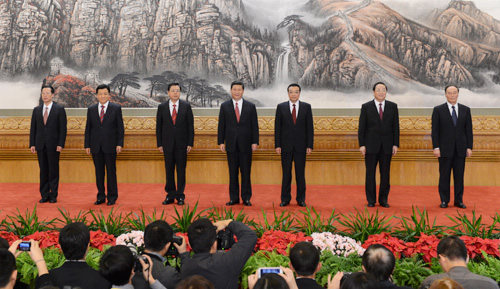 Members of the Standing Committee of the 18th CPC Central Committee Political Bureau, Zhang Gaoli, Liu Yunshan, Zhang Dejiang, Xi Jinping, Li Keqiang, Yu Zhengsheng and Wang Qishan (from left to right), stand before journalists after election on November 15 (XIE HUANCHI)
The 18th National Congress of the Communist Party of China (CPC) convened in Beijing from November 8 to 14.
Delivering a report at the start of the congress, Hu Jintao, General Secretary of the 17th CPC Central Committee, said that China will build a moderately prosperous society in all respects by 2020, when the GDP and per-capita income for residents will have doubled from their 2010 levels. The congress elected a new central committee and approved an amendment to the CPC Constitution that includes the Scientific Outlook on Development in the Party's guidelines for action.
On November 15, Xi Jinping was elected general secretary of the CPC Central Committee and chairman of the CPC's Central Military Commission at the First Plenary Session of the 18th CPC Central Committee. Other members of the newly elected Standing Committee of the Political Bureau of the CPC Central Committee are Li Keqiang, Zhang Dejiang, Yu Zhengsheng, Liu Yunshan, Wang Qishan and Zhang Gaoli.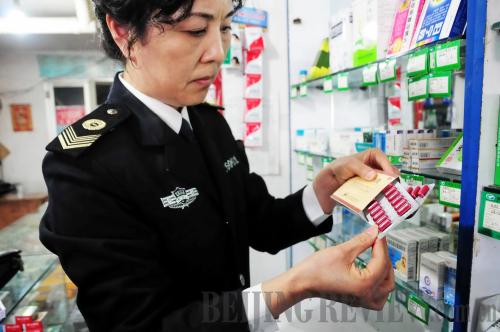 A food and drug safety officer inspects medication in a pharmacy in Qingdao, Shandong Province, on April 16 (CFP)
On April 15, a China Central Television program on quality standards stated that nine companies had manufactured drug capsules with industrial gelatin containing levels of chromium exceeding legal limits. The industrial gelatin was found to be made from leather scraps.
After the scandal broke, the State Food and Drug Administration launched a nationwide inspection on all medications produced and sold as of April 30 and required producers of pharmaceutical gelatin, capsules and capsule drugs to conduct strict checks on every batch of raw materials prior to production starting from May 1.
The Ministry of Public Security said on April 22 that it had confiscated 77 million capsules made from toxic chromium-containing industrial gelatin, arrested nine suspects, detained 54 and sealed 80 industrial manufacturing lines.
China published 88 new standards on food safety in 2012. It also enhanced the monitoring network on chemical contaminants and pathogenic microorganism food, expanding coverage from 25 percent of county-level administrative regions to 47 percent in 2012.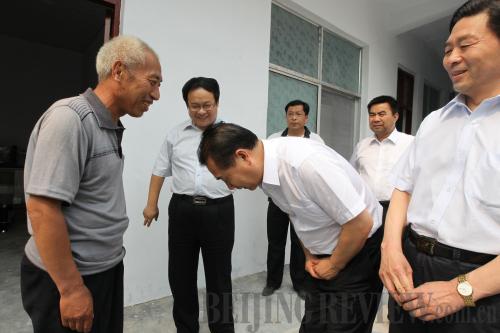 Zhang Liyong (right), President of Henan Higher People's Court, bows apologetically to Zhao Zuohai, who was released after serving 10 years for a wrongful murder conviction (CFP)
The National People's Congress, China's top legislature, adopted the revision to the Criminal Procedure Law on March 14 after legislators produced draft revisions of over 100 articles. The revised law will take force on January 1, 2013.
The principle of "respecting and safeguarding human rights" was written into the law, which was enacted in 1979 and revised in 1996.
The amendments make it clear that confessions by a suspect or a defendant obtained through extortion or other illegal means, and witness' testimony and victim's statements obtained through the use of violence, threats or other illegal means should be excluded from evidence.
The newly amended law also clearly stipulates that no person may be forced to prove his or her own innocence, and no criminal suspects or defendants may be forced to confess.