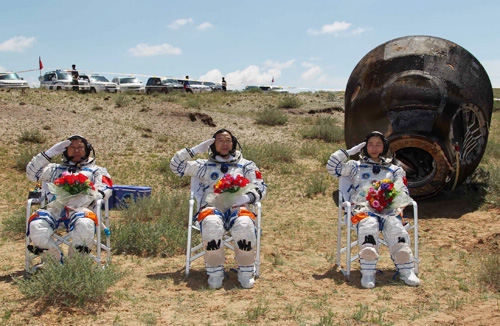 Chinese astronauts Jing Haipeng (center), Liu Wang (left) and Liu Yang salute a cheering crowd outside the re-entry capsule of the Shenzhou-9 spacecraft in Siziwang Banner in north China's Inner Mongolia Autonomous Region on June 29 (WANG JIANMIN)
China's space programs achieved more milestones in space exploration. After successfully completing China's first automatic space docking on June 18, the three astronauts aboard the Shenzhou-9 spacecraft, including China's first female astronaut Liu Yang, manually docked the spaceship with the Tiangong-1 lab module on June 24. The crew returned to Earth safely on June 29.
The country's deep-sea manned submersible Jiaolong set a new national record of 7,062 meters below sea level during a dive into the Mariana Trench on June 27. During its six dives in May and June, the submersible took three 7,000-meter plunges, marking a breakthrough in the development of China's deep-sea exploration technology. China is now capable of conducting deep-sea scientific research and resources exploration in 99.8 percent of the world's oceans.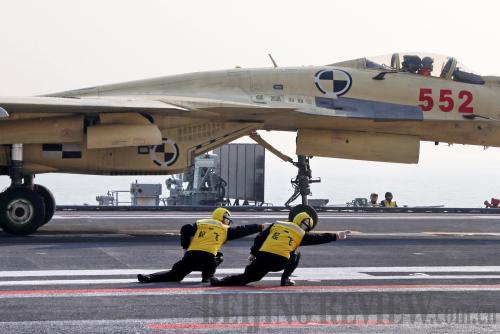 Deck personnel guide a J-15 fighter before its take-off from China's first aircraft carrier, the Liaoning, during an exercise on November 27 (CFP)
China's first aircraft carrier, the Liaoning, entered service on September 25, making China the 10th country to put an aircraft carrier into active service and the last among of the five permanent members the UN Security Council to do so.
The Liaoning is named after the province that had been its home for the past 10 years as it was rebuilt from the Soviet Varyag with new engines and weapons. The Chinese navy's largest warship completed 10 sea trials in one year after the decade of refitting.
In late November, pilots successfully conducted China's first carrier-borne take-off and landing exercises of the J-15 fighter jet.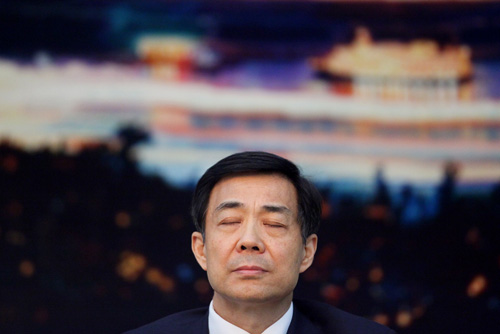 Bo Xilai, former Party chief of Chongqing Municipality, was expelled from the CPC and removed from public office in September for severe disciplinary violations (CFP)
The Political Bureau of the CPC Central Committee decided to expel Bo Xilai from the CPC and removed him from public office for severe disciplinary violations during a meeting on September 28. Bo's suspected legal violations were transferred to relevant judicial departments.
Investigations showed Bo had abused his power and bore major responsibility in an incident concerning former Chongqing Vice Mayor Wang Lijun's entering the U.S. Consulate General in Chengdu, and an intentional homicide case involving Bo's wife, Bogu Kailai.
A court on August 20 sentenced Bogu Kailai to death with a two-year reprieve for murdering British citizen Neil Heywood in November 2011. Wang was sentenced to 15 years in prison on defection and other charges on September 24.
Investigations have also found that Bo seriously violated CPC discipline while managing Dalian City, Liaoning Province and the Ministry of Commerce, as well as serving as a Political Bureau member and Chongqing Party chief.
Bo was accused of taking advantage of his position to seek profits for others and received huge bribes personally or through his family. His position was utilized by his wife to seek profits for others, and the Bo family accepted a huge amount of money and property from third parties.
Bo had maintained improper sexual relationships with a number of women. He was also found to have violated organizational and personnel discipline and made erroneous decisions in certain promotion cases.