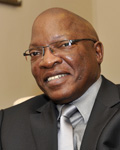 2013 is an important year for South Africa. The country will host the Fifth BRICS Summit in March and it also celebrates the 15th anniversary of the establishment of diplomatic relations with China. On January 31, Bheki Langa, South African Ambassador to China, shared his thoughts on the upcoming BRICS Summit and relations between China and South Africa with Beijing Review. An edited transcript of his opinions follows:
Beijing Review: What are your expectations for the Fifth BRICS Summit?
Bheki Langa: BRICS and Africa—Partnership for Development, Integration and Industrialization will be the theme of the Fifth BRICS Summit taking place in Durban in March.
South Africa's accession to the BRICS grouping was in large part premised on the country's role as a financial and logistical gateway to sub-Saharan Africa, as well as on the continent's huge economic potential. Africa is the fastest growing power after Asia and offers the highest returns on investment of any region. The African continent is home to 60 percent of the world's unused arable land. In 2010, six of the world's fastest growing economies were located in Africa, and Africa's output is expected to expand by 50 percent over the next four years. Economic growth is expected to expand by an average of 5.5 percent annually in the next five years.
It was this potential, combined with the economic power of Brazil, Russia, India and China, that will enable the BRICS grouping to pave the way for "a new global pattern focusing on South-South relations ... overriding previous East-West and North-South constructs and divisions."
This was in line with the underlying principle for South Africa's partnership with BRICS, that of advancing the role of emerging economies in international relations, to ultimately help fashion a more equitable global political and financial architecture. With South Africa's unique history and independent foreign policy, we bring our own experience and perspective to the BRICS collaboration.
BRICS members suggested establishing a BRICS development bank at their last summit. How do you feel about this suggestion and what role could this new bank play if it is established?
To build a BRICS development bank is not a new idea. It was talked about at the G20 Summit in Seoul in 2010. With a total population accounting for about 40 percent of the world's total, the total GDP of BRICS nations accounts for nearly 20 percent of the world's GDP and contributes half of the growth in the global economy. There is a huge amount of savings in the BRICS countries, which is not fully used. So the idea started there, it's about how to use the huge amount of savings which are unused.
With its own development bank, the BRICS countries can work together to shape a new international monetary system.
As export-led economies, the BRICS countries feel the impact sharply each time global financial crises hit. Drawing on our experience with successful reforms, it's necessary for us to set up such a bank for our common development according to our own conditions.