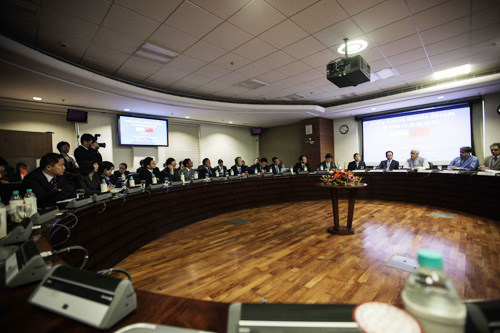 A FRIENDLY TALK: Representatives and scholars from India and China attend the opening ceremony of the first media summit between the two countries in New Delhi on September 16 (XINHUA)
Cai called for long-term engagement and frequent dialogues and communication between Chinese and Indian media, pushing both to see each other rationally and objectively so as to deepen understanding and friendship between the two peoples.
"Relations between nations lie in amity between the peoples, while amity between the peoples lies in mutual understanding," said the Chinese minister.
Cai said that China and India's simultaneous development illustrates that the world is big enough to accommodate them both. "It suggests that we have each found a development path that suits our respective national conditions. We should walk hand in hand to continue along the paths," he said.
He also stressed the two countries' interests have become more intertwined. China-India relations have great potential for growth. As close neighbors and partners, friendly and pragmatic cooperation between China and India is in the fundamental interests of both nations, as well as a blessing for Asia and the world.
"We have an undefined boundary and differences in perception… But in our hearts, we know that it is not an insurmountable problem," Khurshid said during the event.
Khurshid also noted that the 21st century is widely expected to be the "Asian century," saying, "It is our firm belief that this dream will remain unfulfilled if India and China are unable to find congruence in the ways we think about global issues."
Cai said that the Chinese and Indian media still lack sufficient understanding of each other's country, fail to fully reflect the current status of friendly bilateral relations, and do not meet the two peoples' demand for information.
To overcome current shortcomings in the reporting each other's country by the media, Cai suggested that the two countries station more reporters in each country to conduct interviews and gather first-hand information.
Currently, China and India have about 20 reporters stationed in the other country. Given the two countries' population size and the importance of their relations, this number of reporters is unable to fulfill the demands for information.
Eyes on the future
In the forum, the two sides have agreed to initiate steps to include media cooperation as part of 2014 celebrations commemorating "friendly exchanges" between the two countries.
Both countries agreed to proactively consider steps to promote high-level media exchanges. It has also been agreed to outline a roadmap to include specific projects as part of an initiative to mark the commemoration of "friendly exchanges."
Cai said, "Exchanges and cooperation between the media in the two countries are progressing comprehensively. Exchanges between executives of the mainstream media are more frequent and so are those between media professionals."
He also proposed making the media forum a long-term and institutionalized platform for regular exchanges. It was also suggested that the forum be held every year, with extensive topics of common concern to be discussed.
Email us at: yulintao@bjreview.com