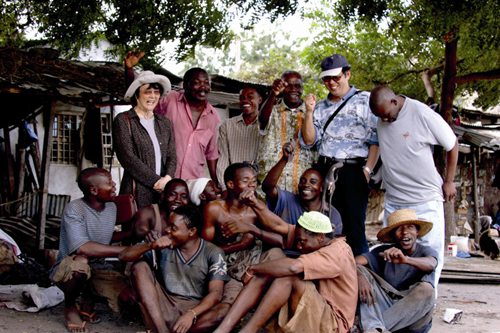 Li Songshan with African artists
"Songshan-Hanrong is not only a symbol of us. I hope it can also represent the first generation of Chinese working in Africa," Li said. "People like us spent their life and made strenuous efforts on promoting China-Africa communication and friendship, because we take it as our dream."
When people hailed the museum in Changchunas a perfect ending for the couple's lifetime connection with African culture, Li and Han, in their 70s and 60s, were drafting a new plan - building an African culture center in China's capital.
The idea was actually conceived in 2005. In that year, four Tanzanian sculpture masters died. Li and Han felt a deep sorrow. They were intimate friends with the masters, and their deaths marked an end to a period of flourishing Tanzanian artwork that lasted nearly 50 years. Soon, they made a decision to move back to China, where the masters' brilliant artwork could be appreciated by more people.
In 2007, they bought land in Songzhuang, an artistic zone in aBeijingsuburb, and planned to use it to build their dream project - the African Village. But in the same year, Li was diagnosed with colon cancer. Insisting on finishing the project, he began to commute between construction site and hospital. Han was supportive from the start, knowing how important the project was to her husband.
"All I ask is several more years so that I can see its completion," Li said. "It's not our personal property but a belonging ofChina, of future generations devoted to promoting African culture and art and China-Africa friendship."
African village
To now, parts of the African Village project have been completed, and have become the accommodation for theTanzanian deputy minister of culture and the wives of eight African diplomats. They say the village is just like their second home.
"There will be an auditorium for African officials, African scholars and Chinese experts on African studies to give speeches about African economies and cultures," Li said. According to Li, the auditorium will also function as a museum with an exhibition of African arts. It will also house a movie theater to show African movies and a restaurant featuring African-style dishes.
The four buildings around the auditorium include an African art research center based on cooperation with universities in Beijing, a clinic of volunteer doctors to serve African diplomats and students in Beijing, and a publishing house to work for Chinese scholars and those giving speeches in the auditorium.
What Li is most proud of is an art studio themed "Africa in the Chinese eye." Li said that Chinese artists can work here to design industrial products, such as furniture, with African elements. He believed that Chinese artists can draw inspiration from African arts to develop Chinese art.
They also established the Makonde Art Institute at the Jilin College of Arts, where Li was appointed as an honorary professor, supervising graduate students working on Makonde art theory.
"Families and friends think we are out of our minds every time we make major decisions like this. But, life is not about what you have but what you can give. To foster more Chinese interest in the culture and art of that beautiful land is the best thing we can give." Li said.