Shortly before U.S. President Barack Obama's visit to China, U.S. Ambassador to China Jon Huntsman spoke about changes in the China-U.S. relationship over the past three decades, and its implications for the world at large in a speech at the opening ceremony of the China-U.S. Relations Conference in Beijing. Excerpts of his speech follow: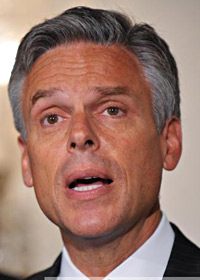 U.S. Ambassador to China Jon Huntsman (XINHUA/AFP)
We are celebrating 30 years of formal bilateral relationship. If you look back 30 years ago, it is very interesting to put this relationship in perspective, then versus now. Thirty years ago, we had 1,200 foreigners living in Beijing. Today we have 1,200 officials in the U.S. Embassy alone. Today we have probably more American citizens in China than the entire state of Montana.
Thirty years ago, no private cars were on the road. Now 10 million units are manufactured each and every year. China's GDP (gross domestic product) has increased 82-fold in that period of time--a testament to the ingenuity, the commercial dynamism and the entrepreneurship of the Chinese people. In 1979, U.S.-China trade was in the low billions. Today, it exceeds $400 billion. [China-U.S. trade amounted to $333.74 billion in 2008 according to the statistics of Chinese customs.]
Thirty years ago, talk about rule of law, about civil society, were mere margins in the few of the intellectual salons. Today it is the subject of Internet chatter, discussions of leadership circles read by 60 million bloggers and 325 million Internet users.
In 1979, U.S. Embassy issued 4,700 non-immigrant visas, of which 770 were students. Last year, our embassy and consulates across the country issued nearly a half million nonimmigrant visas to Chinese citizens and 77,000 were students, 100 times more than in 1979. There were a handful of U.S. news correspondents in the late 1970s. Everyone of them wrote a book about living here, such was the appetite for information about China. Today there are more than 150 correspondents. Everyone of them writes at least a blog nearly all seem to have book contracts.
As China has reemerged and as our bilateral relationship has matured, it has become obvious that, absent of close cooperation, which the two presidents have said to be positive and comprehensive, many of the most pressing global challenges cannot be successfully addressed. We share many of the same views and recognize our work together has implications far beyond our bilateral concerns. This does not mean we always agree, but it should mean that we will always be respectful, treat each other as equal partners and, more than ever before, seem to understand our shared interests.
I was called to the Oval Office many months ago unexpectedly. I heard the president speak about relationship in ways that suggested to me that he gave much thought to the U.S.-China relationship. He said, "I expected this is a relationship that should be managed in a positive, collaborative and comprehensive fashion."
We talked about civil society and human rights. We hear our friends in China about core issues. But we need somehow to ensure there is mutual respect and we do a better job in identifying our shared interests. The president then moved on to say that we have some headline issues and they include energy efficiency and climate change, regional security like North Korea and Iran, and of course the global economy.
Looking forward to President Obama's visit, I think it would be a very unique opportunity for China to hear and learn more about the United States of America. 
I want to close with my favorite aphorism that I think we always need to remember as we manage this relationship right forward. Huxiang bangmang, huxiang xuexi, huxiang jinbu. Together we have to help each other. Together we have problems solved. That means together we will be able to progress. And the world will be a much more peaceful and prosperous place.