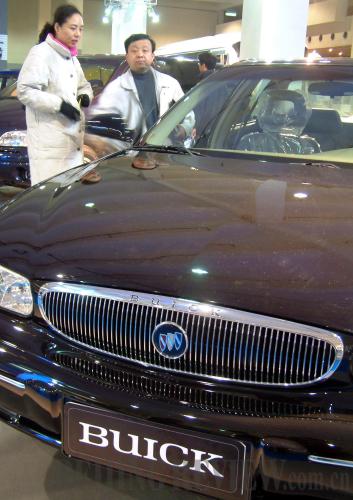 CHINESE REACTION: A customer in Beijing consults a salesperson about a BUICK car from the United States. China's Ministry of Commerce announced plans to launch an anti-dumping and countervailing investigation on certain U.S. automobile and chicken products in September 
As the biggest developed and developing country, respectively, the United States and China, used to be complementary of and dependent on one another in terms of their import-export relationship. Now, the two have fallen upon unfortunate times as trade frictions increase in prevalence, becoming a contentious topic of discussion.
Tensions started on September 11, 2009, when U.S. President Barack Obama decided to levy three-year punitive tariffs on all car and light truck tires imported from China. Before Obama's visit to China on November 15, the United States had launched many trade protection actions against China, with tires, oil country tubular goods, coated paper, potassium pyrophosphate, monopotassium phosphate and potassium hydrogen phosphate becoming the targets of the United States' trade strike.
The frequency of anti-dumping and countervailing cases launched by the United States has been relatively high in the history of world trade.
In the interest of its domestic industries, China has implemented appropriate trade countermeasures, launching anti-dumping and countervailing investigations on certain automobiles and chicken products originating from the United States.
While these disputes account for a small proportion in the overall cooperation between China and the United States, the sudden frictions have already begun to affect the involved Chinese industries and companies.
At a seminar on international trade development held on November 7 in Tianjin, Yao Jian, spokesman for the Ministry of Commerce (MOFCOM), said that trade frictions between China and the United States are increasing and trade protectionist measures adopted by countries including the United States have already deeply affected China.
Why now?
The intensified trade protectionism measures adopted by the United States against China arose from the "framework for strong, sustainable and balanced growth" put forward by Obama at the G20 Summit held in Pittsburgh. The U.S. Government has proposed the idea that the financial crisis is a consequence of the imbalance in the global economy, especially the imbalance in trade between China and the United States. The trade protectionism measures against China are to balance the trade equation between the two countries, narrow the surplus and precipitate renminbi appreciation.