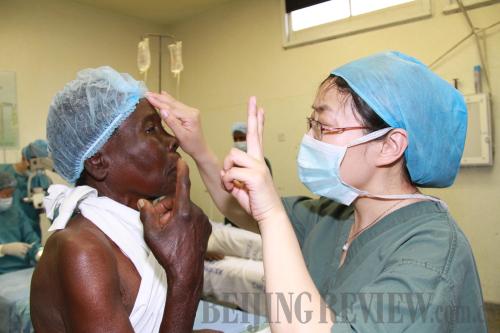 SIGHT REGAINED: A Chinese doctor checks a patient's sight before a free cataract operation on March 21 at a hospital in Harare, Zimbabwe (LI PING)
So Chen decided to stay in the country. For him, there is too much work to do. Chen said every member of his team has to overcome five barriers: livelihood, language, getting along with other team members, homesickness and tough working conditions. His job as a chief is taking care of all the members on his team.
"My parents have passed away, my wife is retired, and my kid went to college last year. Now I can devote all my time and energy to helping people here," said Chen. "Plus, I have accumulated practical experience and established good communication channels with Tanzanian health officials."
A 12-member medical team from Jiangsu Province headed by Lu Jianlin is working in Zanzibar, a semi-autonomous island of Tanzania, while nine others from Jiangsu are taking care of people on the neighboring Pemba Island. Lu and his colleagues work in different departments in Zanzibar's biggest hospital, the Mnazi Mmoja Hospital.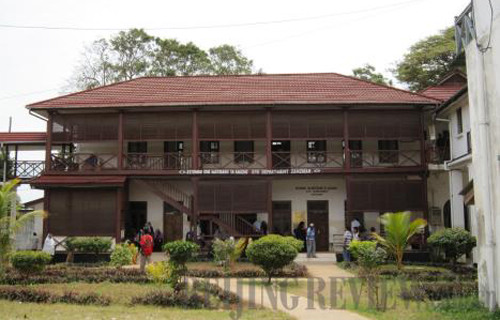 BUILDING HOPE: A China-sponsored eye center in the Mnazi Mmoja Hospital (DING YING)
In 2009, China sponsored an eye clinic valued at over 1.3 million yuan (about $200,000) for Zanzibar. The eye clinic is the most advanced medical service at the Mnazi Mmoja Hospital.
There are a lot of glaucoma and cataract cases in Zanzibar because of the strong tropical sunlight, said Geng Ning, a Chinese medical team member at the center. Before the eye center was built, rich people had to get operations in other countries like Egypt, while many poor people lost their sight at a young age due to cataracts, which are curable after an operation.
"I love my job here. I am so glad my patients are able to see again. People's lives are hard here. If they lose their sight, you cannot imagine what their life will be," she said. Because Chinese doctors don't charge for outpatient services and operation expenses, people only need to pay a small amount to regain their sight.
Like other Chinese doctors, she has a local doctor as an assistant. "My assistant is very smart and works very, very hard. Sometimes I give him opportunities to do easy parts to gain experience after finishing the difficult parts of an operation. Only by training local doctors, can we create a medical team that never leaves," she said.
The Chinese medical team is also trying to build an ICU in Zanzibar. "The most painful thing for us is we know we could save some patients who we lose, because of the poor equipment," said Lu.
He explained that like many other places in Africa, people in Zanzibar usually just endure their diseases. They go to the hospital only when they cannot stand to suffer any more. By that time, their diseases will have grown serious and complicated. All departments of the Mnazi Mmoja Hospital can share the ICU when dealing with complicated cases, Lu said.
In addition, the Chinese medical team in Zanzibar is conducting a project to help cleft lip and palate children. Due to weak pre-maternity care, the death rate for such cases is as high as one in 800 in the region. These patients are suffering not only physically, but also psychologically, said Lu. He said if the project is successful, many kids could get treatment before they reach puberty, and will grow up with more confidence.
Moreover, Lu and his team members plan to cooperate with the local government on maternity care education to help prevent cleft lip and palate cases, like asking pregnant women to take folic acid before or during the first three months of pregnancy.
When asked if they felt worse off than their colleagues at home, Lu and his members answered with no hesitation, "We are respected here, which also is a kind of gain."
(Reporting from Dar es Salaam and Zanzibar, Tanzania)
Chinese Medical Teams Abroad
China dispatched its first medical team to Algeria in 1963. Since then, many friendly developing countries have submitted applications requesting Chinese medical teams for their countries. Over the past 48 years, China has sent over 21,000 doctors to 65 developing countries in Asia, Africa, Europe, Latin America and Oceania. Over 260 million patients in these countries have received treatment from Chinese doctors. In the past decades, 48 Chinese doctors have sacrificed their lives for this program, succumbing to disease, injury, war and other accidents.
The medical teams are sent by local governments around China. Team members are from various medical departments, including general departments such as internal medicine, surgery, pediatrics and maternity, as well as specialized departments like cerebral surgery, cardiac surgery and intensive care. Their term is normally two years. Many Chinese medical team members, however, choose to register for more terms in Africa.
All team members are under the administration of China's Ministry of Health. Most expenses of the Chinese medical teams are covered by the Chinese Government. Countries that invite a Chinese medical team usually provide housing and working places for the doctors. The Chinese Government also provides medicine and medical equipment to assistance recipient countries through its medical teams.
(Source: China's Ministry of Health)