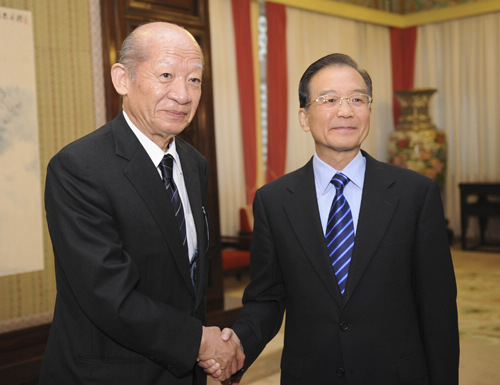 CALLS FOR COOPERATION: Chinese Premier Wen Jiabao meets Taizo Nishimuro, chair of the Japanese side of the Fifth 21st Century Committee for China-Japan Friendship, in Beijing on October 22 (XIE HUANCHI)
At a time when China and Japan are about to celebrate their four-decade-long diplomatic ties, the two countries should strengthen cooperation in diverse fields while fostering good feelings toward each other, said Tang Jiaxuan, a former Chinese State Councilor.
Next year will mark the 40th anniversary of the normalization of diplomatic relations between China and Japan. "This will be a new milestone in the history of bilateral relations and will provide new and significant opportunities for the development of bilateral relations," Tang, chair of the Chinese delegation, said at the third meeting of the Fifth 21st Century Committee for China-Japan Friendship.
The 21st Century Committee for China-Japan Friendship, established in 1984, is an advisory body for the two countries' governments. It consists of eminent personalities from different communities of the two countries.
Committee members agreed during the meeting, held on October 23-25 in Beijing and Changsha that it is imperative that China and Japan, neighbors often troubled by historical disputes and clashes over practical interests, enhance mutual understanding and trust.
A lack of political trust and friendly emotions continues to haunt Sino-Japanese relations, Tang said. Bolstering political trust and enhancing friendship will therefore be two "systematic programs" the two countries should jointly advance.
Complicated factors, including historical issues and nationalist sentiments, have led to insufficient mutual political trust between China and Japan. The Chinese are indignant at Japanese right wing's attempts to whitewash wartime history. Disputes over the sovereignty of the Diaoyu Islands in the East China Sea also flare up from time to time.
Also, some Japanese have suspicions about China's rapid development and national defense modernization. They have touted the so-called "China threat theory," which is detrimental to the sound development of bilateral relations.
Taizo Nishimuro, former President of the Tokyo Stock Exchange and chair of the Japanese delegation, said China and Japan should increase communication at various levels to promote mutual trust in political and security affairs for the long-term and stable development of bilateral relations.
During Chinese President Hu Jintao's state visit to Japan in 2008, the two sides issued a fourth political document, which stated that the two countries "are partners and do not constitute a threat to each other" and they will "support each other's peaceful development."
The two sides should strengthen dialogue and exchange between various sectors including governments, political parties and parliaments to implement this important political consensus, Tang said.
Zhou Mingwei, President of the China International Publishing Group (CIPG), said to establish mutual political trust, the two sides must push for a shift in people's thinking.
To enhance friendship among Chinese and Japanese people, China and Japan should give full play to their unique advantages such as geographical proximity and cultural similarity and actively expand personnel exchanges by mobilizing both governmental and non-governmental resources, Tang said.
"The two sides should work together to create an objective and friendly public opinion environment," he added. "The media of both countries should strengthen exchanges, increase mutual understanding, enhance the sense of responsibility, avoid malicious speculation and serve as a bridge for the improvement and development of bilateral relations."