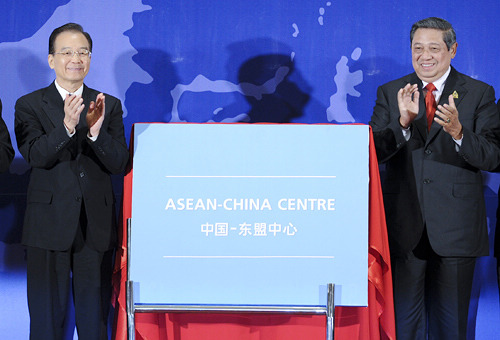 NEW BEGINNING: Chinese Premier Wen Jiabao attends the unveiling ceremony of the China-ASEAN Center together with Indonesian President Susilo Bambang Yudhoyono on November 18 in Bali, Indonesia (WANG YE)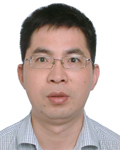 This year marks the 20th anniversary of Sino-ASEAN dialogue relations. Since January, there have been a series of activities commemorating the anniversary, cumulating in the China-ASEAN Summit in Bali, Indonesia on November 18.
As a major country outside the region, China was the first to accede to the Treaty of Amity and Cooperation in Southeast Asia, the first to forge a strategic partnership for peace and prosperity with ASEAN and the first to seek a free trade area with ASEAN.
China also took the lead in promising to sign the protocol of the Treaty on the Southeast Asia Nuclear-Weapon-Free Zone, which obligates the five nuclear-weapon states—China, the United States, Russia, Britain and France—not to use or threaten to use nuclear weapons against treaty signatories. In addition, China and ASEAN have cooperated to cope with nontraditional security threats.
The relationship between China and ASEAN is no doubt the most pragmatic and fruitful one among ASEAN's dialogue relations with other countries. Economic and trade cooperation has been a driving force behind their thriving ties.
In the past 20 years, trade between China and ASEAN has developed rapidly with an average increase of more than 20 percent annually. This year, it has continued the robust growth. The trade volume reached $295.9 billion in the first 10 months of 2011. The total volume of the whole year is expected to surpass $350 billion, more than 40 times the volume of 1991. China has become the largest trade partner of ASEAN, while ASEAN is China's third largest trade partner. In 2010, trade with ASEAN members accounted for 9.8 percent of China's total foreign trade.
Trade structure has also been optimized. In recent years, Sino-ASEAN trade has shifted from primary products to manufactured goods while hi-tech products play a more important role. In 2010, the trade volume of machinery, electronic products and hi-tech products surpassed $110 billion, accounting for one third of the total volume.
Investment between China and ASEAN has expanded continually in recent decades. ASEAN is not only an important source of China's foreign investment but also one of the most favored destinations of Chinese outbound investment. At the proposal of China, the China-ASEAN Fund on Investment Cooperation and the China-ASEAN Inter-Bank Association have been established as major platforms for investment and financing cooperation. In 2010, the direct investment of China in ASEAN countries reached $2.57 billion, surpassing its direct investment in the EU that year.
China now is the largest foreign investor in Myanmar, Cambodia and Laos, and a prominent foreign investor in Thailand, Indonesia, Malaysia, Singapore, the Philippines and Brunei. To continue to expand investment in ASEAN countries, China has promised to build an economic and trade cooperation area in each ASEAN country. It will also speed up technology transfer to ASEAN countries to help make their industries more competitive.
The China-ASEAN Free Trade Area (CAFTA) was officially established on January 1, 2010. It is the most important achievement of economic and trade cooperation in the region. CAFTA is one of the largest free trade areas worldwide with a population of 1.9 billion, a combined GDP of $6 trillion, a total foreign trade volume of $4.5 trillion and $4 trillion in foreign exchange reserves. It has contributed greatly to Sino-ASEAN trade ties and regional economic integration. This year, the two sides inaugurated the China-ASEAN Center, which aims to enlarge trade and investment within the framework of CAFTA while boosting cooperation between small and medium-sized enterprises as well as cultural exchanges.