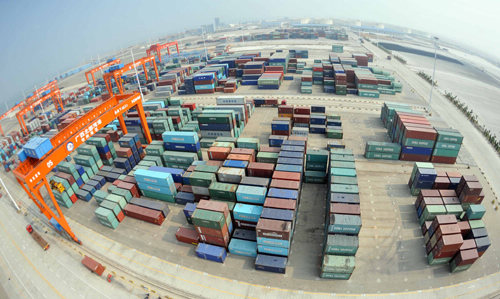 BRISK TRADE: The container terminal of the Qinzhou Bonded Port in Guangxi Zhuang Autonomous Region, the nearest to ASEAN countries (ZHANG AILIN)
China has provided various kinds of aid to ASEAN over the past two decades. For instance, it has sponsored more than 400 infrastructure and public welfare projects in ASEAN countries and trained more than 9,000 professionals in fields such as economics, finance, agriculture, information technology and media.
At the 17th ASEAN Summit in 2010, ASEAN leaders adopted the Master Plan on ASEAN Connectivity as part of their efforts to promote the establishment of an ASEAN Community by 2015. The implementation of the master plan has become a priority for ASEAN countries because it will help ensure ASEAN plays a leading role in regional economic cooperation while enhancing its unity and growth potential. Therefore, ASEAN leaders reaffirmed their commitment to the plan at their 18th summit this May.
Connectivity between China and ASEAN refers not only to the construction of infrastructure and transportation projects but also to greater market access, cooperation between industrial sectors and cultural exchanges. In April, when meeting with ASEAN Secretary General Surin Pitsuwan in Jakarta, Indonesia, Chinese Premier Wen Jiabao said China is willing to work together with ASEAN to promote cooperation across the board with a focus on connectivity.
At the summit commemorating the 20th anniversary of Sino-ASEAN dialogue relations in November, Premier Wen announced another $10 billion in loans to ASEAN countries in addition to the $15 billion promised in 2009, of which $4 billion are preferential loans. The loans are designed to finance infrastructure projects in ASEAN countries to help improve their connectivity.
Green development will also inject impetus to cooperation between China and ASEAN. Li Ganjie, Chinese Vice Minister of Environmental Protection, said China and ASEAN countries face many common challenges in development and environmental protection. Striking a balance between economic growth and environmental protection has always been high on the agenda of the Sino-ASEAN dialogue and cooperation.
ASEAN Deputy Secretary General Dato' Misran Karmain said ASEAN should switch to a sustainable development model. He said ASEAN countries have damaged the environment while pursuing industrial development in the past. They have now realized the danger of environmental degradation and hope to strengthen cooperation with China in environmental protection.
At the recent China-ASEAN Summit, Premier Wen said China is ready to promote cooperation in the green economy, energy conservation and renewable energy with ASEAN countries.
Environmental protection has become an indispensable area of Sino-ASEAN cooperation. China and ASEAN countries have held in-depth discussions on biodiversity, climate change and cooperation in the Greater Mekong Sub-region. They also launched the China-ASEAN Center of Environmental Protection Cooperation in May.
Environmental protection cooperation presents great business opportunities. China plans to invest 2 trillion yuan ($315 billion) in developing the green economy from 2011 to 2015. The burgeoning environmental protection industry is poised to create opportunities for entrepreneurs in China and ASEAN countries.
Today, developed countries are struggling to recover from the global financial crisis, with many still mired in debt crises. The world's economic and financial situations are not optimistic. Furthermore, increasing global food, energy and environmental problems are threatening sustainable development. Uncertainties and instabilities are likely to haunt the world economy for a long time to come. The harsh external environment has posed a grave challenge for East Asia. Against this backdrop, promoting regional cooperation to achieve collaborative development has become a common aspiration of all countries in the region.
China is now in a crucial period of development as it focuses on implementing its 12th Five-Year Plan (2011-15), promoting economic restructuring and improving people's livelihoods. ASEAN countries are working for the establishment of an economic community while bolstering their overall competitiveness. In this context, strengthening Sino-ASEAN strategic communication and all-round cooperation has become a consensus of leaders across the region.
The author is an assistant research fellow with the China Institute of International Studies