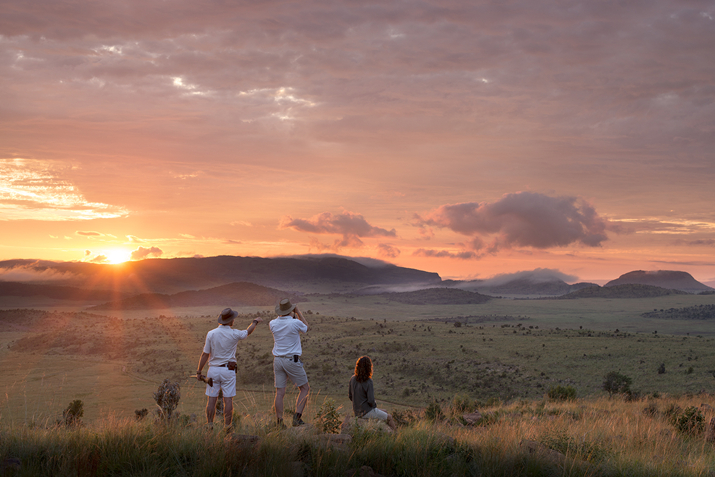 Mhondoro Game Lodge Welgevonden South (Photographs courtesy Mhondoro)
It's just gone noon on a blisteringly cold June day when we pull into the main gate at Welgevonden. We are half an hour early for our pick-up to our abode for the next two days, the 5-star Mhondoro Private Game Lodge, but our game ranger Phinias is already there, welcoming us with snacks and drinks. Then the hour or so drive to the lodge ensues. Welgevonden is a 37,000 hectare malaria-free game reserve of diverse landscapes and geology and a plethora of South Africa's most stunning wildlife in the heart of the rich ecosystem of the Waterberg District in Limpopo province, South Africa.
The false Maroela trees' leaves drip red and the sandy road is the shade of ochre and the sky is a bright blue. The bush is very dry this time of year and on the drive we spot Eland, zebra, impala and the beautifully ancient and critically endangered white rhino - a very special sight. Anti-rhino poaching units are very active in the area and highly trained so there is no poaching here, thank goodness.
The reserve first became a conservation area in 1993, consolidating a number of private farms, removing internal fences and returning this amazing area to its original natural state. At the lodge we are met like long-lost family by the staff, who sing us a welcoming song before Lodge Manager Jasper introduces us to them one by one - a unique and intimate touch me thinks.
Lodge features
Jasper and Annemarie are the most welcoming and charming hosts.
They invite us to sit down with our drinks in the main lounge area while they brief us on the property and all its features but I am mesmerized by the décor and architecture of the place. All muted Zen colors, it is apparent that each ornament, lighting fixture, rug and painting has been hand selected and combines a modern mix of African chic and contemporary design. This was done by the owner Myriam Vogel, together with Jasper and Annemarie, over a period of two years and it is clear they have impeccable taste.
One of the most unique features of the Lodge is its hide - an underground bunker from which you can spot the animals up close and personal. We travel through the 65-meter reinforced concrete tunnel which has automatic lighting and emerge below the level of the waterhole, watching the zebra drinking water in silence, a few feet away. Mhondoro is the only 5-star safari lodge that has this feature. Then Jasper takes us on a tour of the different rooms.
The air conditioned suites all come equipped with an en-suite bathroom and a private viewing deck that overlooks the waterhole. The spacious villa has a spa pool, gym and yoga room.
For relaxation, guests can work out in the fitness center, or unwind with a pampering massage or spa bath in the spa suite.
The suits are quite breath-taking and consist of the Honeymoon Suite which boasts one spacious bedroom with an en-suite bathroom. Its uniqueness is in its private viewing deck with a spa pool and daybed. It is located furthest away from the lodge, providing a very secluded and private feel while making it the perfect spot to raise a glass of champagne and enjoy the uninterrupted view at the animals or to watch the stars at night.
The Deluxe Suite accommodates two. The building has one bedroom with an en-suite bathroom and a private viewing deck with a daybed, which overlooks the waterhole. It's a perfectly secluded hideaway, with all facilities of the Main Lodge within short walking distance.
The Family Suite accommodates four people and has two bedrooms and because of its shared bathroom, a lounge and a dining area it's the perfect accommodation for families. The spacious private viewing deck overlooks the waterhole.
The Villa is humungous and perfectly suited as an exclusive family or group accommodation where you are looked after from beginning to end. Exclusive use of the Villa means that all meals, selected local drinks, a private pool, a private gym and yoga room, a private game viewer with ranger, a private chef, a private butler and housekeeping staff is included. The Villa accommodates six. It boasts three bedrooms, all with en-suite bathrooms. It is a private building, but yet still with also all facilities of the Main Lodge within short walking distance.
The Executive Suite - which we are in - accommodates four people, and has two bedrooms that both have en-suite bathrooms. There is an extra lounge area with a fireplace and a spacious private viewing deck, overlooking the waterhole. It's an opulent retreat with all facilities of the Main Lodge within short walking distance. There are fire places in both bedrooms as well and the opulence luxury of the rug in front of the fire and the unique lights make me giddy with delight.
Impressive cuisine
Then it's time for a spot of lunch. Now I am used to upmarket lodge food, but I have to say I have never ever had quite this quality of meal anywhere. The beautifully prepared chicken is succulent and full of subtle flavor, accompanied by the most delicious side-dishes. Chef Christine is a wizard, as simple as that.
We forgo the evening game drive to take a nap and just revel in the deafening silence and bitingly brilliant cold and open starry skies above us as night falls.
After a luxuriously hot bubble bath we convene by the fire for drinks and then dinner. Soft shell crab with saffron mayonnaise, grilled venison with Dijon mash, or a lentil spring roll with artichoke as a vegetarian option, and eventually granadilla cheesecake make up this cornucopia of a feast.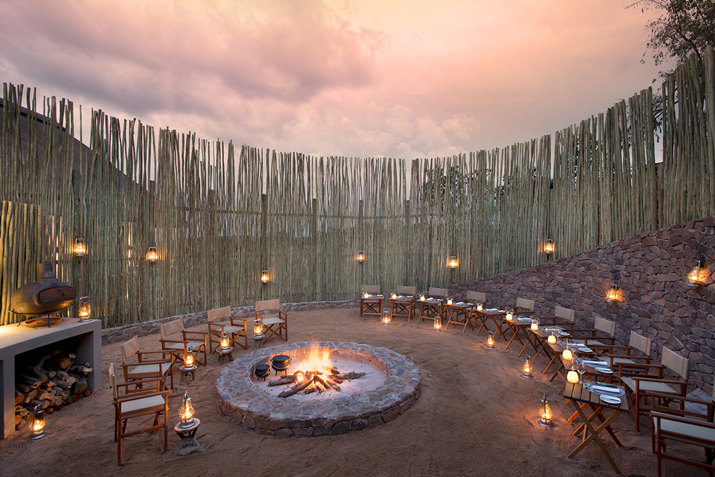 Mhondoro Game Lodge Main lodge boma
Star gazing
Then one of the rangers, Sibu, invites us for a spot of star gazing on a platform above the lodge, built especially for this activity. The moon is new so we are beneath a blanket of the brightest stars I have seen in many years. Despite the cold our mood is convivial in this magical night.
Sibu's starlight talk is immensely informative (we are in fact, capable of seeing about 2,500 stars at that moment, he tells us). He has a creative and passionate genius for his craft of informing and story-telling and when he shows us all our new planetary discoveries through the lens of the very expensive telescope, well... the piece de résistance... . Sibu is most definitely an inspiration to a new generation of South Africans.
All this excitement combines to send me to bed quite early and what an amazing turn-down surprise should I find! My gown and slippers are laid out on my bed and a piping hot water bottle is tucked inside my bed just like mom used to do. They spoil you here.
We decide to have a night cap by the fire and sit out on the veranda to enjoy the stars just a little bit longer.
There is an absolute and somewhat disconcerting stillness in the clear, icy night. No wind, no sound, not a creature stirring... The new moon hovers over the hills under the bright stars like a silent echo and the bush is soundless - like it is holding its breath for some extraordinary drama to unfold. A lion kill perhaps?
I ensconce myself in my warm bed and succumb to a deep and wonderful slumber.
The sunlight plays across the bed and wakes me up with a smile the next morning. It is much warmer today. I haul myself out of my comfortable cocoon and shuffle outside to enjoy my excellent nespresso coffee and the solitude in the sun on the veranda with its jaw-dropping view.
We spent the morning after breakfast just relaxing and taking photos, absorbing the silence by osmosis before lunch is served. We are the only guests today and it's a special feeling to have the place all to ourselves.
The game drive later with Phinias produces sightings of zebra, giraffe, antelope and wildebeest, a great variety of birds and of course, rhinos. In fact, we have our afternoon drinks with a rhino, peacefully grazing not far from us. The problem with this time of year is that the animals tend to stay in one place because of the bitter cold and the bush is rather quiet. But other guests did see leopards though so it's just luck of the draw. Mhondoro means "lion" in the Shona language but sadly a virus killed an entire pride a while ago with just one lioness left. Luckily they are getting more very soon.
The Chacma baboon's bark echoes around the surrounding hills eerily.
We get back in time to watch the African sun set the bush ablaze as it sinks over the horizon in this sanctuary.
Dinner is a special occasion. Christine has created a taster menu which pairs dishes and wines. The starter of a sushi stack is paired a superb South African sauvignon blanc wine, the braised pork belly - the best food that has ever graced by taste buds - is paired with a full-bodied red shiraz, the venison (in this case Impala) is paired with a Cabernet sauvignon and the fusion dessert of truffle, honey comb and Amarula ice cream is then rounded off with a dessert wine. I am in heaven.
The morning of our departure arrives and with every fiber of my being I just want to stay... The staff are incredible but I have to single out our waiters Eddie and Elias, easily two of the most affable, kind, professional people you will find anywhere with a generosity of spirit rarely seen.
But then again, there is not a single thing I can fault about Mhondoro. But don't take my word for it - go there. I promise you, you will never be the same.