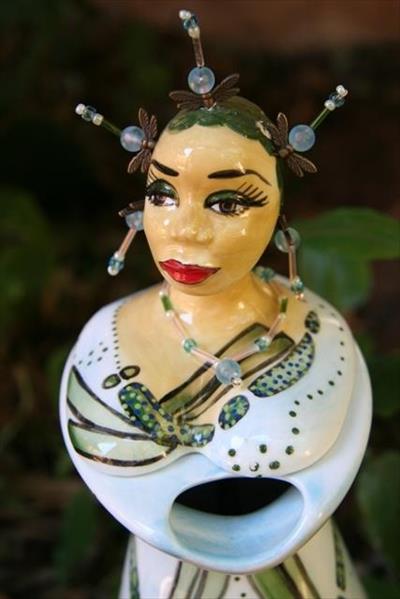 Tanya Nockler-Golding opens the door with a broad smile, sporting gorgeous long blond hair, no shoes and a mischievous pre-disposition.
"I could tell you the usual, predictable things about myself, such as that my husband, eight cats, a dachshund and I, along with assorted other beasties live in a beautiful old house, often overflowing with family and friends, located under a Syringa Tree on the lower slopes of Table Mountain in Cape Town," says this litigator turned potter-extraordinaire, all in one breath. "But I would rather that you know something about my journey and how I travelled to get to where I am today."
As a child she loved to draw, paint, read, write poetry and surround herself with beautiful things. "However, as the years passed and the refrain that it was 'more important to do something real that could earn one a living' took root in my psyche, I chose to study law." This bold women has in fact obtained three law degrees.
"There was precious little time to make beautiful things. But law, financially viable though it was, was ultimately unfulfilling. The deep longing to paint and to create was an essential part of myself I could no longer ignore."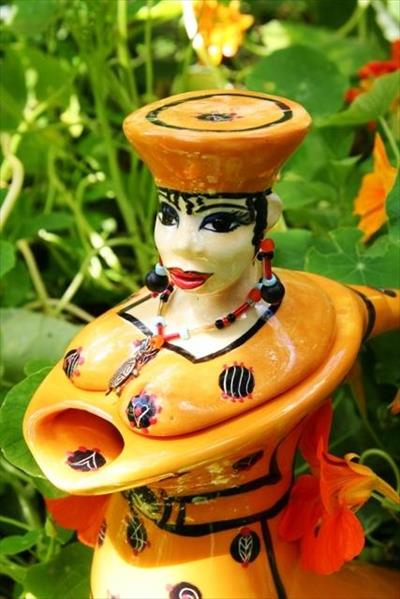 In her mid-twenties she miraculously survived a severe car crash which had crushed and snapped a number of bones and left her hospitalized for months and threatened the amputation of her left leg. "As I had regained consciousness in the mangled wreck of what remained of my beloved little car, I found myself suffused in golden light and was filled with a deep and peculiar peace. I just knew at that moment that I would not only live but that everything would be all right."
This marked a new beginning in her life's journey. Immobilized, crippled and confined to a hospital bed and, later, throughout the long, painful months and years of her recovery, she turned to the healing powers of art and drew, painted and created beautiful works. "To my surprise, these were quickly snapped up by friends and relatives and one day a great-uncle, acquiring a number of pieces, asked why I didn't leave law and paint full time. 'No-one would want to buy my work,' I said, to which he replied, shaking his head, 'You are quite mistaken you know, quite mistaken.' And I, unknowingly at the time, took another step on my path."
Leap of faith
In 2007 she finally took the leap of faith, leaving her legal career to paint her pots. "Like me, they are African and filled with all the color and creativity of this glorious continent. Like all women, they are strong and resilient and filled with the glory, the joy and the power of healing, as well as the capacity to revel in living, each day, one day at a time."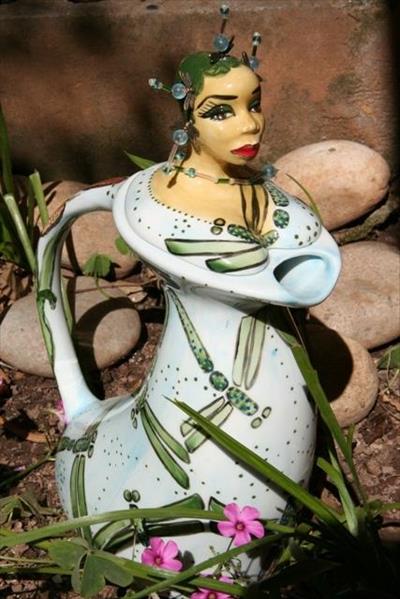 Although primarily painting sensual teapots in the shape of women, Tanya also creates strong coffeepots in the shape of men and other, purely decorative, artworks which may be framed and placed on walls for purposes of vertical display.
"Following on from my Women, Coffee Pot Men emerged and so the beginnings of my range were born. Each piece that leaves my studio has a name, a date and a Dream Feather to remind the owner of the importance of following his or her dreams," she says.
"I create my work as one would create a magic carpet: one negative thought during the process and the carpet will never fly. So my work is painted with tenderness, often to music or the talk of friends; the painting is infused with happy thoughts, deep concentration and, above all, with love."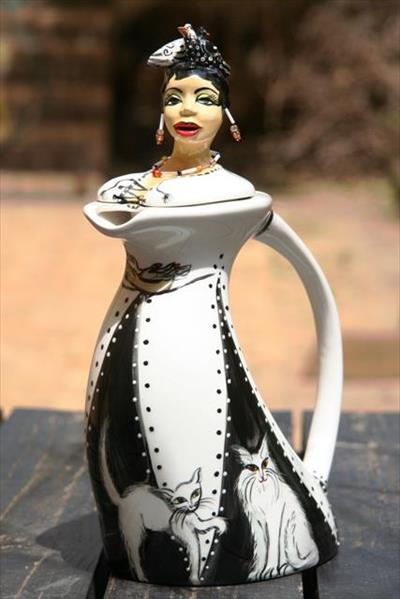 Each vessel is unique and each comes with her own inspiration and her own story. "I hope that the individual, one-of-a-kind piece you purchase will remind you of your own uniqueness, your incredible gifts and the small, irreplaceable, beautiful things in each new day. Because, whilst it is true that 'the things that truly matter can only be seen by the heart,' the eyes and the other senses are needed to convey the essence of this to the soul." Each teapot is so unique that is has its very own little verse attached as well to tell you who they are.
This remarkable young woman epitomizes our African spirit, flair for entrepreneurship and imagination - but most of all courage...
For more information on Tanya's range or to order some of her magical works of art, go to https://africanteapots.wordpress.com/contact/