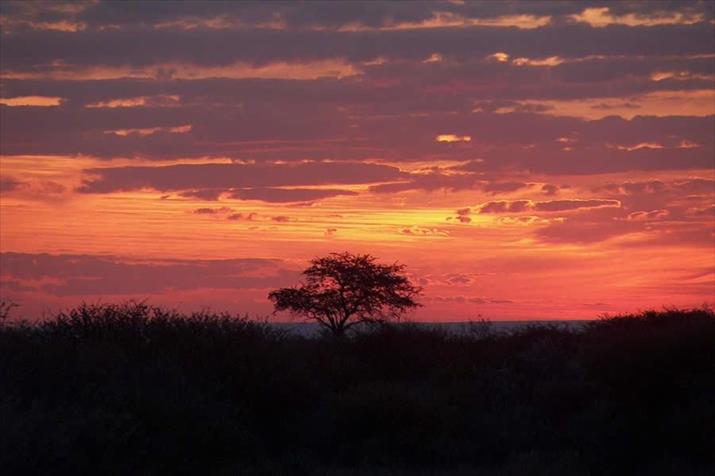 Going back to Mattanu lodge feels like going home. It is a sweet, toe-curlingly good sensation to be in the wide open spaces of the Kalahari. And this time I brought friends. For the second time in three months I find myself in this beautiful and unique corner of the earth in the Northern Cape Province of South Africa. Having landed at Kimberley from Johannesburg about an hour earlier, we turn into the Mattanu gate just as the sun is waking up from its afternoon nap behind the clouds. And there they are, the family Kriek welcoming us like long lost friends and teasing me about having taken the wrong road out of Kimberley even though it is nigh impossible to go wrong. We are shown to our lovely quarters with its own outdoor Jacuzzi while my other colleagues stay in one the of the luxury air-conditioned tents.
Conservation guru
Lunch is a fresh salad and home-made quiche, perfect for the 35 degree heat in early spring.
Jacques Kriek takes us on an afternoon game drive and his knowledge of the bush and animals here is just astonishing.
He tells us about the history of the farm. Mattanu is a Hebrew phrase meaning, "gift from above" - of course - and this 4,800 hectare Game Reserve, owned by said Kriek family, came into being in 1991. Dr. JC Kriek, originally from Zimbabwe, imported 95 endangered Roan antelope and 65 rare Sable antelope species into South-Africa from Malawi.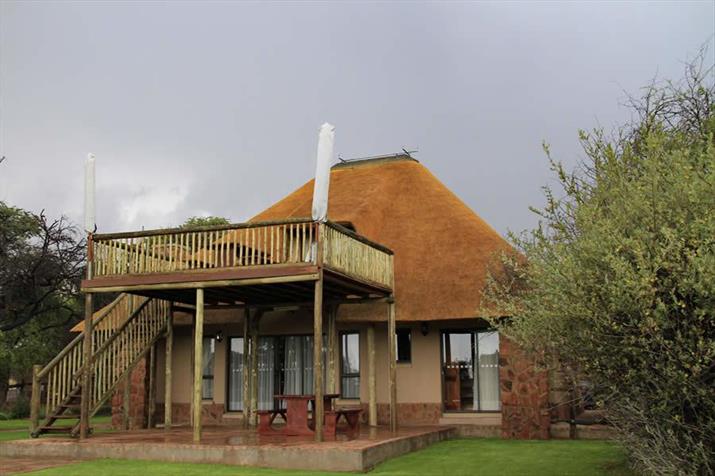 Rustic luxury accommodation at Mattanu
This is widely regarded by many as the most successful game capturing and importation operation ever. Dr. Kriek is also regarded by many as the pioneer for the breeding of the endangered antelope industry in southern Africa. Ever since then more than 300 Roan, Sable and disease-free buffalo have been bred at Mattanu. The profits from the Malawi operation were used to purchase Mattanu Private Game Reserve, which was then a cattle farm in 1990 and to date many millions have been spent in the development of the infrastructure and the re-introduction of numerous species. To date there are over 36 different animal species and approximately 1,000 animals on Mattanu.
Jacques makes my head spin with his scientific knowledge of genes and breeding of these animals and I realize it is a highly complex, on-going process which requires them to take a million variables into account. Here you can view over 36 different animal species and hundreds of bird species.
Then Jacques drops us off at the helicopter hanger. Shadows stretch long as we ascend into the vast open sky with helicopter pilot Johan Kriek Jnr. We spot buffalo, Eland and sable from the air as Johan adroitly maneuvers the helicopter to take us closer.
The sun is a giant blazing reddish purple ball and then the vast horizon gobbles it whole as we sit in the sky, amazed at this spectacle.
Game capture
We land at dusk and Dr. Johan and his wife Daleen personally welcome us to our very own bush dinner in the middle of nowhere.
They have gone all out for us - a four course dinner sits beside a beautiful table with white table cloth and silver cutlery, surrounded by lanterns and tiki lamps.
They have also provided some excellent wine and we tuck into the delicious home-made chicken pie, spare ribs, mash potatoes and vegetables with relish.
The feast is rounded off with a gorgeous rice pudding and much high-jinx and laughter ensue late into the night as we regale each other with our travel stories and experiences.
We walk the 300 meters or so back to the lodge, satiated and happy. Far off in the African night with its velvety starry sky we hear the howl of a lone jackal...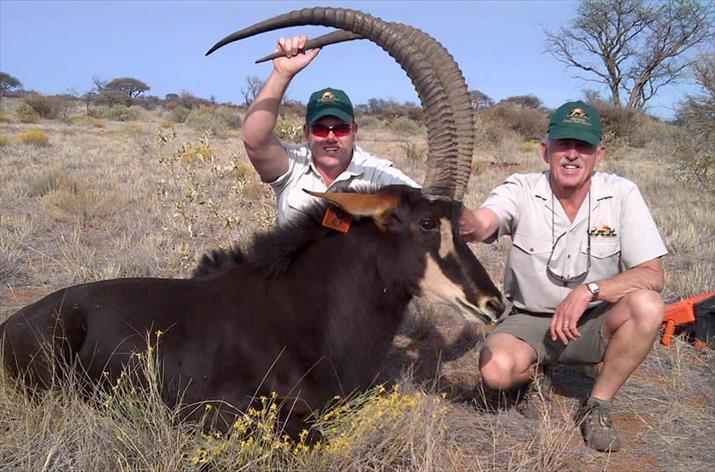 Andrew the Mattanu 47 inch Sable breeding bull
The next morning it's up and at'em at 7 a.m. as we gobble down a few rusks and coffee before leaving for the hanger - and this time it's all business. We take turns one by one as Johan junior and senior take us up in the helicopter from where Dr. Johan identifies and then darts impala, a local antelope specie, for inspection.
It is an incredible privilege to experience this exhilarating exercise first-hand since nowhere else in South Africa are guests allowed to participate in game-capture activities at lodges or reserves.
In the meantime, the ground crew tracks the helicopter and they are in constant communication by walkie-talkie about where to pick up the darted animals.
The animals are then checked for disease and parasites, measured and inoculated if necessary after which each of us has a turn at "waking them up" by injecting them with a substance that reverses the effects of the tranquilizer.
We watch in awe as these beasts drowsily get to their feet and trot off to the nearest water source.
Back at the lodge we devour the scrumptious full breakfast of venison sausage, eggs to order and pastries - it's hungry work this...
Lazing by the beautifully designed pool in the heat seems the next logical progression and we while away the glorious African day soaking up the ambience of the bush with its solitude and peace.
The late afternoon sees us mounting quad bikes with one of the other guides Anro to explore the reserve from a different angle.
We again see the wildlife from another vantage point and as the sun sets we stop for a break to admire our surrounds. The last light bathes the bush in soft hues of yellows and oranges to the soundtrack of a myriad of bird species.
Dinner is at the lodge and again we are provided with superb home-made fare.
It is tough to say good bye the next morning, back to pollution and chaos but Mattanu has a very special place in my heart.
Go there!
Contact:
Getting there:
Air China outbound flights to Johannesburg in South Africa operate on Tuesdays, Thursdays and Sundays, with return services from Johannesburg offered on Mondays, Wednesdays and Fridays.
Flights will departs from Beijing at 23:15 Beijing time, and arrive in Johannesburg at 7:35 local time on the following day. The inbound flight departs from Johannesburg at 11:50 local time and arrives in Beijing at 7:30 Beijing time.
Go to:
http://www.airchina.com.cn/en/
From Johannesburg, take SA Express Airline straight to Kimberley from where you can hire a car easily. The flight is only about 45 minutes and the drive to Mattanu about equally as long.
SA Express offers a few daily flights to Kimberley from Johannesburg. Go to http://www.flyexpress.aero/