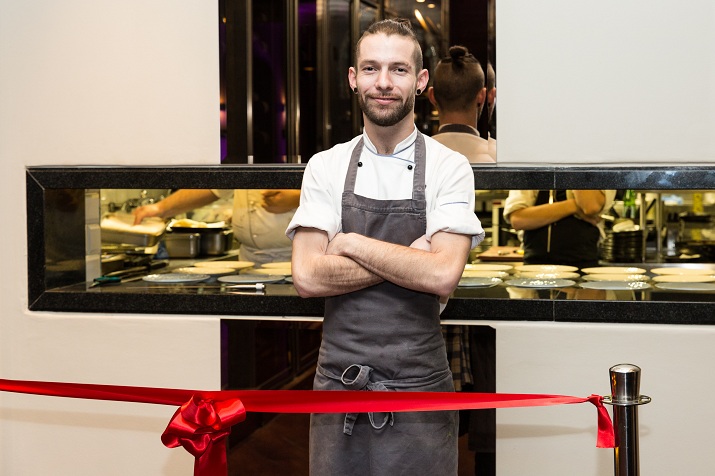 View Restaurant chef Farrel Hirsch (Photos courtesy Four Seasons Westcliffe Hotel)
Past the iconic Johannesburg Zoo we drive and up, up into the green hills of the city. The entrance to the Four Seasons Westcliff Hotel is unassuming but my, what a revelation. Large parts of Johannesburg in South Africa, are situated in one of the biggest man-made forests in the world, boasting more than 10 million trees and this beautifully gracious hotel takes absolute advantage of its spot overlooking the lushness of the city. High above the chaos and noise of the city, it sits like a tranquil Grande Dame in the hills and I take in the splendid views while I sip my beer in the open-air coffee shop with its beautiful garden, humungous trees and water features.
The design resembles an Italian hillside village woven with courtyards, fountains and meticulously maintained gardens.
Check-in is a breeze (keep in mind they put a R2,000 ($143) hold on your credit card though) and I'm shown to my beautiful room pronto via golf cart where more amazing views delight me.
The hotel has a massive 117 bedrooms, yet they all feel secluded and private and my room is a study in elegance and old-world charm with a marble-clad bathroom you will never want to leave.
I revel in the peace and quiet - much required as I have a looming deadline and so I work very productively for the rest of the afternoon.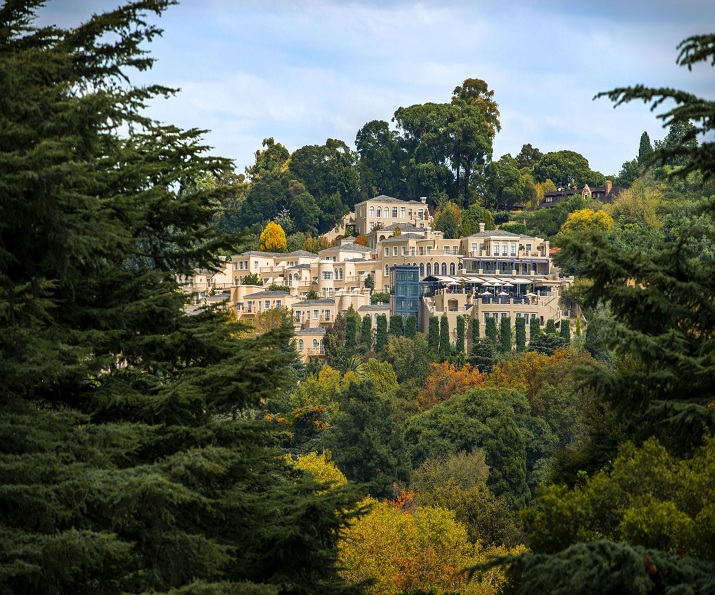 Exterior of the Four Seasons Westcliff
Restaurant with a View
But I am here to fry bigger fish - so to speak - and after a luxurious bath, I present myself promptly at 6 p.m. at View Restaurant for the feast that awaits me with the launch of their new menu at this spectacular restaurant, headed by new chef Farrel Hirsch.
Having worked alongside some of Europe and South Africa's most acclaimed chefs, chef Hirsch brings his exuberant mix of passion and experience to Johannesburg with his appointment as chef of the hotel's flagship eatery, View Restaurant.
The 30-year-old studied professional cookery in Nottingham and was declared runner-up for that city's 2008 Young Chef of the Year competition. After five years of working in the UK, the pull of home proved too strong: he moved back to Durban, where he was born, to join the Oyster Box Hotel's Grill Room Restaurant. Having worked in the kitchens of the Singita group of luxury lodges, his two most recent posts were in Cape Town where he worked with Peter Tempelhoff at the acclaimed Greenhouse Restaurant. He then worked at the Test Kitchen (awarded Top Restaurant in South Africa at the Eat Out Awards from 2012 to 2016) seconding Luke Dale-Roberts before becoming head chef at View Restaurant.
Hirsch loves to travel, experiencing different cultures and meeting new people - whether that's visiting mountain villages in India or seeing the ancient pagodas of Burma. His travels are also an opportunity to broaden his culinary horizons.
"I love stepping out of my comfort zone - I'm always excited by the idea of the unknown," he says. "Nothing beats going to a foreign country where no one speaks English and pointing at the dish being eaten at the table next to you, and order that. Not to taste is not to know."
This curious, adventurous spirit informs his approach back home in the kitchen. "If you look close enough at View's dishes there will always be a classic thought behind it, but pushed out far enough so that it is something completely new," he said in an earlier interview.
"South Africa produces a bounty of high quality ingredients, and so we want our diners to taste the finest this country has to offer," he said. Changing every week, his menus are an opportunity to showcase the freshest local and seasonal produce in breathtakingly creative ways. Working closely with trusted local suppliers and farmers to provide special ingredients including foraged mushrooms, Karoo lamb and fynbos, Hirsch will also be procuring herbs and vegetables from the hotel's new food garden.
View from the Four Seasons Westcliff Flame Terrace
The personal touch
While the unsurpassed vistas of Joburg's jacaranda-cloaked northern suburbs makes any meal at View unforgettable by default, the sociable Hirsch is committed to serving up much more than great food and incredible views. For him, the personal touch is paramount.
"I love meeting the people I'm cooking for, and sharing with them the stories of the food I make. While I see my role as building on the stellar dining experience created by my predecessor, I do have a few changes of my own up my sleeve," Hirsch confirms. "The first is the launch of "Preview" - a bar-inspired casual dining experience offering small plates and fantastic drinks. The emphasis at View, on the other hand, is on taking guests on a culinary journey - with set menus and wine pairings in a more sophisticated setting. When they're not admiring its legendary vistas, our guests can also witness glimpses of our team at work in the kitchen through its linear window."
About 30 of us are welcomed in true style with champagne and cocktails at said Preview Bar and after socializing in the amazing space with its stunning views, we are invited to take our seats. We are lucky enough to be joined at our table by Four Season Westcliff Food and Beverage Manager Matt Barber. He explains that the new tasting menu presents a "snapshot" of Asian, French and Western components. Our tasting menu comprises of seven courses, each more delectable than the other. Hotel guests will be offered two to three choices of dishes per person but he also adds that the menu and offering might evolve depending on guest preferences. Our first course is seaweed oysters, barbequed with smoke, crumbed with nori and wakami. The oysters melt in the mouth and the taste is sensational. The next course is a vegetarian option; fermented tofu with legumes and pickled mushrooms. Tofu? I never touch the stuff but this stuff is delicious and makes me rethink my suspicion of vegetarians.
Next we are treated to a heavenly concoction of ginger smoked beef fillet with Sichuan pepper sauce and sweet potato crisps. My dinner companions laugh at my utterances of sheer delight at the soft texture with its strong, bold flavors, perfectly balanced. A twist on a classic Dutch classic follows. Cauliflower "bitterballen" is served with romesco, Brussel sprouts and cauliflower leaves and I marvel at the ingenious use of ingredients in this dish. The texture is like pockets of buttery, cheese and cauliflower pockets of clouds on the tongue and utterly delicious!
The fish tartare, made from fresh sea bass (flown in from Mozambique) with wakami, rice crackling, avocado puree, spring onions and radishes is right up the alley for those who like a spin on their sushi.
Matt says that chef Farrel goes "urban foraging" himself in search of the best and freshest ingredients for his dishes - no mean feat in a city of 10 million people.
Each dish is also accompanied by hand-selected South African wines to compliment the dishes perfectly. The waiters are also exceptionally well trained and informed about the food and wine and the sommelier is always on hand to explain the intricacies of the wines.
Finally, the piece de resistance - in my book anyway - arrives. The pork belly! It is served with star anise puree, crackling (of course), sake apples, peanuts and bean sprouts and makes my palate dance with delight.
After the taster dinner, we are all ushered to the entrance of View, where Chef cuts the ribbon and the new menu is officially launched.
We are seated and treated to even more food from heaven. Some of my favorites on the main menu include the scallops (a must!), the wagyu beef and the sublime honey and milk dessert.
Finally, we are all formally introduced to chef Farrel to thunderous applause. He smiles shyly and makes the following speech: "Thanks for eating my food. Please come back soon."
I shall.
Contact:
http://www.fourseasons.com/johannesburg/dining/restaurants/restaurant_menus/view_restaurant_menu/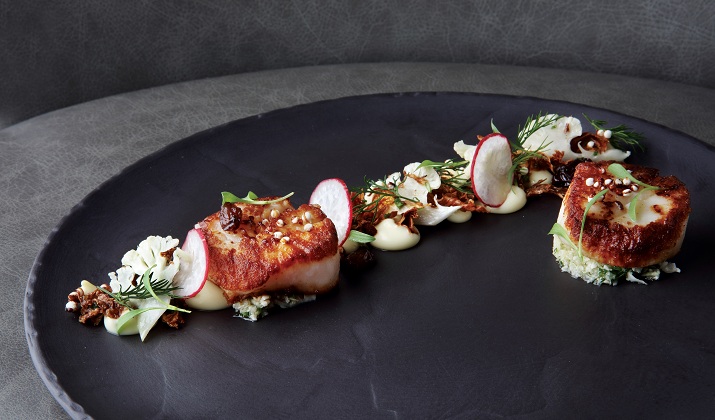 Scallops & Cauliflower. Macadamia crusted scallops & cauliflower gremolata, green apple, raisins, blackcurrant gel & caper noisette