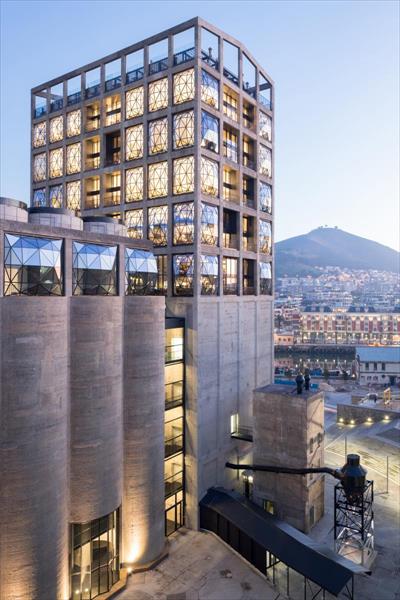 Zeitz MOCAA exterior (Photos: Iwan Baan)
The Great Pyramid of Giza in Egypt is thought to have taken between 10 and 20 years to build. Cape Town can now see and raise this achievement. After less than five years in the making, one of the world's most anticipated museum/art galleries has finally opened its doors. Zeitz MOCAA officially opened as the world's largest museum dedicated to contemporary art from Africa and its diaspora on September 22 in a project that reimagines the V&A Waterfront's historic grain silo.
From preserving the historic architectural legacy of what was once the tallest building in South Africa, to developing a sustainable not-for-profit public cultural institution that preserves, develops and enhances creativity, Zeitz MOCAA is a hugely important cultural landmark that will contribute to a stronger, wider appreciation of Africa's cultural heritage.
High profile patrons
The grain silo's architectural redevelopment from a disused industrial building into a cutting-edge contemporary art museum was undertaken by London-based Heatherwick Studio in conjunction with local South African architects, and funded by the V&A Waterfront at a cost of R500-million. The museum's founding art collection, the Zeitz Collection, is on long-term loan and forms the basis of the extensive art on display at the newly opened museum.
The museum's patrons are the who's who in the art, political and entertainment landscapes globally.
"Standing at the opening of the Zeitz Museum of Contemporary Art Africa is somewhat surreal. It has been a long and challenging journey, but we are delighted that we have been able to create a platform of such scale and influence for Africa," said Mark Coetzee, Executive Director, Zeitz MOCAA.
"As a patron and supporter of the Zeitz Museum of Contemporary Art Africa, I want to send my congratulations to Jochen Zeitz, the V&A Waterfront and the whole Zeitz MOCAA team, for making this dream a reality. By providing a platform for the incredibly talented and passionate artists across Africa and beyond, this museum fills a critical gap in the continent's art scene. I am proud to be part of this journey," said Kofi Annan, former Secretary General of the United Nations and Zeitz MOCAA Patron.
"I can't imagine a better place than Cape Town to represent African art, but also to bring international artists to this amazing city to celebrate unity within the arts. I'm excited to participate as a patron and my hope is that the Sundance Institute and I will find a way to collaborate with Zeitz MOCAA Institute of the Moving Image so we will be able to create a stronger voice for the arts worldwide," added Robert Redford, iconic Hollywood actor and director and Zeitz MOCAA Patron.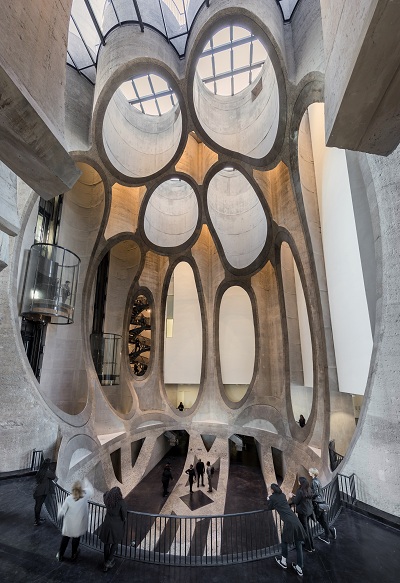 Zeitz MOCAA atrium
Cutting edge design
The museum has 9,500 square meters of custom designed space, spread over nine floors, carved out of the monumental structure of the V&A Waterfront's historic grain silo complex. The galleries and the cathedral-like atrium space at the center of Zeitz MOCAA have been carved from the silos' dense cellular structure of forty-two tubes that pack the building.
The development includes 6,000 square meters of exhibition space in 100 galleries, a rooftop sculpture garden, state-of-the art storage and conservation areas, a bookshop, a restaurant and bar, and various reading rooms. The museum will also house a Costume Institute, and Centers for Photography, Curatorial Excellence, the Moving Image, Performative Practice, and Art Education.
Said Jochen Zeitz, Co-Chairman of Zeitz MOCAA: "We wanted the Museum to be as representative of Africa as possible. To celebrate its history, its culture, its diversity and its future with a focus on art from the 21st century. Most importantly, this is an institution for all of Africa!"
David Green, CEO of the V&A Waterfront and Co-Chair of Zeitz MOCAA's Board of Trustees said that at its heart, Zeitz MOCAA is centered on the promise of creating a museum that showcases the best talent and creativity of Africa and grants access to everyone. "With its opening, we are seeing our vision of an accessible, contemporary art museum reach fruition."
According to Thomas Heatherwick, Founder of Heatherwick Studio, the idea of turning a giant disused concrete grain silo made from 116 vertical tubes into a new kind of public space was weird and compelling from the beginning. "We were excited by the opportunity to unlock this formerly dead structure and transform it into somewhere for people to see and enjoy the most incredible artworks from the continent of Africa. The technical challenge was to find a way to carve out spaces and galleries from the 10-story high tubular honeycomb without completely destroying the authenticity of the original building. The result was a design and construction process that was as much about inventing new forms of surveying, structural support and sculpting, as it was about normal construction techniques."
"I built my collection with a museum in Africa always in mind - the fact that these works will now be accessible to all is a very emotional thing for me personally and ultimately gives the art true purpose," said Jochen Zeitz, Co-Founder and Co-Chairman.
The opening exhibitions will utilize all of the 100 galleries over seven floors of the museum, spanning some 6,500 square meters.
Zeitz MOCAA will be open Wednesday to Monday from 10 a.m. to 6 p.m. People under 18 will have free entry to the museum with free entry being provided to citizens of African countries between 10am and 1 p.m.
Contact:
Zeitz MOCAA
+27 (0)21 418 7855
info@zeitzmocaa.museum
zeitzmocaa.museum
Silo District, V&A Waterfront, Cape Town 8002, South Africa