Kaya Mawa, Malawi interior (Photos courtesy LatitudeHotels.com)
The Latitude Hotel Group is wowing tourists with the sort of fine dining and levels of comfort and service not normally found in African cities.
Short of massive global (usually bland and impersonal) hotel brands, Africa woefully lacks a unique African lifestyle hotel signature. Until now... The Latitude Hotels Group marries the very best of the local community in which it is based with all the conveniences a traveler would expect at home. It is the Group's aim that the resulting blend creates an experience which will make tourists want to linger longer.
Their hotels provide an escape from the dust, the chaos and the crowds which characterize so many African city centers. Each offering knits together the flavors of the local community with five-star amenities and products.
Boutique implies bespoke and personal guest attention, and this is what Latitude hotels provide, in the hearts of African cities.
Likewise, their staff is trained to enhance the experience, recognizing their clientele, knowing when a customer wants their space, when to be invisibly, attentive, or indeed when guests might appreciate a chat and don't want soulless subservience. The brainchild of established African hotel owners (the acclaimed Kaya Mawa) the Latitude Hotels group was born out of necessity - the owners could find so few quality, cool urban African city hotels to recommend to their transferring guests, business associates or indeed to stay in themselves. While wondrous safari and beach destinations abound in Africa, many a traveler has bemoaned a city stay beyond Cape Town or Johannesburg until the birth of Latitude. Five years on, and Latitude is now established as a unique African lifestyle brand offering chic city hotels as sophisticated as the most sought-after in Europe - think Soho House with groovy African overtones and you will come somewhere close to what makes Latitude so desirable and so unique to Africa. Anita Powell, owner of Small World Marketing - and their new public relations agency - comments: "The group brings a really exciting, different offering to the African travel industry with a multitude of story angles. We cannot wait to start spreading the word."
Latitude sees its relationship with each the local economy as a symbiotic one with corporate responsibility and sustainability at the heart of the brand; the majority of employees are local, as are the architects, engineers and quantity surveyors, while each hotel provides a showcase for local artists and producers keen to promote what the best of Africa can really look like. Each property exudes an individual spirit that is at once natural, engaging, creative and playful - a city destination that hums with vibrancy and potential. Be it in the restaurants, bars or in the workspaces and meeting rooms, Latitude aims to provide interactive destinations where guests feel inspired and can enjoy the opportunity to get together, network, create and realize business ideas.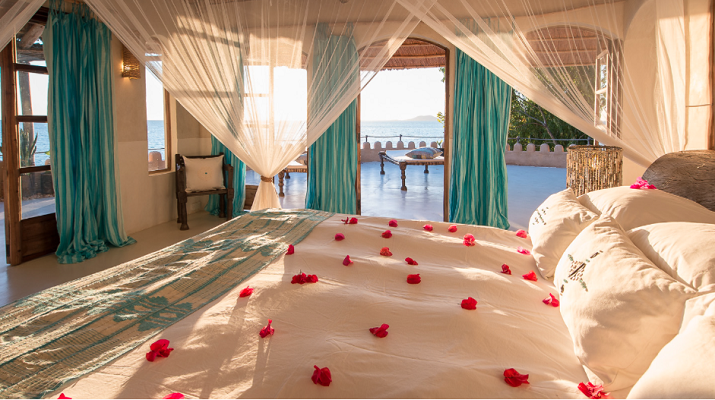 Kaya Mawa, Malawi bedroom
Choose from these Latitude properties:
Latitude 13, Lilongwe, Malawi
Nestled in the leafy lanes located on the northern edge of Malawi's capital city, Latitude 13 was born in 2012 from the major refurbishment of the former home of the Japanese ambassador to Malawi. With six garden suites, 19 long-stay apartments, a fitness center, health spa and meeting hub, Latitude 13 fast established itself with the city's thriving embassy, NGO and business community as a go-to center for socializing, music, art and fashion as well as for productive meetings and events.
Kaya Mawa, Malawi
With an often super-natural vibe, it can boastfully be said that there is nowhere else on earth like Kaya Mawa. At Kaya Mawa, you'll transcend into a world of simple pleasures, tended to by enchanting Malawians, yet all the while luxuriating in sophisticated modern conveniences.
Kaya Mawa is discreetly located on Likoma Island on Lake Malawi, one of the world's largest lakes, and home to over 1,000 different fish species - more than any lake in the world.
Latitude 15, Lusaka, Zambia
Set amid the beautiful tree-lined avenues of south-east Lusaka, Latitude 15 opened in 2014 and is ideally positioned only 20 minutes from the city center and 30 minutes from the international airport. Here, a thoroughly modern blend of Africa with a cosmopolitan twist pervades the 32 spacious guest rooms, three long-stay apartments, restaurant, bar, lounge, poolside terrace and The Works: a business environment that's both stimulating and stylish, offering a mix of open-plan "hot-desking" spaces, as well as single and multiple-person private offices, meeting rooms and event spaces. Furthermore, Latitude 15 is the first destination for The Other Side Club - a private members club that is at once modern, refreshingly informal and engagingly sociable, comprising separate dining, drinking, networking and socializing den, gym, spa, heated pool and contemporary workspace hub. The Other Side Club concept is scheduled to roll out throughout the Group with reciprocal membership across cities, allowing access to art exhibitions, food festivals, Ted-style talks, fashion shows and events, unique to each destination but with a unifying cool "Latitude Attitude."
Latitude 0, Kampala, Uganda - opening late 2018
Located in the emerging city of Kampala, Latitude 0 will incorporate 52 airy rooms, all with lake views. Facilities will be of the usual Latitude stylish high standard with signature restaurant and bar, chic rooftop sushi bar, fitness center, spa and 20-meter swimming pool overlooking the lake. The Works business area will be allocated its own floor and The Other Side private members club will comprise of lounge/den, bar, dining area, billiards room and elegant cigar lounge. Future Latitudes hotels are in the planning stage - Addis Ababa, Nairobi, Kigali, Dar es Salaam, Maputo and Harare are all expected to join the group in the coming years.
Contact: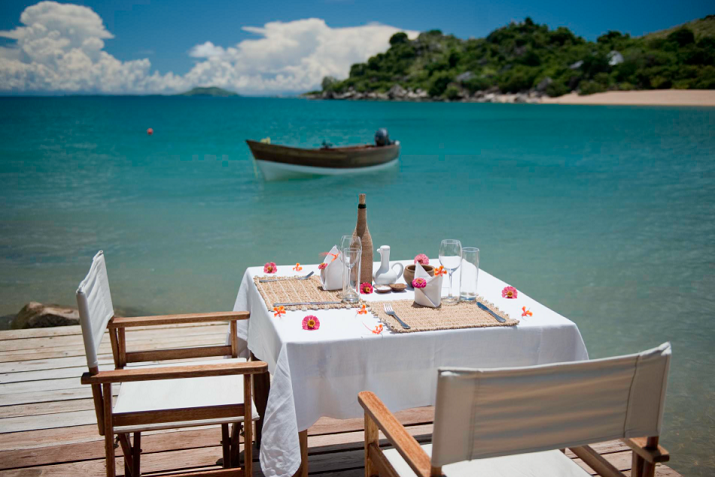 Kaya Mawa, Malawi sea view dining