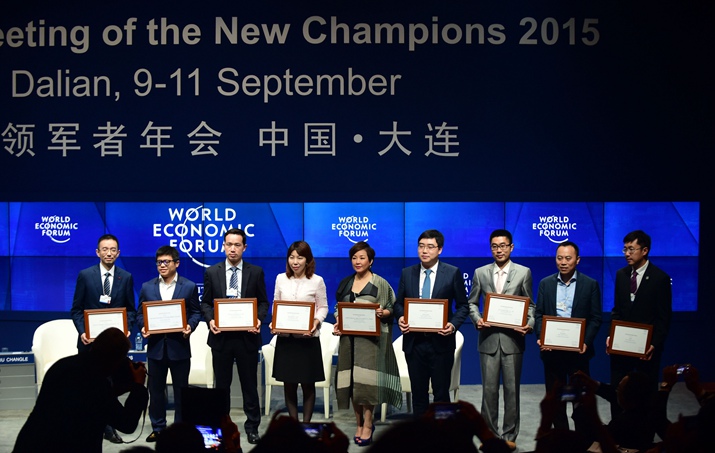 Entrepreneurs receive the Global Growth Companies for 2015 award from the World Economic Forum in Dalian on September 10 (XINHUA)
In contrast to panel discussions held elsewhere in the Dalian International Conference Center on September 10, the mood surrounding the event "The Global Rise of China's Entrepreneurs" held in the building's studio was decidedly more festive.
Instead of a single moderator addressing questions to guests in a solemn fashion, this gathering featured two photogenic TV reporters--one male and one female--who flitted from guest to guest, poking gentle fun at each in turn, asking questions, and soliciting reactions to answers from their fellow panelists.
The atmosphere was more akin to that of a televised Spring Festival gala versus the more academic tone of other talks at the three-day World Economic Forum's Annual Meeting of the New Champions, held in Dalian, northeast China's Liaoning Province, from September 9-11.
Seated center among the five guests was Margery Kraus, the head honcho of international PR company APCO Worldwide, founded in 1984. Belying her softly spoken demeanor was a razor-sharp business intellect capable of cutting incisively to the heart of the matter. Unlike many other PR agencies, which deal primarily with corporate matters, APCO also tackles political affairs and crises in addition to helping companies enter new markets. Having set up shop in Beijing in 1989, among her clients is a Chinese basketball player by the name of Yao Ming, for whom Kraus' efforts proved instrumental in securing a place in the NBA.
Asked what was the most pressing challenge for Chinese enterprises going global, Kraus' answer was unequivocal: branding. Although she noted that many in the West were "glad to see the rise of Chinese entrepreneurship" as it brings stability, she also observed that Chinese companies focus on ROI (return on investment) to the detriment of ROR (return on reputation), or what she terms "reputational equity."
She added that what works in China is not necessarily generalizable overseas; for example, putting the word "China" in your company's name. She said it is important for Chinese enterprises to "think about their face as they go abroad in order to avoid some of the problems and create some of the greater opportunities," and "build trust and respect; otherwise you won't grow."
Strong advice indeed. When asked by one moderator which Chinese companies have successfully built their brand abroad, Kraus referred to a survey her company conducted asking respondents in the United States to name U.S.-listed Chinese companies. Distressingly, 97 percent of those surveyed did not know even one, despite the fact that a dozen or so such enterprises are in the United States' top 50 companies. She said this was a shame as "some of these companies are doing great things."
Views from the trenches
So did Kraus' views mirror those of her fellow panel members? Liu Changle, Chairman and CEO of Hong Kong-based Phoenix Satellite Television, returned from Milan to attend Expo 2015, an international event focused on agronomics. He was impressed by the long lines of visitors at the Chinese pavilion, the majority of whom were not Chinese. He saw this as a good barometer of growing foreign interest in his country. In the British pavilion, he noticed that Chinese was the sole Asian language translated on signs and promotional materials, indicating interest in the opposite direction.
For Chen Feng, Chairman of Hainan Airlines Co. Ltd. (HNA), branding is a question of time. His company is China's largest privately owned air transport company and one of only seven Asian airlines with a five-star rating from UK-based flight consultancy Skytrax.
Making a point later echoed by Kraus, he insinuated that authenticity was an integral part of his airline's appeal, stating that while the flight attendants of competitor American Airlines wear "professional smiles," his (comparatively younger) flight staff "smile sincerely from the heart."
Though Chen expressed confidence in the ability of Chinese companies to create enduring brands, he also said it was a process that cannot be rushed. He admitted Chinese enterprises need to learn from their mistakes and their Western fellows but also provided a caveat: "As we learn from our Western teachers, our teachers get in trouble," he said, reflecting the recognition of Chinese companies post-2008 that many of the businesses they once emulated turned out to have feet of clay.
Panelist Xiang Bing maintained that while Chinese companies in the past were global in a passive sense, now they need to become actively so. Xiang is dean of the Beijing-based Cheung Kong Graduate School of Business, an institution which boasts Jack Ma and Sinopec chair Fu Chengyu among its alumni. He feels Chinese companies fall short of overseas counterparts, such as Japan, South Korea and the United States, in management, especially in the area of human resources.
While he praised the fact that China's outbound investment last year surpassed its incoming equivalent, making the country a net creditor, Xiang feels that China's neighbor India has pulled ahead in producing companies with "a global vision."
"While being confident, we need to be very humble," he said. Xiang also emphasized that companies need to think of themselves as global entities first and Chinese second.
One company that espouses a similar philosophy is Neusoft, the brainchild of Li Huatian and Liu Jiren, professors at Northeastern University in Shenyang, the provincial capital of Liaoning. (The company's name is an abbreviated form of Northeastern University Software.)
Having started as a research laboratory, today it is the largest provider of IT solutions operating in China. Since 1991, the company has amassed a staff now composed largely of foreign workers, and like Kraus, Chairman Liu believes that trust is paramount both within and between companies.
In addition to suggesting more people-to-people relations between international enterprises, Liu stated that global Chinese companies, both public and private, should be aware of their status as business ambassadors.
Likening his country's enterprises to its tourists, Liu said that one bad experience with a Chinese business may lead others to generalize--fairly or unfairly--to its national peers.
Value judgments
One of the chief points Kraus made was the importance of a corporate culture based on something apart from the desire to make money. As Xiang (rather poetically) put it, "We need to have different dreams."
Again citing the findings of one of her company's studies, Kraus claimed that what sets global leaders apart from their run-of-the-mill brethren can be summarized as four qualities, all beginning with the letter "a": alignment, the extent to which a company's staff share a common goal; authenticity, how well a company abides by its stated values; attachment, the emotional connection between brand and market; and advocacy, the company's raison d'etre aside from financial considerations.
Xiang reckons that the business leaders of tomorrow may be most effectively steeped in such values during their formative years.
At one point during the event's Q&A session, a man identifying himself as an entrepreneur lamented the lack of business know-how among young people, a characteristic that becomes glaringly obvious, the man claimed, when they try to start businesses.
This led Xiang to discuss the three generations of business schools in China. The first, he said, merely relay learning gleaned from Western institutes. The second generation, of which Xiang counts his own academy a member, attempts to generate their own base of knowledge. The next generation, he predicts, will furnish young Chinese business people with the skills, practical knowledge and, perhaps most importantly, values necessary to take on the world.
To do this, Xiang suggested incorporating elements of humanities education to produce more well-rounded graduates. Kraus was similarly chipper about Chinese prospects, predicting that over the next decade, Chinese enterprises will undergo changes rendering them unrecognizable from their present-day incarnations.
In addition to knowing what you're about, it's also important to know what others are about. Liu said that he earned the trust and loyalty of his foreign employees by remaining sensitive to their culturally specific needs and expectations; for instance, he granted them longer holidays at a time when relatively few Chinese employers did so.
Xiang echoed this sentiment when he recalled how taken aback he was upon visiting Hertz in Greece last month. There he encountered the tradition of taking a siesta, whereby businesses close for two hours in the afternoon, a peak retail time in non-Mediterranean countries. He maintained that it is very important to try and understand such customs and their inherent value, unfathomable though they may at first be.
Copyedited by Jordyn Dahl
Comments to yushujun@bjreview.com