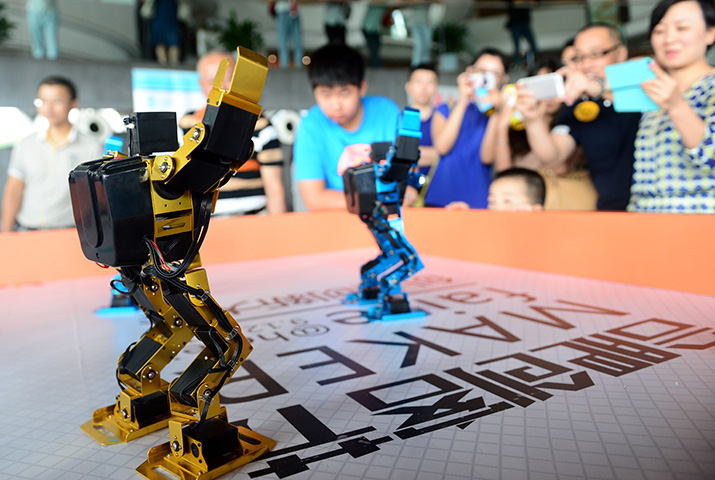 A team of innovators stage a demonstration of programming robots at the first Maker Faire in Hefei, capital of east China's Anhui Province, on September 13 (XINHUA)
After leveling off at 7 percent for two quarters, China's economic growth fell to 6.9 percent in the third, the lowest in six years, prompting concerns over a lukewarm future.
"Although China's GDP growth dropped below 7 percent in the third quarter, the overall situation is still stable and progressive," said Sheng Laiyun, spokesman for the National Bureau of Statistics (NBS), noting that the current pace is well within the reasonable range.
Considering the enormous size of China's economic aggregate, the 6.9-percent growth didn't come easy, according to chief economist at the Bank of Communications Lian Ping.
So what's behind the current deceleration? The truth is that changes have taken place in China's international and domestic situations in the past few months.
Prestigious financial institutions such as the World Bank and the International Monetary Fund have lowered their expectations on global economic growth by 0.2-0.3 percentage points, mirroring a deteriorating global economic climate which may already be affecting the Chinese economy.
According to statistics from the NBS, in the third quarter, China's exports shrank by 5.6 percent, with the decrease rate widening by 2.6 percentage points from the previous quarter. Sheng claimed that as the U.S. Federal Reserve's rate hike becomes more likely, the price of bulk commodities, stock and foreign currency markets around the world began to experience drastic fluctuations, and accompanying currency depreciation in some countries frustrated China's export activities. Furthermore, he posited, the reindustrialization carried out by the developed world and the edge of lower production costs enjoyed by some developing countries has further squeezed China's foreign trade.
At home, Sheng said, ongoing structural transformation has come to a crucial junction, and traditional industries such as steel and iron, cement and construction materials are not only destocking but also reducing production capacity, which according to the NBS spokesman will undoubtedly drag down industrial growth. Sheng added that some initially fast-expanding sectors like automobiles and cellphones now have to wade through a phase of adjustment, which he claimed also contributed to stagnant market expansion.
The slowdown is much more pronounced in regions that are home to resource-intensive and upstream industries than that in eastern coastal provinces, where structural transformation was initiated at an earlier stage. Meanwhile, enterprises feeding off a traditional business model and expansion on scale have seen their profitability declining, and those embracing new technologies and business patterns have improved their market share and earning capacity, said Wang Yiming, Deputy Director of the Development Research Center of the State Council.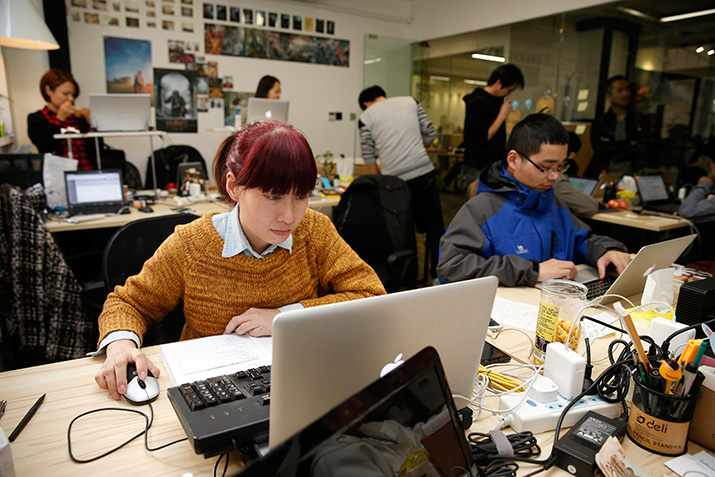 Yang Liu (front left), founder of mobile phone app Fotoplace, in her office in Beijing on March 25 (XINHUA)
Good omens
It's not all bad news, however. Sheng pointed out that industrial structure is upgrading, domestic demand structure is improving, the urban-rural income disparity is narrowing, and energy conservation is progressing.
For many of the most-feted growth areas in China, things appeared to be going according to plan. For the first three quarters, value-added output of the service industry made up 51.4 percent of the nation's GDP, up 2.3 percentage points year on year and 10.8 percentage points higher than the manufacturing industry. Final consumption expenditure contributed 58.4 percent to GDP growth, an increase of 9.3 percentage points year on year. Growth of the per-capita disposal income of rural residents outpaced that of urban residents by 1.3 percentage points. Energy consumption per unit of GDP was cut by 5.7 percent.
While traditional industries like steel and iron struggled with downward pressures incurred by overcapacity, hi-tech industries such as information software and biological medicine have shown signs of rise, and emerging industries such as e-commerce and modern logistics are gaining momentum, Wang claimed.
Emerging industries get a high score. Online retail sales grew more than 36 percent, and new products like new energy vehicles even saw their sales doubled. The value-added output of hi-tech enterprises increased by 10.4 percent, 4.2 percentage points ahead of industrial enterprises above designated size--principal business revenue of more than 20 million yuan ($3.15 million) a year.
Steady progress has also been made in the cultivation of new growth points and the gear shifting of economic growth, said Sheng.
Beyond all that, the slowdown has not affected Chinese people's livelihood. On the contrary, they now benefit more from economic growth. From January to September, the per-capita disposal income of residents advanced by 7.7 percent, higher than the 6.9 percent registered by GDP growth. In addition, a total of 10.66 million jobs were created in urban areas. That is to say, the nation has accomplished its full year target ahead of time.
"Since last year, the tendency of disposal income increase outpacing economic growth has continued," said Sheng, who believes that the causes behind the trend are manifold.
In recent years, as the nation's industrial, demand and demographic structures continue to transform, the supply-demand relationship in the labor force is also changing, with wage rate constantly climbing.
At the same time, the Chinese Government has unveiled an array of policies and measures to boost people's livelihood, including the elevation of wage standards. Besides that, the income earned by urban and rural residents from house and land leasing has increased.
From January to September, per-capita net income from rental housing went up 12.6 percent, with that from land leasing climbing 17.1 percent, according to statistics from the NBS.
Future outlook
"Regarding the economy, driving forces and unfavorable factors have reached a new equilibrium," Sheng noted, pointing out that downward pressures incurred by sluggish foreign demand and structural reform will continue to affect economic growth in the short term.
"China is still in the midst of industrialization and urbanization. Over the process, a new growth momentum will be generated by new technologies," said Sheng. In addition, due to unbalanced regional development, central and west China can fully gain the advantages of their respective late starts.
Aside from that, a consumption structure upgrade will serve as a needed brace for the economy. "After solving food and clothing disparities, the Chinese people have turned their attention to housing and traveling, a great leap toward an all-round well-off society. Given that, the demand for education, tourism and healthcare will keep going up," said Sheng.
Lian, chief economist of the Bank of Communications, believes consumption has become a major force propping up the economy and that the unfinished industrialization and urbanization will continue to propel consumption upgrading.
While new driving forces continue to spring forth from reform and innovation, the demographic dividend will not dwindle owing to the decline of the working-age population, said Sheng, suggesting that 7 million new graduates every year will continue to inject vitality into China's talent pool.
Since the Central Government has been intensifying its efforts to vitalize existing capital and intends to stick to its proactive fiscal policy in the fourth quarter, fixed assets investment will see a higher rate of disbursement, and an economic rebound is expectable.
To neutralize the unfavorable factors and ensure stable growth, the Chinese Government will probably pursue a loose monetary policy, said Liu Yuanchun, Executive Director of the National Academy of Development and Strategy under Renmin University of China.
As the supervision over fiscal measures and local governments is reinforced, many projects will be put in place at a faster pace, which will also enhance confidence in achieving the full-year growth target of 7 percent or so, said Liu.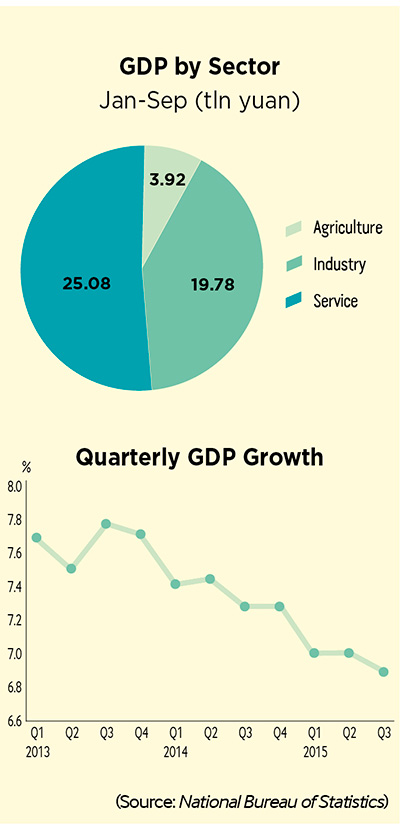 Q3 Macroeconomic Indicators
- The consumer price index (CPI), a main gauge of inflation, rose 1.4 percent. The producer price index (PPI), which measures inflation at the wholesale level, contracted 5 percent.
- Foreign trade decreased 7.9 percent to 17.87 trillion yuan ($2.81trillion). Exports decreased 1.8 percent to 10.24 trillion yuan ($1.61 trillion), while imports dropped 15.1 percent to 7.63 trillion yuan ($1.2 trillion).
- Value-added output of industrial enterprises above a designated size--principal business revenue of more than 20 million yuan ($3.15 million) a year--grew 6.2 percent.
- Fixed assets investment totaled 39.45 trillion yuan ($6.21 trillion), up 12 percent.*
- Investment in the property sector reached 7.05 trillion yuan ($1.11 trillion), up 4.2 percent.*
- Retail sales of consumer goods totaled 21.61 trillion yuan ($3.4 trillion), up 10.5 percent.* Online retail sales of commodities amounted to 2.59 trillion yuan ($407.66 billion), up 36.2 percent and accounting for 11.99 percent of total retail sales.
- The per-capita disposable income of urban residents stood at 23,512 yuan ($3,703), up 6.8 percent.*
- The per-capita cash income of rural residents stood at 8,297yuan ($1,307), up 8.1 percent.*
- New yuan-denominated loans amounted to 9.9 trillion yuan ($1.56 trillion), 2.34 trillion yuan ($368.55 billion) more than the same period last year.
- As of the end of September, the M2, a broad measure of money supply that covers cash in circulation and all deposits, reached 135.98 trillion yuan ($21.42 trillion), up 13.1 percent.
- Total social financing, a measure of funds raised by entities in the real economy and a broad measure of liquidity in the economy in general, totaled 11.94 trillion yuan ($1.88 trillion).
(Source: National Bureau of Statistics)
(All growth rates are on a year-on-year basis. * The growth rate has been adjusted for inflation.)
Copyedited by Kylee McIntyre
Comments to dengyaqing@bjreview.com