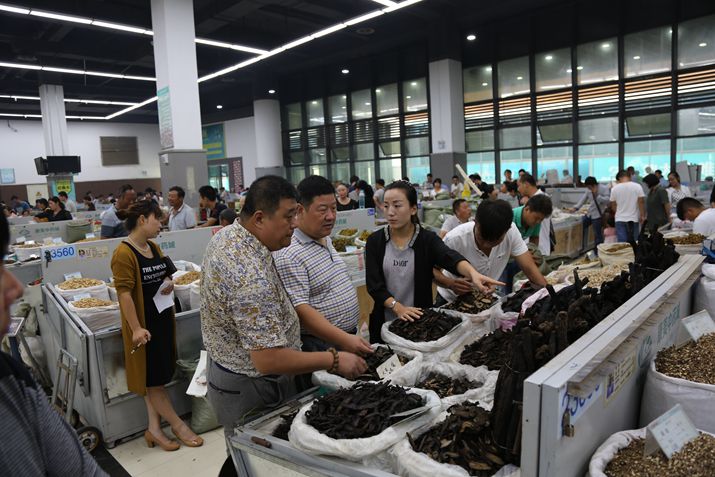 Businessmen select medicinal herbs in Bozhou, Anhui ProvinceKangmei Chinese Medicine City in Bozhou, Anhui Province (WANG ZHE)
With its distinctive curative properties, traditional Chinese medicine (TCM) is known for curing difficult or complicated illnesses. Carefully developed for thousands of years, now more and more people are accepting the practice worldwide.
Chinese medical scientist Tu Youyou's winning of a Nobel prize for her TCM-based anti-malaria drug has brought recent attention to the possibilities herbal medicine can provide.
As TCM goes global, there has been a complete industrial turnover in plantations, production, trading and related cultural activities. The industry is now increasingly featuring intensive scale production.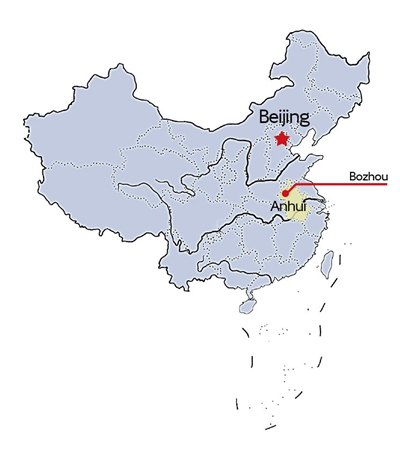 Bozhou of Anhui Province, also known as the capital of TCM, is considered particularly reputable. One 10th of the country's medicinal herbs are planted in Bozhou, which is also one of the world's largest distribution and price formation centers of medicinal herbs. Its herbal medicine exports rank third in China.
With the goal of increasing both trading and output value of herbal medicine to 100 billion yuan ($15.75 billion), Bozhou has been improving its industrial environment and introducing more investment into TCM production. To date, nearly 100 companies have set up workshops in the city's herbal medicine industrial park, and most of these workshops have become part of future production.
The International (Bozhou) TCM Expo, also known as China (Bozhou) Herbal Medicine Fair, is held once a year in Bozhou. This year's expo, which spanned September 9-13, attracted participants from all over the country, as well as countries and regions including South Korea, India, Sweden, Hong Kong, Macao and Taiwan. A total of 31 contracts worth 2.4 billion yuan ($377.95 million) were signed during the fair.
"With different themes, the TCM expo aims at attracting investors from all over the world, bringing more business opportunities to herbal medicine producers and promoting tourism in Bozhou," Chai Yonggang, an official with the Information Office of the Bozhou Municipal Government, told Beijing Review . "In addition, we hope the expo can further spread the TCM culture."
With a well-developed medicinal industry, Bozhou offers an example from which other cities can learn.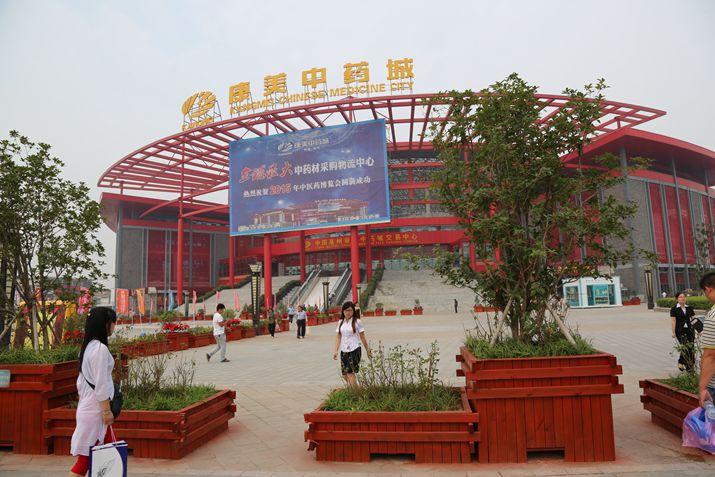 Kangmei Chinese Medicine Market in Bozhou, Anhui Province (WANG ZHE)
A new market model
Located in the new district of south Bozhou, Kangmei Chinese Medicine City is a landmark of the city. Resembling a beautiful red peony, the building definitely catches the eye.
Built in 1994, the shopping center used to be Bozhou's herbal medicine market. In 2010, Kangmei Pharmaceutical Co. Ltd. acquired the market and brought it under corporate operation. Kangmei also invested 1.5 billion yuan ($236.22 million) into the construction of the Kangmei Chinese Medicine City. Spanning 1.2 million square meters, it is the largest one-stop herbal medicine market in the world.
The corporate-operated model has remarkably invigorated the herbal medicine market, with the trading volume increasing rapidly.
With rich experience in business management, Kangmei Pharmaceutical Co. Ltd. has improved both the management and operational efficiency of the market. A corporate-run model has also facilitated the supervision of transactions within the market.
Benefiting from the development of Internet technologies, the market has expanded the channels of trading, and electronic transactions have become more and more common. As a result, Kangmei Pharmaceutical Co. Ltd. has significantly given new life to the herbal medicine market.
Extending industrial reach
For a business trip, Liu Xiangmei visited Bozhou in 2009 and discovered tremendous business opportunities in the herbal medicine hub. She decided to stay in this city and start her own business. Six years have passed, and Liu has become the exclusive distributor in Bozhou for a long-serving pharmaceutical factory.
When interviewed by Beijing Review , she was introducing the latest health tea products to customers at the herbal medicine fair. According to her, the products contain herbs with important benefits and are targeted at young customers.
"Health food and medical devices containing herbs, such as health tea, herb-stuffed pillows and foot bath tubs are also part of the TCM market in Bozhou," Liu told Beijing Review . "With the selling point of keeping people healthy, such products are applicable to all people, so competition is very fierce."
Consumer products like these have extended the entire TCM industrial chain in Bozhou beyond just medicine. The city is also promoting the culture of Chinese medicine and developing related tourist products that introduce ways to stay healthy. For example, the city supports the development of some medicinal liquor factories, health food chain stores and herbal food-processing factories. Now the city has established an integrated TCM industry chain including medicinal herbs, culture and tourism as well as healthcare services.
Patent problems
With Bozhou as its flagship, China's TCM industry has accomplished a great deal but is still facing significant challenges.
Because many of China's TCM industry leaders have not taken measures to protect their intellectual property rights, they have been facing problems including the loss of esoteric recipes and preemptive registration of trademarks in foreign markets.
Some foreign pharmaceutical companies have actually managed to register patents on Chinese medicine in China. As a result, many Chinese pharmaceutical companies have been pushed into supplying raw materials to foreign companies.
In fact, Chinese company-produced medicine makes up only a small share of the international market. According to the Japan-based Daiwa Institute of Research Ltd., in the TCM market outside China, only 0.3 percent of the patents are owned by Chinese companies, while more than 70 percent of the patents are held by companies from Japan and South Korea. Though the market value of TCM outside China totals $30 billion, less than 5 percent is made by Chinese producers.
Therefore, it looks like it is up to cities like Bozhou to help take back the TCM market and keep it close to its roots.
Copyedited by Kylee McIntyre
Comments to yushujun@bjreview.com