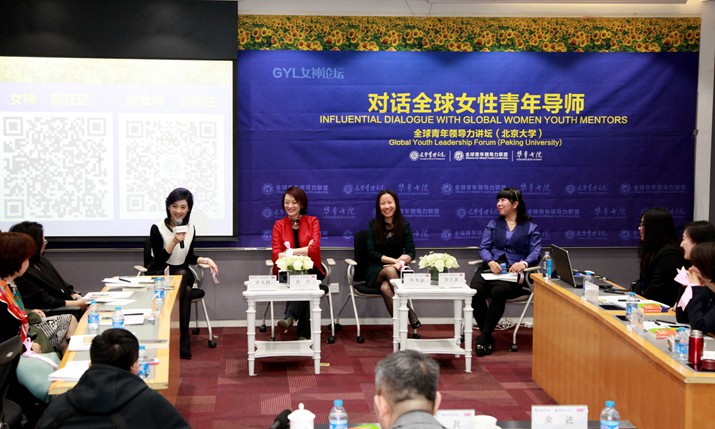 Mentors share their stories of success and give advice to young women at the Global Youth Leadership Forum in Beijing on November 8 (COURTESY OF GYLF)
Gill Zhou, Vice President at IBM in the Greater China Region, never thought she would grow from a soft-spoken English major to a decisive and resolute business leader over the past 23 years.
She is the first Chinese woman to hold the title of vice president of Asia Pacific communications at the company, a role she was appointed to in 2007.
"I was too excited to fall asleep the night before my inaugural ceremony and prepared a long, passionate speech for it. Yet, the long-expected inauguration took less than two minutes, and I wasn't even given a chance to speak," said Zhou, who is now amused by the episode.
One of her colleagues told her she didn't need a grand ceremony because "you are the right person and a member of the team," Zhou told a forum for potential female leaders in business on November 8 in Beijing. The forum was held by the Alliance for Global Youth Leadership, a non-governmental organization committed to facilitating the advancement of young people with branches established in 28 countries so far. Its founder, Zhang Meng, is also a young entrepreneur who runs China's first "hi-tech" cafe chain Hypervic Coffee.
"Suddenly, I felt like I didn't need to prove my professional ability and leadership through an impassioned speech because my past performance is the best proof, and the others trusted and recognized me," Zhou told the audience.
Along with a rise in economic strength, a boom in science and technology has made it easier for leaders to have a flexible schedule, which is becoming increasingly popular in modern society. This could have larger implications for women in the workforce, as a flexible schedule allows for more balance of work and family duties. Women spend at least twice as much time as men on unpaid domestic work, such as cleaning and caring for children, according to a 2010 UN World's Women report.
Women make up just 9 percent of business leaders in China, far lower than that in the developed world, according to Julia Broussard, head of the UN Women China Office. The large economic and social transformation currently underway in China will allow women to play a more predominate role in the world's largest developing country.
Need to have passion
"Only you know exactly what you want. When pursuing what you want, you don't have to explain a lot to others, because those who don't understand you will never understand no matter how hard you are trying to get them know you," said Hao Ying, a female entrepreneur who co-founded cosmetic brand Bella Valley.
Despite opposition from her parents and friends, Hao resigned as the star anchor of Harbin Television at the age of 28 and came to Beijing to pursue a career on a bigger stage. Two years later, she walked away from her position as program director at China Network Television's Chinese channel and started her career as a sales assistant in Kans Cosmetic Co. Ltd. She became a managing partner at Kans three years later and was rewarded with 100 million yuan ($15.7 million) worth of shares. Through her struggles, she managed to achieve her first objective of buying her parents a big house and started a new life as an entrepreneur.
"Young people should leave no stones unturned to achieve their dreams. With a down-to-earth attitude, they need to divide the general goal into several smaller targets and try their utmost to achieve them one after another," Hao said.
"When starting a business, one may wonder where opportunities and customers lie, when they should in fact be following their passion instead," said Zhou, who noted that potential female entrepreneurs find myriad hidden chances when they try to put their own social ideal into reality.
Yu Jin, Managing Partner of McKinsey & Co.'s Beijing Office, believes that a person can only become a leader if they maintain a sense of mission and are willing to do what they can to make a difference.
"Most female leaders don't settle for the stability and satisfaction of personal life. Instead, they hope to do more by influencing the people around them," Yu said in an address at the forum, who also noted that the styles of female leadership are varied because of different personalities and character traits.
Part of influencing people is also acting as a mentor to help nurture the next generation and women just starting out in an industry. Hao used to help college students plan their life after graduation.
"In the hope of influencing others' way of observing the world, I'm motivated to grow stronger and further explore my potential," she said.
More than just a title
People can develop different character traits based on their gender and what society dictates, which can also carry over into how they act as leaders. For example, many women are great communicators, which can help promote cohesiveness in an organization.
Though leadership styles differ from woman to woman, female leaders in general have something in common, said Yu. They are capable of finding untapped markets and niches and take initiative when undergoing a transformation.
But Yu warns that if one's goal is to achieve financial independence, entrepreneurship may not be the way to go as there is fierce competition and a lot of uncertainty when branching out on your own. So money shouldn't be the only target.
For Hao, it was the opportunity to be her own boss.
"Throughout my career at Kans, I used to take care of everything and everybody and tackle every problem as if I were the boss. Looking back, it's no accident that I started my own business," Hao said.
Regardless of motivation, being a leader means going beyond yourself and your accomplishments and helping other people be successful.
"To be a successful entrepreneur, you should be prepared to give solutions whenever something comes up. You should be courageous enough to forget your past accomplishments and be willing to reinvent yourself," said Yu.
"There are numerous difficult and inspiring moments on the path to success in the business world, which is primarily dominated by men. In this spirit, entrepreneurial women are fascinating and charming, just like flowers blooming in the desert," said Zhou.
Copyedited by Jordyn Dahl
Comments to dengyaqing@bjreview.com