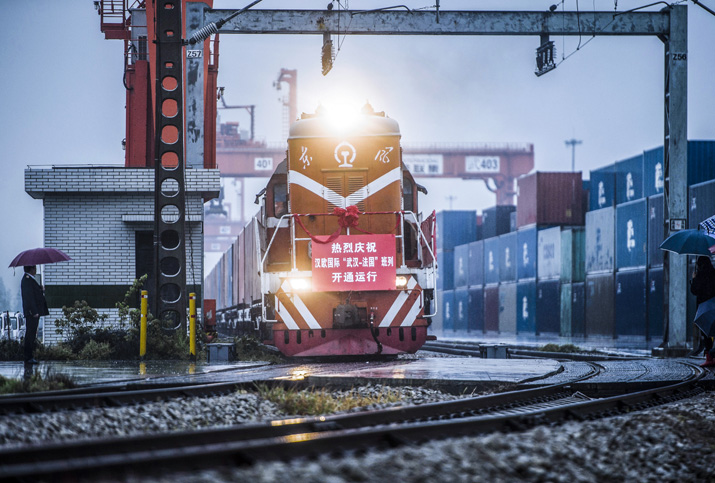 The first direct cargo train connecting China and France chugs out of the Wujiashan Railway Central Station in Wuhan, Hubei Province, on April 6 (XINHUA)
Chinese products can now reach France directly by train and vice versa. On April 6, the first direct cargo train linking China to France left the Wujiashan Railway Central Station in Wuhan, capital of central China's Hubei Province.
According to a press release from the Wuhan Asia-Europe Logistics Co. Ltd., operator of the Wuhan-Europe cargo train services, the train will carry a variety of products including electronics, chemicals and garments. It will pass through Kazakhstan, Russia, Belarus, Poland and Germany, arriving in the second largest French city, Lyon, after running 11,300 km in 16 days.
October 2012 marked the start of Wuhan's train services linking the city to Europe, when 50 containers of electronic components from the Wuhan plant of Foxconn Electronics Inc. were transported to the Czech Republic. However, due to an inadequate number of orders and elaborate red tape which had to be handled to clear customs, the Wuhan-Europe cargo train service was suspended. On April 23, 2015, cargo train services between Wuhan and Europe were resumed, carrying Foxconn's products from Wuhan to Poland.
There used to be only one single train running once a week on the Wuhan-Europe line. Now, three trains run through it every week. The destinations have increased to run from Poland and the Czech Republic to Germany, France, Russia, Kazakhstan and Uzbekistan. According to the Wuhan Asia-Europe Logistics, in the first quarter of this year, 39 trains set out from Wuhan, transporting 3,512 standard containers to Europe, higher than the total transported throughout of 2014.
Local companies have benefited from the services. "Our products are now transported to Poland by the Wuhan-Europe cargo trains almost every month," said Lin Zhipeng, General Manager of TPV Display Technology (Wuhan) Co. Ltd.
Lin said the company used to transport products to Shanghai via the Yangtze River, which would then reach Europe by sea. The process used to take 40 days, but it now takes only two weeks through train, significantly improving efficiency. In 2015, TPV Display Technology exported more than 320 containers to Europe through the Wuhan-Europe train services.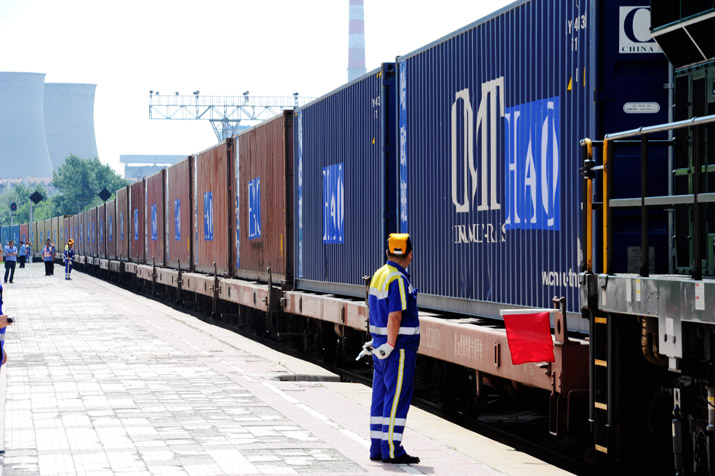 The first Harbin-Europe cargo train is ready to set out from northeast China's Harbin to Hamburg in Germany on June 13, 2015 (XINHUA)
Logistics 'artery'
Besides Wuhan, other cities such as southwest China's Chongqing, Zhengzhou, capital of central China's Henan Province, Hefei, capital of east China's Anhui Province, Harbin, capital of northeast China's Heilongjiang Province, and Yiwu, a merchandise wholesale market in east China's Zhejiang Province, also support freight trains connecting the country to Europe.
As a result of the China-proposed Belt and Road Initiative, China-Europe cargo trains--being faster than ships and cheaper than planes--now serve as a new "artery" running through the Silk Road Economic Belt.
The Belt and Road routes run through the continents of Asia, Europe and Africa, connecting the vibrant East Asia economic circle at one end and the developed European economic circle at the other. Through the land-based Silk Road Economic Belt and the ocean-based Maritime Silk Road, the Belt and Road Initiative is to increase collaboration among countries along the routes.
China has built three cargo train routes linking Europe: the western route through Xinjiang's Alataw Pass, a middle route through Inner Mongolia's city of Erenhot, and an eastern route through the city of Manzhouli in Inner Mongolia.
Ma Zhongyuan, the former head of Chongqing Customs, told Xinhua News Agency that by the end of 2015, 490 freight trains had set out for Europe from the southwestern municipality, accounting for 45 percent of China's freight sent to Europe by train. These trains carried more than $10 billion worth of goods, accounting for 80 percent of goods transported to Europe via the western route.
Figures from Zhengzhou International Hub Development and Construction Co. Ltd., the operator of the Zhengzhou-Europe freight train service, indicate that by the end of March more than 300 trains had set off from the provincial capital of Henan, carrying $1.4 billion worth of goods to Europe.
Strong demand
These China-Europe services have attained good performance figures due to both the transfer of export-oriented enterprises from coastal areas to the central and western areas, as well as rising effort by inland cities to further open up to foreign business.
Wuhan, for example, is host to numerous auto, electronic and construction companies, and is home to nearly 10 million people. The city is also boosting joint development with eight neighboring cities to enlarge its consumption market.
In recent years, Wuhan has implemented a plan to double its industrial output. The fast-growing manufacturing industry in Wuhan has increased exports and has driven up demand for imports, bringing more orders to the Wuhan-Europe cargo system.
According to a press release from the Wuhan Asia-Europe Logistics, the newly launched direct freight train from Wuhan to France aims to not only increase the coverage and routes of Wuhan-Europe freight trains, but also meet the freight demand of French companies investing in Wuhan. The company plans to set up representative offices in France to receive orders for the transport of goods from France to Wuhan, offering a new logistics channel to facilitate trade between the two countries.
Philippe Martinet, the French Consul General in Wuhan, said at the service's inauguration ceremony that 130 French companies have invested in Wuhan. Direct cargo trains to Lyon will connect the two cities and enhance trade and cultural relations.
Besides taking Chinese goods to Europe, the China-Europe cargo trains also bring back products to China on the return journey, increasing China's imports from Asian and European countries.
Dong Wanxu, China General Manager of Trans Eurasia International Logistics Ltd., which is engaged in several China-Europe cargo train routes, said that goods sent to China have expanded from agricultural products and auto parts to high value-added products such as quality timber and finished automobiles.
"When negotiating logistics orders, some European clients also discuss with us the possibility of transferring their production capabilities from Europe to China due to China's convenient rail transportation," Dong told Economic Information Daily.
However, problems resulting from excessive competition, redundancy, subsidy dependence and high vacancy rates of trains add uncertainties to the future of the China-Europe cargo system.
Qin Zunwen, Vice President of the Hubei Provincial Academy of Social Sciences, said that in the initial period after the train services from China to Europe started, the government can provide subsidies to cultivate the market. But market-oriented management is crucial for these trains' regular operation.
Qin suggested that the government make an overall plan for China-Europe cargo train routes and promote resource sharing. It should also negotiate uniform freight charges with countries along the routes and reduce the transportation costs for the sustained growth of these operations.
Copyedited by Bryan Michael Galvan
Comments to wangjun@bjreview.com