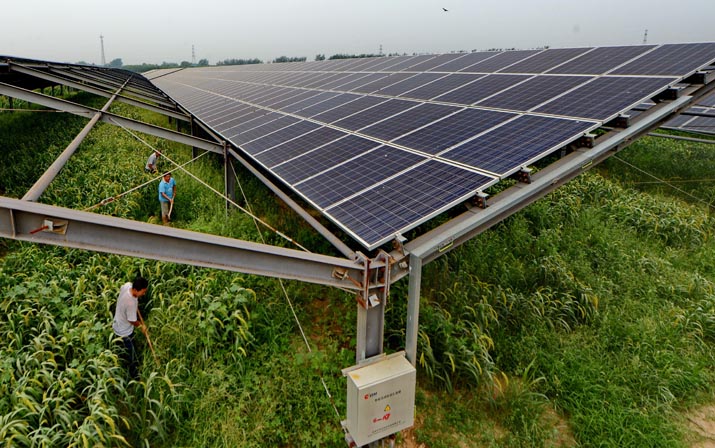 Farmers work on cropland with solar panels installed above it in Julu County, north China's Hebei Province (XINHUA)
As global temperatures rise, wetland areas are shrinking, droughts descend frequently on what used to be fertile farmland, and some small islands are becoming completely submerged. Aside from following the steps made at the Paris climate change conference, new efforts need to be made to get rid of the nightmare brought about by climate change.
As the world's largest developed and developing countries, China and the United States play a vital role in promoting the implementation of the Paris agreement and pushing forward related international collaboration efforts.
That has given rise to the establishment of the China-U.S. Climate-Smart/Low-Carbon Cities Summit, which was first convened in Los Angeles last September and successfully concluded once more in Beijing on June 8 this year with the participation of over 2,000 local government officials, enterprise people and experts from both countries. At the two-day event, 27 cooperative programs were signed across governments, businesses and research organizations, and a second climate leaders declaration was jointly made by the two countries.
China and the United States should expand cooperation on energy conservation and emissions reductions, clean energy, smart power grids, green ports and low-carbon cities, according to Chinese State Councilor Yang Jiechi on June 7, the opening day of the summit.
U.S. Secretary of State John Kerry emphasized the need for countries to work together by pointing out that cities are going to be in the eye of the climate change storm. "More people live in urban areas today than rural, and that has never happened before in our lives. And by 2050, two out of every three people on Earth will live in cities," said Kerry. He also added that 90 percent of major cities are situated along inland or coastal waterways, making them particularly at risk from storm surges and rises in sea levels.
As the report Hot Cities: Battle-Ground for Climate Change released by the United Nations Human Settlement Program pointed out, while the world's cities only cover 2 percent of the global land area, they account for a staggering 70 percent of greenhouse gas emissions.
Cities are a major generator of greenhouse gases, and low-carbon development is still, to a large extent, a new concept which lacks the adequate market forces needed to promote it. Given that, the unanimous international effort being made to confront this challenge is quite significant, which can send a positive signal to urge the market to shift, said Chai Qimin, Deputy Director of the Strategic Planning Department at the National Center for Climate Change Strategy and International Cooperation.
So far, a total of 177 counties have signed the Paris agreement, and 17 of them have approved it. The agreement is now going through domestic legal procedures in China, and the country is striving to approve it before the G20 Summit in Hangzhou in September, said Xie Zhenhua, a special representative for climate change of China.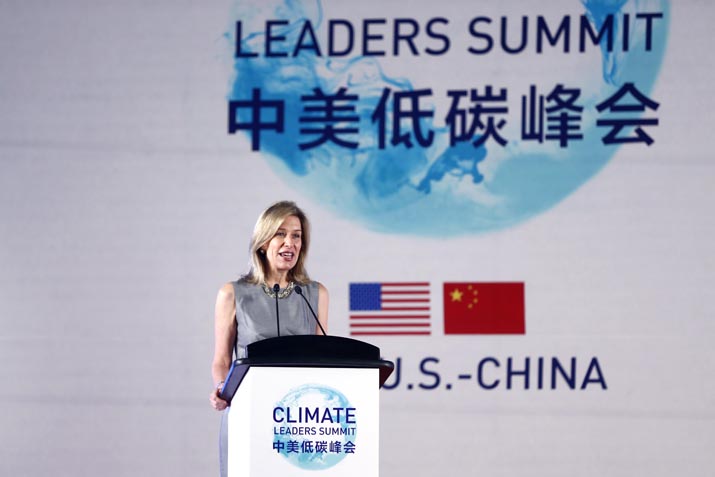 Elizabeth Sherwood-Randall, Deputy Secretary at the U.S. Department of Energy, speaks at the opening ceremony of the second U.S.-China Climate-Smart/Low-Carbon Cities Summit in Beijing on June 7 (XINHUA)
Endeavors
As early as 2014, Chinese President Xi Jinping and U.S. President Barack Obama issued a joint announcement on tackling global warming. According to the Intended Nationally Determined Contributions submitted by China, the country plans to reach peak carbon emissions around 2030. In terms of adaptation, it plans to improve the early warning system, take a set of disaster prevention and reduction measures, and enhance climate-related infrastructure construction. It has also unveiled a corresponding strategy to improve its capabilities in this aspect.
In addition to that, though a developing country itself, China also voluntarily provides financial support to its peers in order to improve their capacity for mitigation, adaptation and management. Last September, China announced it will set up the South-South Climate Cooperation Fund with an investment of 20 billion yuan ($3 billion).
Chinese Vice Premier Wang Yang expressed the hope that developed countries will honor their commitments to give $100 billion to developing countries annually before 2020, realize emission targets, and transfer environmentally friendly technology to developing countries.
"The carbon market in China is expected to be initiated in 2017," said Xie, noting that seven emission trading pilot zones have been established and all of them are operating smoothly. As of March 2015, trading volume in the seven pilot zones—Beijing, Shanghai, Tianjin, Chongqing, Shenzhen, Hubei Province and Guangdong Province—had amounted to 20 million tons, with the total transaction amount reaching 1.3 billion yuan ($197.5 million).
Aside from that, China has established low carbon pilot zones in six provinces and 36 cities, which are home to 42 percent of its total population and account for 57 percent of the gross domestic product and 56 percent of carbon emissions. In the future, the country will expand the scope of its low-carbon pilots to 100 cities.
Green finance
In the next five years, building low-carbon cities in China will require an investment totaling 6.6 trillion yuan ($1 trillion). This money will primarily go to low-carbon building, green transport and clean energy, according to a report on green finance and low-carbon cities' investment and financing released by Paulson Institute, Energy Foundation China, and the Chinese Renewable Energy Industries Association during the summit.
Such a huge investment and demand for financing can't be met by the government alone, said Ma Jun, chief economist of the People's Bank of China, who noted that government can only meet 85 percent of the total demand, while the remaining 15 percent needs to be taken care of by social capital.
To usher more capital into green and low-carbon development, efforts should be made to let public funding play a leading role. The return rates of some green projects are lower than market expectations. Ma argued that government-supported green funds and measures like interest subsidies should be employed to lower their financing cost.
Besides that, channels and instruments for green financing should be diversified, and an environmental risk analysis and management mechanism needs to be set up, so that banks and institutional investors can shift their capital from high-pollution and high-emission industries to green and low-carbon industries, said Ma.
Beyond that, environmental information on enterprises and projects should be more transparent to the public, so that the cost of identifying green enterprises and projects will be reduced for investors and the capability of the capital market to allocate resources to green companies can be improved, Ma noted.
Copyedited by Bryan Michael Galvan
Comments to dengyaqing@bjreview.com