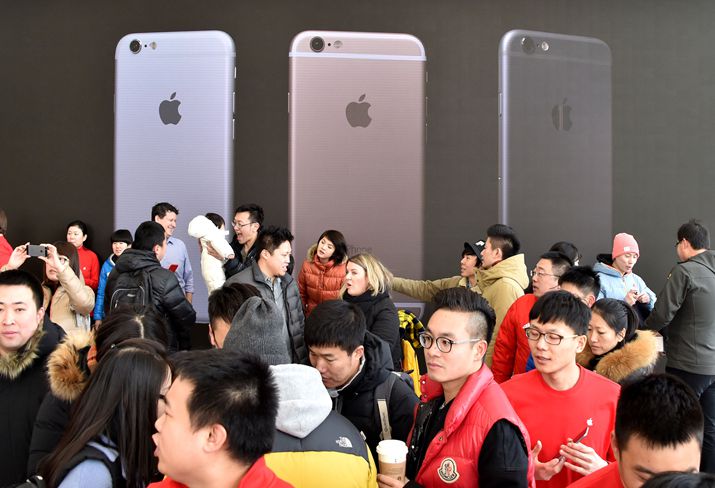 Consumers visit a new Apple retail store in Qingdao, east China's Shandong Province, on January 30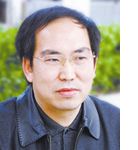 Apple's CEO Tim Cook once again visited China in mid-August, only three months after his last trip. However, this time, it may not have been as pleasant as previous ones. The company's latest fiscal quarter saw a 33-percent year-on-year slump in its revenue in the Greater China region, the biggest drop among all regions.
Many research institutions have focused on Apple's China operations when trying to explain the decline. Indeed, Apple's revenue slump is understandable, given that the company is facing increasingly fierce competition with Samsung and local rivals such as Xiaomi and Huawei. However, Cook said during his most recent visit that, in addition to the nation's slowing economy, decreasing sales via third-party channels and yuan exchange rate fluctuations contributed to the revenue plunge.
Apple's China sales are denominated in yuan, while the fiscal report is denominated in U.S. dollars. The yuan has depreciated by more than 6 percent against the U.S. dollar since last August, when China carried out a new round of exchange rate reform. Therefore, despite a rise in sales, Apple's China revenue measured in U.S. dollars declined accordingly.
The exchange rate factor, cited by Cook as one of the major reasons for the revenue slump, is a common issue facing all foreign-funded companies or multinationals operating in China. After selling products in China, they have to repatriate profits back to their home turf and the exchange rate is an unavoidable issue.
The yuan appreciated for nearly a decade following the exchange rate reform in 2005, something multinationals that make money mostly by selling products in China loved to see. However, since the new round of exchange rate reform last August, the yuan exchange rate formation mechanism has taken large strides in market-oriented reforms, which means the currency now has a wider space for two-way fluctuation. Against this backdrop, all companies, including foreign-funded and multinationals, have to adjust to the currency's increasing flexibility. They have to factor exchange rate risks in their China operations. Cook's remark is a kind reminder for all multinationals.
Things work in the same way for Chinese companies eyeing the global market. They have to take into account exchange rate risks of not only the yuan, but also currencies of the countries they operate in, especially major currencies such as the U.S. dollar, Japanese yen, euro and British pound.
The Apple story is also quite thought-provoking for China's exchange rate policy makers. Since the subprime mortgage crisis broke out in the United States in 2008, the Chinese economy has received a heavy hit from the yuan's exchange rate. The Chinese currency was on a trajectory of appreciation from 2005 to 2015, dealing a devastating hit to exporters. Exports used to be one of the three major economic drivers for the country, but they have been a drag for broader economic growth, instead of a contributor, for several years in a row.
Global liquidity, however, has started to flow back to the United States since the Federal Reserve tightened monetary policy in December 2015. The yuan has been depreciating since last year, arousing concerns and fears among foreign companies. Some of them have even moved their Chinese manufacturing bases to Southeast Asia, where labor costs are lower. Apple has implied it could do the same, frequently highlighting that smartphone ownership is quite low in India.
Exchange rate stability is best for a country's currency. Both depreciation and appreciation hurt certain aspects of the economy. For instance, excess appreciation hurts exports but is beneficial for attracting foreign investment. Currency depreciation, on the other hand, helps exports but harms imports and the inflow of foreign capital. More importantly, it stands in the way of a currency's rise in terms of global impact.
For China, accelerating market-oriented reform of the yuan exchange rate and stepping up efforts in the yuan's internationalization are the top priorities in its financial arena.
This is an edited excerpt of an article originally published in National Business Daily
Copyedited by Chris Surtees
Comments to yushujun@bjreview.com