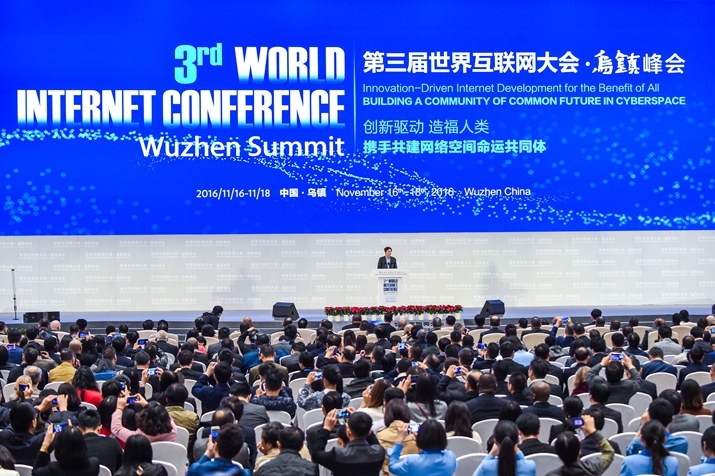 The closing ceremony of the Third World Internet Conference in Wuzhen, Zhejiang Province, on November 18 (XINHUA)
Ma Yun, the founder of Chinese e-commerce giant Alibaba Group more popularly known as Jack Ma outside China, has a prediction about the human race. "Over the past 20 years, human beings have changed into machines, thanks to Internet technologies. In the future, Internet technologies will change machines into human beings," Ma said at the opening of the Third World Internet Conference, recently held in the quaint water town of Wuzhen in east China's Zhejiang Province.
"The Internet has liberated human brainpower and brought data to the center of the stage. In the future, data will be the means of production and computing will become productivity," Ma told the gathering of nearly 1,600 people from more than 110 countries and regions and 16 international organizations.
In the next 30 years, he added, only those companies, countries and young people that can make good use of Internet technologies will enjoy success.
Blurring boundaries
Artificial intelligence (AI) has become one of the foremost technologies of today, applied in all aspects of human life, from space science to medicines and manufacturing. AI—the development of computer systems to execute functions requiring human intelligence, such as visual perception, speech recognition and even decision-making—is blurring the boundary between humans and machines. The new technology is fusing computer science with psychology and even philosophy to expand human capability.
The major Internet-based companies around the world have embraced AI, such as Microsoft, Apple and Google. Their Chinese peers Alibaba, Baidu and Tencent have also followed suit. Even industry newcomers are aware of the potential of AI. Beijing-based industry consultancy iResearch released a report in February saying more than 100 startups in China are focusing on the AI industry, with 65 of them having received 2.9 billion yuan ($427.73 million) from venture capitalists.
"AI is a new opportunity for Chinese companies to conquer the Internet battleground," said Robin Li, Chairman and CEO of Chinese Web services company Baidu. In the era of AI, everything will be changed, Li added. "That means we need to re-imagine everything, every industry and every market."
In 2013, Baidu set up its Institute of Deep Learning to develop AI technology. Zhang Yaqin, Baidu's President, said more than 15 percent of the company's revenue is invested into AI research every year. In 2015, the sum reached $1.5 billion. Baidu also has an initial investment fund of $200 million to attract startups to its AI business and expand its presence in the entire AI industrial chain.
To promote the industry, the National Development and Reform Commission announced a blueprint in May saying a market worth 100 billion yuan ($14.74 billion) will be created by 2018. The focus will be on projects such as intelligent home appliances, smart automobiles, intelligent unmanned systems, intelligent wearable devices and robots. The government will make favorable policies to ensure funding, protect intellectual property rights, attract skilled professionals and promote international cooperation.
"By 2025, most consumer electronic devices will be AI-enabled. They will become robots, in a broad sense, and have capabilities to perceive the environment, interact with people and make decisions," Yu Kai, CEO of Beijing-based AI-chip producer Horizon Robotics, told Xinhua News Agency.
One of the attractions at the three-day Wuzhen conference was Baidu's Baidu Brain. Unveiled by the company in September, Baidu Brain is an innovation that enables a machine to process natural language, recognize voices and identify images. Its practical uses include Baidu's self-driving car, where it provides high-precision electronic mapping, decision-making and control services.
The Baidu self-driving car had been showcased at last year's conference as a concept model. This time, the company brought 15 such cars to the conference, inviting the audience to ride them. Baidu has announced it will mass produce the cars in five years.
Besides, Baidu has a venture capital firm, Baidu Venture, launched in September to back its AI and other next-generation technologies, such as augmented reality and virtual reality.
Pony Ma, Chairman and CEO of Internet service portal Tencent, said AI represents the future of the Internet. Every Internet company must grasp the trend. "The urgent thing we have to do is to improve the relatively poor technology infrastructure to catch up with the global trend," he said.
The security question
After 20 years of development, the Internet has entered every corner of human life and brought an unprecedented opportunity for developments worldwide. However, along with the opportunity, there are also some formidable challenges, such as unbalanced development between regions, a lack of regulations and breaches of cybersecurity.
In October, more than 1,000 websites in the United States, including those of Twitter, Amazon and The Wall Street Journal, were hacked. Investigations showed hackers had attacked and controlled more than 100,000 pieces of smart equipment around the world, which led to a temporary shutdown of many sites.
"The mishap is a warning that people, companies and countries around the world have to unite to face the challenges presented by Internet development," said Zhou Hongyi, Chairman and CEO of Internet security company Qihoo 360 Technology. "Paying no attention to cybersecurity in the Internet era will see not only key infrastructure, but also social management, business activities and urban operations suffer catastrophic consequences."
Zhou emphasized that in case of Internet attacks, no country can hope to be a spectator or survivor. Everyone becomes a victim. "Security in cyberspace will become an important rallying point for building a community of common future in cyberspace," he said.
Zhou disclosed that Qihoo 360 has been invited by the U.S. Government to participate in the investigation into the October attacks. It made Zhou feel a mechanism of cooperation between China and the United States regarding Internet issues is evolving gradually.
Zuo Xiaodong, Vice President of the China Information Security Institute, said cooperation is the only way. "With the development of China's Internet industry, more experts and professionals from abroad are coming to China to seek ideas and cooperation," he said.
At the closing ceremony of the Wuzhen conference, Xu Lin, Minister of the Cyberspace Administration of China, said it is the international society's common responsibility to maintain Internet security.
Common rules
The conference saw the release of a report on Internet development in 2016, which proposed that international Internet rules be formulated on the basis of respecting national sovereignty in cyberspace.
"Only by setting up common rules can Internet security and order be guaranteed, and only by respecting national sovereignty of every country can the Internet develop in a healthy and diverse way," Wu Hequan, an academic with the Chinese Academy of Engineering, said after the report was released.
Li Xiaodong, Director of the China Internet Network Information Center, agreed. "With the rules and regulations, a common aspiration can be forged among the international community to face the challenges brought about by the Internet," Li said.
Aware of the need, China has already expressed its readiness to cooperate with the world Internet community. At the opening ceremony, President Xi Jinping said in a video speech that China is ready to work with the international community to uphold the concept of cyberspace sovereignty and make the global cyberspace governance system fairer and more reasonable. Calling all countries to have independence in managing their own Internet industry and all nations to participate in global information industry governance as equals, Xi said China is ready to work with the rest of the world to "ensure the common well-being of humanity, uphold cyberspace sovereignty and also promote fairer and more equitable global Internet governance."
"The development of the Internet has no national boundaries," Xi added. "To take advantage of, promote and govern it, we must call for closer international cooperation and joint efforts to build a community of common future in cyberspace."
Brainstorming Platform
After three years of evolution, the World Internet Conference (WIC) in Wuzhen, east China's Zhejiang Province, has become a global platform for Internet gurus to brainstorm and for innovators to showcase their cutting-edge products.
This year's WIC, held on November 16-18, was themed "Innovation-Driven Internet Development for the Benefit of All—Building a Community of Common Future in Cyberspace." The event consisted of 16 forums covering topics such as Internet economy, Internet innovation, Internet culture and governance in cyberspace.
The WIC also displayed 15 inventions from China and abroad. They included U.S. automobile company Tesla Motors' automated vehicle and Chinese company Baidu's Baidu Brain artificial intelligence system.
According to data released by the China Internet Network Information Center in July, China has around 710 million Internet users as of June, and its number of mobile Internet users has reached 656 million.
Copyedited by Sudeshna Sarkar
Comments to yinpumin@bjreview.com