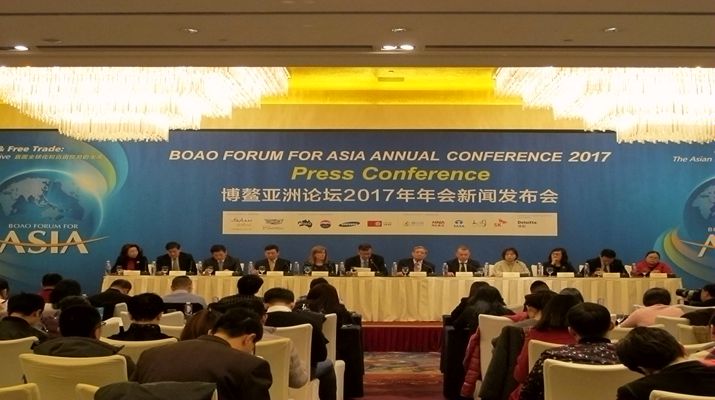 Press Conference of Boao Forum for Asia Annual Conference 2017 (MA XIAOWEN)
The Boao Forum for Asia (BFA) has finalized the agenda for its annual conference in 2017, according to a news briefing held in Beijing on January 9.
The four-day conference, themed "Globalization and Free Trade—Asian Perspectives", is to be held from March 23 to 26 in Boao, south China's Hainan Province, and the official opening ceremony will take place on March 25, declared BFA Secretary General Zhou Wenzhong.
In line with its theme, this year's BFA conference will be divided into four modules—globalization, growth, reform and new economy.
"Globalization is a historic trend and a law of economic development which is beyond the will of human beings. I think the reasons behind criticism of globalization are the unfair distribution of benefit," Zhou exclaimed.
Considering the new situations in Europe and the United States, Zhou believes the challenge for Asian countries is how to face globalization and free trade. As a major dialogue platform for Asia and emerging economies, BFA has found it necessary to put globalization into perspective and champion more inclusive globalization through its annual conference.
Seven heads of state, including China's President Xi Jinping, as well as more than 80 state ministers of foreign affairs, leaders of international organizations and business leaders will attend the conference.
Copyedtied by Chris Surtees
Comments to zhouxiaoyan@bjreview.com