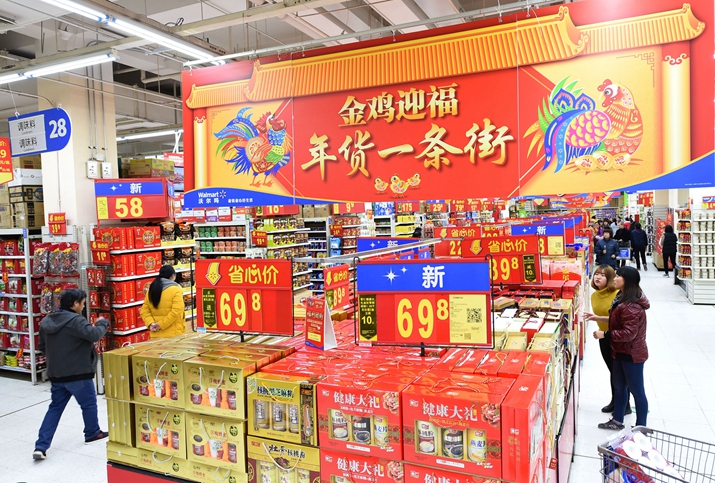 Citizens shop for the Spring Festival at the Walmart Supermarket in Nanjing, capital of east China's Jiangsu Province, on February 16 (XINHUA)
Wang Qiao, a 36-year-old real estate manager in south China's Guangdong Province, spent 25,000 yuan ($3,633)—70 percent of her monthly household income—during the week-long Spring Festival holiday (January 27 to February 2). Most of her expenditure was on travel and lucky money to family and friends, a traditional Chinese holiday custom.
Spring Festival, also known as the Lunar New Year, is celebrated on the first day of the first month of the Chinese lunar calendar. As the country's most significant celebration, it is a time for families to reunite and enjoy festive activities.
This year's Spring Festival has come and gone, leaving behind a spending flurry on travel, dining, shopping, giving out lucky money and movie-going.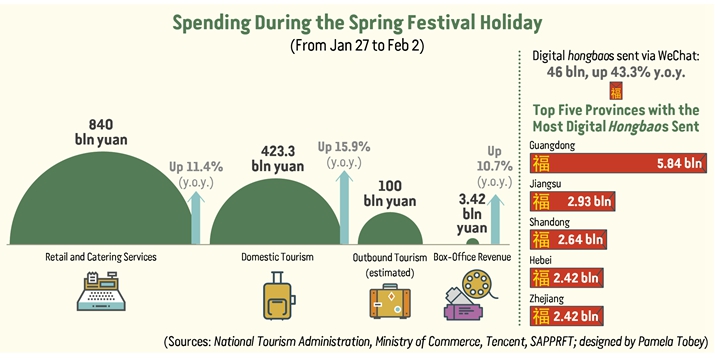 Time to buy
Traveling has become more routine for families during the Chinese New Year. Rather than remaining home-bound like previous generations, some choose to venture off to scenic spots, both at home and abroad. According to the National Tourism Administration (NTA), a total of 344 million domestic tourists—one fourth of China's population—spent 423.3 billion yuan ($61.5 billion) on such trips, a 15.9-percent rise from last year.
With the increase of per-capita disposable income, more and more Chinese have heightened expectations. And traveling is an important source of happiness for many, according to a report by the China Tourism Academy (CTA) and Ctrip.com, a leading online tourism service provider in China.
According to the report, Chinese travelers' favorite domestic destinations during the period are located "poles apart." Most flocked either to tropical resorts down south to escape the cold or embraced the frozen world of the north.
Data from the Yunnan Tourism Development Commission shows that southwest China's Yunnan Province greeted 22.97 million holidaymakers, who spent 13.55 billion yuan ($1.97 billion), a sharp jump of 70.06 percent compared to last year's figures.
Also, most northern provinces witnessed double-digit growth rates in tourism revenue during the period.
Outbound tourism was robust too. According to the NTA, a total of 6.15 million Chinese spent the holiday overseas, a 7-percent increase year on year. The CTA and Ctrip report estimated that consumer spending amounted to 100 billion yuan ($14.53 billion), while Thailand was the most popular destination.
"My family went to Thailand to escape the cold," Wang told Beijing Review. "As of last year, we spent our holiday traveling. And we may keep doing so next year," she said.
"The 2017 Spring Festival has arrived as a global golden week," read the CTA and Ctrip report. "And outbound tourism has been part of the must-do spending list for Chinese consumers."
"As a result, businesses everywhere are now investing and making strategic decisions based on this now stable economic phenomenon," Jeffrey Towson, a professor of investment at Peking University's Guanghua School of Management, told Beijing Review.
Countries including Thailand, Britain and Australia staged Spring Festival-related performances and activities to greet Chinese tourists.
According to the Ministry of Commerce (MOFCOM), Chinese spent 840 billion yuan ($122 billion) on dining and shopping, surging 11.4 percent from last year's festival.
Usually, family members will enjoy a reunion dinner at home on Lunar New Year's Eve. But the tradition has gradually evolved in recent years, with more people tending to eat out for the big night. "We have been dinning out on Spring Festival Eve for five consecutive years," Xu Lin, a senior editor in Beijing, told Beijing Review, adding that it's too tiring to prepare food for a 20-member family.
Also, shopping is a key pillar of consumer spending. Spring festival holiday shopping on clothes, jewelry and household appliances has grown substantially this year. The retailers monitored by MOFCOM in 10 major provinces and municipalities all witnessed a year-on-year growth of over 10 percent. Since this is the Year of the Rooster, golden jewelry with rooster imagery witnessed impressive sales. For instance, during the holiday period, Beijing Caibai Mall, a prominent jewelry marketplace, sold 400 such pieces per day, climbing 8 percent year on year.
Giving out lucky money in red envelopes to family members and friends, also known as hongbao, partly explains the holiday spending upswing. Traditionally, adults with income give hongbaos to their elders and/or kids to bring about good fortune or a bright future for the upcoming year. Friends also exchange digital hongbaos via instant messaging apps like WeChat.
Wu Juan, a financial worker with a private firm in south China's Hainan Province, gave out 6,000 yuan ($872) of hongbaos—more than half of her holiday spending—during the festival. And 46 billion digital hongbaos were sent via Wechat during the festival period, up 43.3 percent year on year, according to the latest report published by Tencent, China's Internet titan and the owner of WeChat. That means each person sent an average of 33 hongbaos, which did not include paper envelopes.
Last but not least, movie-going has become a dominant holiday past-time. "Two of my New Year mornings ended up in cinemas. My family either travels or watches films during Spring Festival," said Wu. According to the State Administration of Press, Film, and Television, China's box-office revenue amounted to 3.42 billion yuan ($498 million) during the holiday period, up 10.7 percent year on year.
Fallouts
The holiday spending flurry, however, was laced with anguish. Problems such as relentless pressure on red hot destinations, substandard services, and questionable movie quality emerged during the spree.
The holiday travel rush "spiked," putting intense strain on popular destinations. For example, Shanghai Disney Resort was overloaded with 580,000 visitors during the week, according to figures released by the Administrative Commission of Shanghai International Tourism and Resort Zone.
"I waited for two hours to experience the Many Adventures of Winnie the Pooh for only two minutes," remarked Zhang Feng, a 35-year-old Beijinger who visited the park on January 30, adding that the lengthy queues frustrated her and she would not visit again in peak seasons. Also, some destinations had insufficient capacity to serve the surge of tourists. Thus, disputes caused by inadequate services were frequently reported.
And questionable movie quality is another reason for consumer complaints. None of the top five New Year blockbusters rated higher than 7 out of 10 on Douban.com, a Chinese book and movie review website.
"This year's movies really sucked. To be frank, watching two of them was a waste of my money," said Wu. "I hope next year's movies will be better. After all, moviegoing is a good way to kill time during the Spring Festival."
Copyedited by Dominic James Madar
Comment to linan@bjreview.com