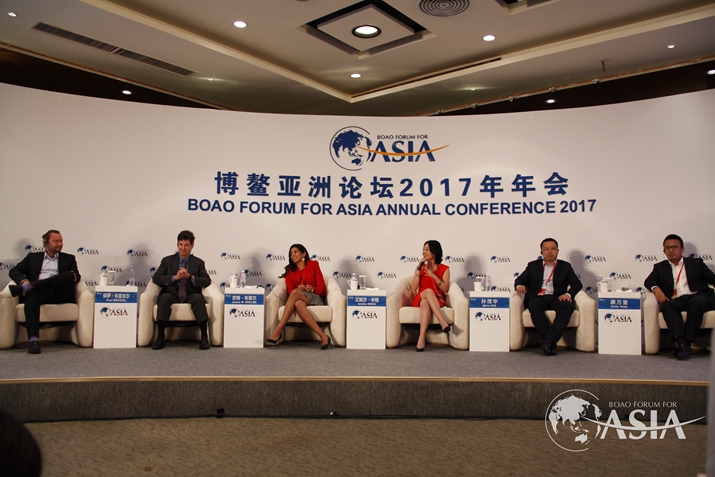 Investors and entrepreneurs share their views on getting investment for startups at the 2017 Boao Forum for Asia Annual Conference in Boao, Hainan Province on March 24 (COURTESY OF THE BFA)
"The overall business environment for startups is being improved in China," Mark Zhang, Founder and CEO of Ele.me, a leading online meal-delivering platform, told Beijing Review at the Boao Forum for Asia Annual Conference 2017 in Boao, south China's Hainan Province on March 24.
With the retreat of capital availability in the second half of 2015 in China, many people predicted that "Internet plus" startups that had gone through several years of rapid development would also suffer from a lack of financing.
But Zhang disagreed with such views. "The capital market is becoming more rational now. Many startups created to meet pseudo-demand in the past were much favored by capital, just because they presented a certain concept. Today such demand has been eliminated, which indicates an improvement in the market," said Zhang.
Maria Sun, COO of C-trip, a leading online tourism-service provider in China, echoed Zhang's view. "Before 2015, we often had to deal with a lack of capital. The situation gradually improved in 2016," said Sun, adding that C-trip is actively seeking opportunities to make investments and incubate new projects with its available resources.
But Zhang also noted that starting a business does not only require financing. "In the early period, startups should not pay too much attention to financing, but should concentrate their efforts on product research and customer service to create value for society," said Zhang.
(Reporting from Boao, Hainan Province)