An employee gathers commodities for delivery at a warehouse of a Chinese cross-border e-commerce company in Moscow, Russia, on November 9, 2016 (XINHUA)
Mushahid Hussain, a Pakistani politician and prolific writer, has visited China more than 40 times since he was a teenager. In recent years, he has perceived amazing changes taking place in his country because of the global development strategy proposed by China—the Silk Road Economic Belt and 21st-Century Maritime Silk Road Initiative, also known as the Belt and Road Initiative, which focuses on cooperation and connectivity among the countries involved.
"A few years ago, Pakistan had a negative image. People outside perceived it as an impoverished and volatile place. But now, the Belt and Road Initiative has injected new confidence into our economy, people and future, with energy and infrastructure projects sprouting," Hussain said. About 60,000 Pakistanis have got jobs in China-funded enterprises.
"The initiative is not just about China, it's about the world," Hussain added. "We benefit from it, we share it, and we participate in it."
Hussain was among the more than 1,500 delegates from over 130 nations at the Belt and Road Forum for International Cooperation in Beijing, convened on May 14 and 15.
According to the Ministry of Commerce, China has signed free trade agreements with Pakistan, Singapore and the Association of Southeast Asian Nations, among many others. Chinese enterprises have set up 56 overseas economic and trade cooperation zones and invested more than $18.5 billion, creating more than $1.1 billion in tax revenue and 180,000 jobs for host countries.
"Chinese products and services, as well as China-built projects, have now become increasingly popular in countries along the Belt and Road, while products, services, technologies and capital from them keep flooding into China. Economic and trade cooperation has infused economies with new vigor and generated new models for globalization," Qian Keming, Vice Minister of Commerce, said.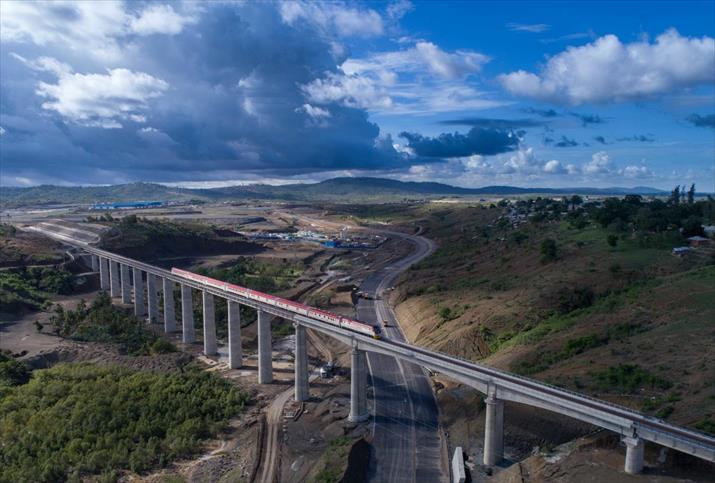 A train runs on the China-funded Mombasa-Nairobi railway in Kenya on May 14 (XINHUA)
Results in the pipeline
In the next five years, China will import commodities worth over $8 trillion, said Zhong Shan, Minister of Commerce. Of this, $2 trillion of commodities will be from countries along the Belt and Road. China's outward direct investment will exceed $750 billion and tourists to other countries will exceed 500 million. In 2018, the China International Import Expo will be launched.
"The decision to host the expo is an important measure China has taken to push economic globalization and support multilateral trade," said Roberto Azevedo, Director General of the World Trade Organization (WTO).
At the forum, China, in collaboration with more than 60 countries and international organizations that attended the event, released a Belt and Road cooperation initiative on trade connectivity, making plain to the international community their shared position to support globalization.
The initiative on trade connectivity is of significance in several ways. It affirms the cooperative principle of pushing forward trade connectivity. "All concerned parties have expressed their consensus on promoting trade connectivity, economic globalization and sustainable development of the global economy," Zhong said.
In addition, it lays out measures to facilitate trade connectivity, develop new business patterns and strengthen service trade cooperation to expand the trade scale. In terms of revitalizing mutual investment, all the involved countries expressed willingness to explore and innovate cooperation modes, intensify investment-driven trade, jointly build economic and trade industrial cooperation zones and carry out international capacity cooperation.
Zhong said it also reflects China's positive attitude toward opening up further.
Confronted with rising anti-globalization sentiment, countries need to strengthen exchange and cooperation, said He Lifeng, Minister of the National Development and Reform Commission.
Besides physical links, trade connectivity along the Belt and Road requires digital connection. "We are also concerned about digital connectivity. The rapid growth of online trade has revealed great business opportunities," Azevedo said.
Aside from digital connectivity, the nub of trade connectivity lies in the education of youth, or human resources. "For most of the countries along the Belt and Road, poor or not so poor, their biggest resources are their people," Hussain said.
Challenges and solutions
For countries along the Belt and Road, the growth of trade and investment in the region in the past two decades has been faster than the global average. However, challenges still remain.
In these countries, enterprises are restrained by insufficient supply of professionals in foreign trade and investment, lack of policy coordination, and absence of supportive policies. The challenges have been compounded by backward infrastructure facilities and low level of trade and investment, according to Zhao Jinping, Director General of the Foreign Economic Relations Research Department of the Development Research Center of the State Council, a think tank for the Chinese Government.
To solve these problems, policy, infrastructure, trade, financial and people-to-people connectivity should be bolstered, Zhao said.
Huang Jiaquan, Malaysia's Second Trade Minister, also pointed out the major problem of tax barriers. Besides that, the coordination of some standards such as food sanitation needs improving, Huang said.
The joint communiqué, issued after the leaders roundtable at the forum on May 15, underlines the commitment to build an open economy, ensure free and inclusive trade and oppose all forms of protectionism. "We endeavor to promote a universal, rule-based, open, nondiscriminatory and equitable multilateral trading system with the WTO at its core," the communiqué stated.
Copyedited by Sudeshna Sarkar
Comments to dengyaqing@bjreview.com