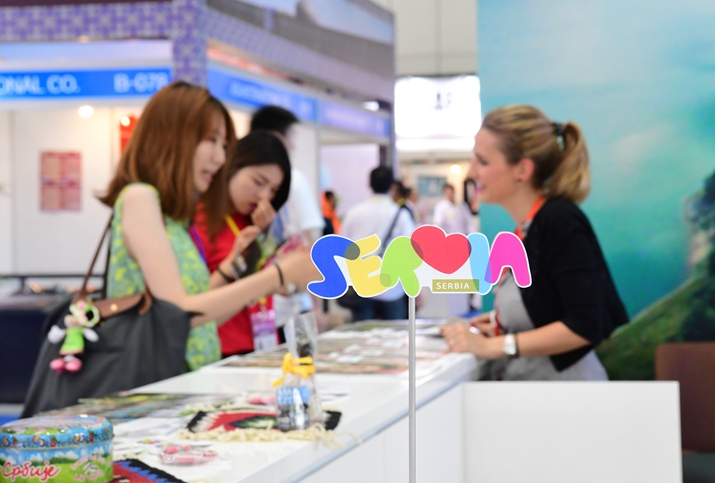 A visitor talks with a staff member at the Serbia Pavilion at the 2017 Silk Road International Exposition in Xi'an, Shaanxi Province, on June 3 (XINHUA)
Sanja Vasiljevic, a Serbian botanist, has recently got a new title—Assistant Director for Science of Institute of Field and Vegetable Crops on the New Silk Roads, a newly founded research institute in Serbia in response to the China-proposed Belt and Road Initiative. Her institution is about to collaborate with China's Northwest Agriculture Forestry University, based in Shaanxi Province, on agricultural science and high-efficiency agriculturein an attempt to harvest opportunities from the initiative.
More and more such programs are cropping up in the northwestern province of Shaanxi, as various organizations reach out for opportunities offered by the Belt and Road Initiative.
At the 2017 Silk Road International Exposition held in Xi'an, capital of Shaanxi Province, provincial government officials explained how they intended to take advantage of the new Silk Road.
The five-day event, lasting from June 3 to 7, consisted of 20 high-level conferences and international forums. According to Zhang Xiaoning, a member of the organizing committee, during the event, Shaanxi introduced a total of 422 projects, covering agriculture, energy and chemical industry, manufacturing, light textiles, food, medicine, and strategic emerging industries. The province signed foreign investment contracts worth $5.72 billion at the expo.
Qian Keming, Vice Minister of Commerce, noted that the Belt and Road Initiative is a long-term project that requires all sides to work together to put the plan into practice.
"The 2017 Silk Road International Exposition is a platform to boost exchanges between participating nations and cities involved in the Belt and Road Initiative and it aims to enhance practical cooperation," he said.
"This Silk Road expo is aimed at carrying out the plans and targets set out at the Belt and Road Forum of International Cooperation, pushing forward exchanges, and establishing platforms and mechanisms for pragmatic cooperation," said Wei Zengjun, Vice Governor of Shaanxi.
Zhao Runmin, head of Shaanxi Provincial Department of Commerce, said Shaanxi has actively participated in the Belt and Road Initiative and made progress in conducting trade and business cooperation with participating nations and regions.
According to Zhao, in 2016, Shaanxi's' trade volume with nations and regions along the Belt and Road was 23.11 billion yuan ($3.41 billion), over 11 percent of the province's GDP. For the first quarter of 2017, the figure was 6.62 billion yuan ($973 million), rising over 10 percent from a year earlier.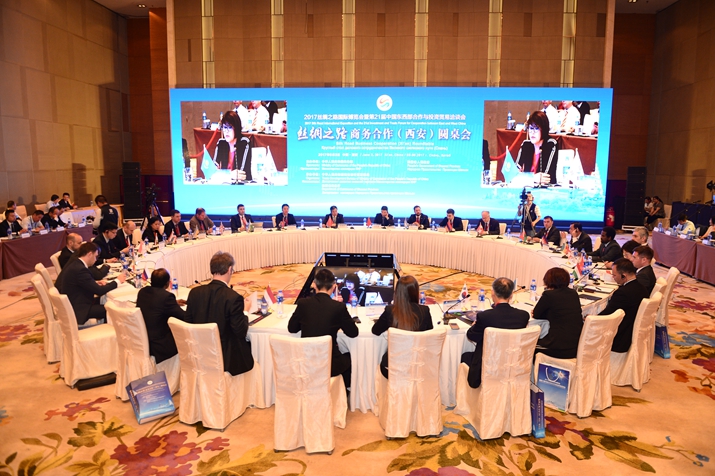 A group picture of Silk Road Business Cooperation (Xi'an) Roundtable,held on June 3 (COURTESY PHOTO)
Looking for new opportunities
This year's Silk Road expo serves as platform for various countries and Chinese provinces that want to boost trade and investment.
Representatives from 27 participating nations of the Belt and Road Initiative such as Russia, German, Australian and Brazil have actively taken part in the event, with many looking for new development opportunities.
Serbia, as the event's Guest Country of Honor, sent a delegation to attract Chinese investment to their country.
Serbia was the first country that China has established a comprehensive strategic partnership with in central and east Europe. Now the eastern European country is striving to further deepen its economic ties with China.
"It is a good chance for Serbia to introduce its traditional culture, tourism resources, and major products to China," said Rasim Ljajic, Serbia's Deputy Prime Minister.
Wang Lu, a director of operations from the China Road and Bridge Corp. (CRBC), told Beijing Review that Chinese companies are undertaking some major transportation and infrastructure projects in Serbia, together with Serbian enterprises, including power plants, roads and railways. The CRBC also participated in the construction of the China-Serbia Industrial Park.
Kragujevac, a city located in central Serbia, resembles Xi'an in many ways. The city has a similar geographic location to Xi'an.
Igor Mitrovic, a member of the Kragujevac council in charge of finance and property, told Beijing Review that Serbia seeks to attract more Chinese investment. As a result, Serbia brought four major business plans to Shaanxi—Food Road, the Valter Film Factory, Dragon Entertainment Park, and Phoenix Industrial Park.
According to Vasiljevic, Food Road is an agricultural products trade route. She said as a global provider of agricultural products, Serbia hopes it can export its honey, beef, lamb, vegetables and rice to more participating nations along the Belt and Road.
"Kragujevac is also a city with a long history and cultural resources," Mitrovic told Beijing Review."We now come to China to find investors to help develop our economy."
More talks with Serbia on cooperation in investment, trade and tourism were held during the Silk Road expo, and both sides reached concrete cooperation projects.
Csongrad, a county in Hungary, also made great achievements during the event.
"We discovered possibilities in the province, shared a lot of information and made good friends, of which we can harvest the fruits in the near future," said Bela Kakas, President of the General Assembly of Csongrad County, at a forum on business cooperation between the county and Shaanxi Province, a sideline of the Silk Road expo, on June 8.
Building mechanisms
During the expo, various forums and seminars focusing on trade and business, green energy, urbanization and education cooperation were held in Xi'an.
In a business roundtable on June 4, representative from 35 international chambers of commerce reached a consensus to strengthen pragmatic cooperation following the principle of achieving shared growth through discussion and collaboration.
It is also worth noting that 300 education administrators gathered in Xi'an and hatched a bunch of Belt and Road educational institutions including The Belt and Road Vocational Education Alliances, International Hang and Tang College, Polish Studies Center and Arabic Culture Studies Center in Xi'an International Studies University, and a training center on laws concerning foreign affairs in the China (Shaanxi) Free Trade Pilot Zone.
The educational cooperation will include exchanges between students and international scholars, and the construction of think tanks.
As a hub of the new Eurasia Land Bridge and the starting point of the ancient Silk Road, Shaanxi Province has rich cultural and educational resource. Its capital city, Xi'an, boasts 49 universities and over 3,000 scientific institutions, making it one of China's top five education and research centers.
Xu Tao, Director-general of the Department for International Cooperation and Exchange of the Ministry of Education, said the ministry will work with Shaanxi to better utilize its regional advantage and encourage language and culture studies related to the Belt and Road.
Copyedited by Bryan Michael Galvan
Comments to zhouxiaoyan@bjreview.com