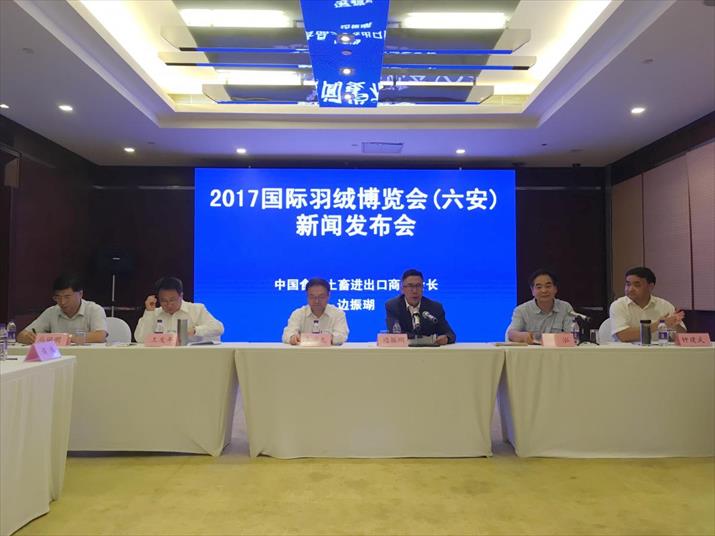 A press conference for the 2017 China International Down Feather Fair Lu'an is held in Beijing on August 28 (LU YAN)
China is the world's largest down and feather raw material producer and the largest exporter of down products. In 2014, the country's duck and goose slaughter capacities exceeded 2.12 billion and 618 million, accounting for 74 percent and 93 percent of the world totals, respectively. In 2016, China's export of down products reached $2.8 billion, according to statistics from the United Nations Food and Agriculture Organization.
Despite the huge exports and output, the industry faces serious challenges. The prices of down and feather raw materials have surged. Taking white goose down as an example, its price has gone up from 185 yuan ($28) per kg in May 2016 to 306 yuan ($47) in August 2017, an increase of 65 percent. Besides, there is a lot of pressure for companies in terms of environmental protection. Because washing the raw materials needs large amounts of water and also produces waste water, some domestic companies have suspended operations for failing to pass inspection from the government's environmental supervision group.
"A slow global economic recovery and trade protectionism also make it even worse for the development of the industry," said Bian Zhenhu, Chairman of the China Chamber of Commerce of Foodstuffs and Native Produce at a press conference for the 2017 China International Down Feather Fair. The fair, aiming at boosting exchanges and cooperation in the down and feather industry home and abroad, will be held in Lu'an, east China's Anhui Province, from September 23 to 25.
"Lu'an is an important city for China's down industry. We hope that through the fair, more Chinese people and international guests can get to know more about us," Shu Xuelong, vice mayor of Lu'an, told Beijing Review.
Lu'an is a famous agricultural city, especially for its poultry production. Currently, the city is raising 110 million fowl, including 15 million ducks and 13 million white geese, whose feathers can be made into 700,000 pieces of duvets.
The city has nearly 1,000 down processing companies, producing 10,000 tons of the products annually with a value of 5 billion yuan ($766 million). It has established a national down and feather products export base. Its products, such as bedding, badminton shuttlecocks and art ware are exported to more than 80 countries and regions including Japan, Germany, Hong Kong, Taiwan and Australia, enjoying global recognition. Its yearly export volume exceeds $200 million.
The fair that contains 300 stands in a 10,000-square-meter exhibition area is organized by the China Chamber of Commerce of Foodstuffs and Native Produce and sponsored by the Department of Commerce of Anhui Province and Lu'an Municipal Government. Representatives and specialists from the United States, Japan, Russia and other countries around the world will attend, as well as purchasing agents and goose and duck breeding companies.
The past five sessions of the fair attracted over 4,000 people in total, including 1,200 foreign businesspeople and investment of 4 billion yuan ($612 million) in total.
"We will work harder based on our previous successful experience," Shu said.
"By organizing summits, promotion meetings and exploration and display activities, we hope that this year's fair can be a practical platform for businesspersons and customers to communicate and cooperate," Shu said.
Copyedited by Chris Surtees
Comments to luyan@bjreview.com