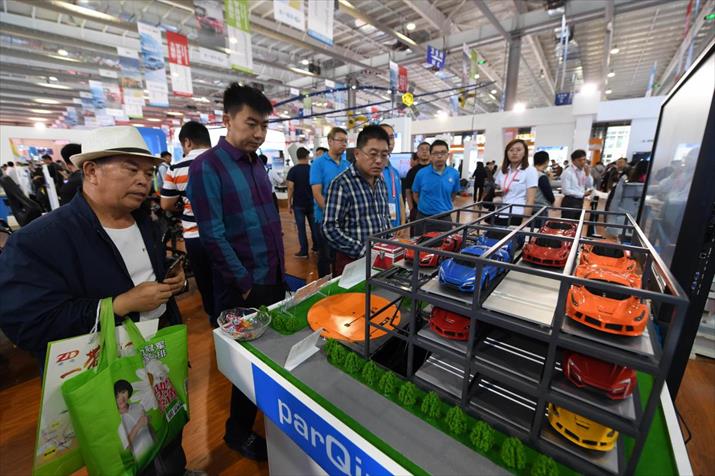 Visitors watch a model of automatic parking lot at the 11th China-Northeast Asia Expo held Changchun, Jilin Province on September 1(XINHUA)
Nikolai Chen is a Russian farmer who raises an unusual livestock—wood frogs, the brown or pink variety that lives in moist woodlands and is used in traditional Chinese medicine (TCM).
The 43-year-old made his way to Changchun, capital of northeast China's Jilin Province, which sits near the boundary with Russia, to explore the 11th China-Northeast Asia Expo and see if he could find any buyers for his frogs.
"We breed wood frogs which are highly sought after by Chinese buyers, as green and natural food becomes a craze with more and more Chinese," Chen told Beijing Review. "China is a market with huge potential."
Ties with Russia
The breeding farms are located in Primorsky Krai in Russia's Far East, near the border with China, where Chen said the natural conditions are pristine without any pollution. "We let the seedlings go to broadleaf forests, swampland or shrubs by the lakeside. The clean environment ensures the quality of our wood frog products," he said.
Chen has visited northeast China several times in recent years to better know the Chinese market and seek business opportunities. The idea came to him after learning that Oviductus Ranae, a TCM derived from wood frogs, is popular for alleviating high blood pressure and cerebral thrombosis.
"China needs high-quality wood frogs," he said. "To get big orders we need to breed more seedlings. The breeding areas will then be expanded to ensure the survival of wood frogs."
In two days during the expo, which was held from September 1 to 5, the farmer got two orders worth nearly 10 million yuan ($1.53 million).
China became Russia's biggest trading partner in 2010. According to figures from the General Administration of Customs, in 2016, trade between China and Russia grew by 2.2 percent over 2015 to reach $69.5 billion. In the first seven months this year, the bilateral trade totaled $46.8 billion, up by 21.8 percent.
Over 230 partnership projects have been set up between local governments in China and Russia, and of the 15 cross-border economic zones in China, four are in cooperation with Russia.
Northeast China contributes handsomely to this trade volume. Chen's farms, located in Russia, show the interdependence of both. The five-day expo is also good way to boost this trade.
"China welcomes enterprises from all over the world to share the development opportunities in the country," Vice Premier Wang Yang said in his keynote speech at the inauguration of the fair. "China has benefited a lot from opening up and will continue to do so."
The government has relaxed market access to foreign investors, improved the administration system and intensified intellectual property rights protection. Contentious issues are being resolved through dialogue and consultation to promote peace and common development in the region.
The vice premier said cooperation between countries in the region is being enhanced through sub-regional cooperation projects. The government has prioritized improving regional interconnectivity, establishing a land-and-water coordinated transportation channel covering the whole of Northeast Asia.
Sergei Otletov, Deputy General Manager of Primorsky Krai Exports and Imports Development Center, had company when he went to the expo. He brought six companies from Vladivostok, the administrative center of Primorsky Krai, whose products ranged from chocolate and other food products to cosmetics. Such products sell well in Heihe, a city in northern Heilongjiang Province, on the border with Russia.
"We hope to have close trade relations with China," Otletov said. "We also hope more Chinese can visit Russia for high-quality products."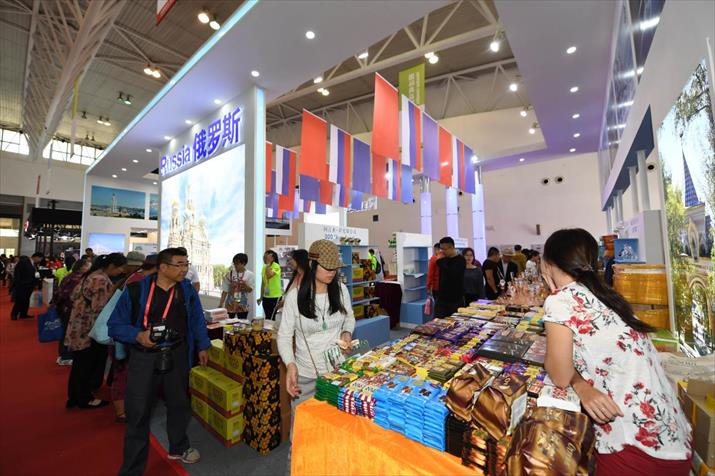 Visitors browse a stand at the 11th China-Northeast Asia Expo(XINHUA)
Belt and Road fraternity
The Belt and Road Initiative is a tool for developing the entire region. "We are willing to work with all other countries in Northeast Asia to accelerate the Belt and Road Initiative and join hands in building a wider community of shared interests," said Bayanqolu, Secretary of Communist Party of China's Jilin Provincial Committee.
Qian Keming, Vice Minister of Commerce, said Northeast Asia is an important part of the Belt and Road Initiative with broad space for development. "Connecting the Belt and Road Initiative with the development strategies of related countries and realizing complementarity among countries in Northeast Asia will greatly boost regional cooperation and improve economic vigor in the region," Qian pointed out.
The government is working with other countries in Northeast Asia to improve policy communication, strengthen financial cooperation and increase mutual investment. Improving infrastructure connectivity is another important agenda.
In 2016, the trade volume between China and the other five countries in Northeast Asia—Japan, South Korea, North Korea, Russia and Mongolia—totaled $605.9 billion, accounting for 16.4 percent of China's total foreign trade volume, according to data from the organization committee of the expo. These five countries' investment in China totaled $7.85 billion that year.
Opening up and cooperation is imperative to revitalize northeast China, Lin Nianxiu, Vice Minister of the National Development and Reform Commission, said at the expo. Lin told the delegates that the government will adhere to the Silk Road spirit featuring peace and cooperation, and support the northeastern region to participate in the Belt and Road Initiative. The focus is on international cooperation in production capacity and equipment manufacturing.
Northeast China, bound by Mongolia, Russia and the Korean Peninsula, is rich in natural resources and is the transportation and logistics hub of northeast Asia.
"Transportation is the most important field in cooperation," said Sergey Gavrilov, Chairman of the Russia-China Parliamentary Friendship Group. "Experts from China and Russia are discussing the feasibility of high-speed freight transport from China to Europe via Russia. With a speed of 300 km per hour, high-speed railway will become the highlight of freight transport, ensuring goods from Asia can be transported to Europe in three to five days."
The Japanese link
Northeast China also has trade ties with many Japanese companies.
"It has a long history of exchanges with Japan. This region has many professionals who can speak Japanese, which is a great advantage for it to conduct cooperation with Japan," said Kosaburo Nishime, Japan's State Minister of Economy, Trade and Industry. "Based on the significance and sustainability of these advantages, a large number of Japanese companies are entering this region."
Nishime said Japanese automakers have established branches in northeast China, Changchun especially, while Japanese companies are selling farm produce from northeast China to Japan and other Asian countries.
The expo was preceded by a China-Japan Forum on Energy and Environmental Protection on August 28. Nishime said over two dozen agreements had been reached between the two countries in the fields of waste water disposal, emission reduction and resource recycling.
Copyedited by Sudeshna Sarkar
Comments to yushujun@bjreview.com