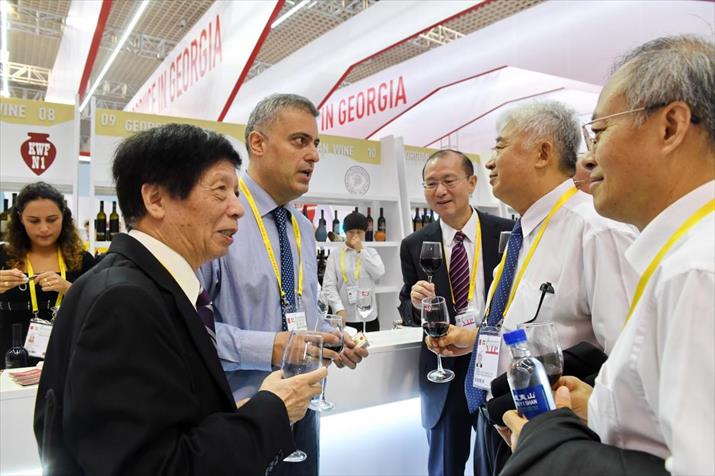 Business people talk at the pavilion of Georgia, the guest country of honor for the 2017 China International Fair for Investment and Trade, in Xiamen, Fujian Province, on September 18 (XINHUA )
Zpdwa Zokalala, a brand marketing manager of South African Richards Bay Industrial Development Zone, had a busy schedule of business meetings during the 2017 China International Fair for Investment and Trade (CIFIT) held in Xiamen, Fujian Province, from September 18 to 21. "South Africa has signed cooperation agreements with many Chinese provinces. China has advantages in technologies and professionals, while South Africa has advantages in bulk commodities. If we can combine these advantages, bringing Chinese technologies and professionals to South Africa and exporting South African commodities to China, both countries will benefit from these opportunities," he told Beijing Review while attending the opening ceremony of the CIFIT on September 18.
As Xiamen was also the host city of the ninth BRICS Summit held earlier in September, inbound and outbound investment of the five BRICS nations—Brazil, Russia, India, China and South Africa—attracted worldwide attention at this year's CIFIT, with a theme on "Focusing on Belt and Road, helping BRICS cooperation and promoting two-way investment." The 2017 International Investment Forum, kicking off on the same day as the CIFIT event, was also themed on "Ushering in the 'golden decade' of BRICS cooperation."
Statistics show that China's outbound investment totaled $183 billion in 2016, while that of Russia, Brazil, India and South Africa reached $27 billion, $12 billion, $4.7 billion and $3.4 billion respectively. In terms of investment volume, China became the world's second largest investor last year and will undoubtedly become a world leader in the future.
"In recent years, the sources for China's outbound investment have changed from natural resources and other primary products to manufacturing and then hi-tech, which is a very encouraging sign," said Zhu Xian, Vice President of the New Development Bank (NDB).
"The other four BRICS countries are all facing their own economic challenges mainly because they are excessively dependent on exports of primary products. Affected by the previous round of financial crisis and economic downturn, they are all experiencing economic recession or slow growth to varying degrees," said Zhu.
The NDB vice president believes many good investment opportunities for Chinese entrepreneurs and investors exist in other BRICS member states, and economic downturn doesn't mean there will be no opportunities. "We should better understand economic conditions in these countries and seize the opportunities during their economic transformation," Zhu said.
Yao Jingyuan, a research fellow with the Counsellors' Office of the State Council, said the world economy is resuming growth after several years of sluggish recovery and this will bring opportunities to BRICS nations.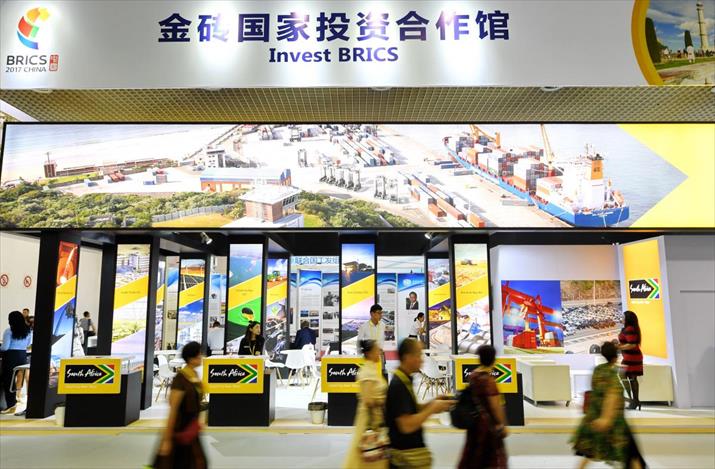 The Invest BRICS pavilion at the 2017 China International Fair for Investment and Trade (XINHUA)
China's strength overseas
Shanghai Zhenhua Heavy Industry Co. Ltd. (ZPMC) is among China's numerous investors in overseas markets. Zhu Lianyu, Chairman of ZPMC, compared Chinese companies' overseas investment to navigation, especially for ZPMC. With its own oceangoing fleet, ZPMC can transport containers to ports all over the world with its own vessels. According to him, every year, ZPMC vessels run a total of more than 2 million sea miles, equivalent to going around the Earth 51 times. Two thirds of ZPMC's international trade is completed by ocean shipping, while two thirds of its ocean shipping is container trade. Moreover, ZPMC also produces loading and unloading equipment for ports, and it's also a world leader in terms of technologies and output of such equipment.
ZPMC is the largest producer of heavy equipment in China and the world. With 26 vessels ranging from 60,000 tons to 100,000 tons, it is able to transport large equipment all over the world. Its products first entered the United States in 1984 and then Germany. So far, its equipment has been sold to 99 countries and regions across the world. ZPMC has ranked among the top in the world for 19 years in succession in terms of port mechanics, and it holds a 70-percent market share.
Just like ZPMC, more and more Chinese companies have expanded their businesses to cover international markets. Zijin Mining Group Co. Ltd. is another one of them.
"After 20 years of development, Zijin Mining has grown from a tiny company to a leader in China's mining industry. Since massive investment in overseas markets began in 2007, we have achieved some success in outbound investment," said Chen Jinghe, Chairman of Zijin Mining. "In previous years, when the whole industry was suffering big losses because of price drops in bulk commodities, Zijin Mining still maintained good performance," he added.
According to Chen, countries in which the company has investments include Russia, Kyrgyzstan, South Africa, Democratic Republic of Congo and Peru. It is very encouraging that these overseas assets are profitable even when market prices are at low levels. "President Xi Jinping's remarks at the BRICS Summit in Xiamen ushered in a 'golden decade' of BRICS cooperation. Zijin Mining will make use of this opportunity to firmly accelerate our international progress," said Chen.
BRICS appeal
ZPMC does business in all the other BRICS countries, according to ZPMC president. Take India as an example. It is one of the fastest growing countries in the world and has the second largest population and numerous ports along its 7,600 kilometers of coastline. The infrastructure in India is poor, and we have found opportunities in the country," explained the ZPMC chairman.
While ZPMC's products were not well accepted when it first entered the Indian market in 2004, the company has gained trust through its good quality products. "I told an Indian client that our products had gained the biggest market share in the world, and we had sold our equipment to Europe, the United States, Japan and South Korea. The Indian side was still not confident in our products," said ZPMC Chairman Zhu. "Then I persuaded them to buy two containers of hoisting devices first. After a year this client decided to purchase complete sets of equipment from us." According to the company chairman, to date, ZPMC's equipment has been sold to all 12 major ports in India, accounting for 60 percent of the market share in the country. He believes that the company's market share in India will continue to rise.
In 2014, ZPMC set up a subsidiary in India. Among the 32 employees, only three are Chinese. "To continue our business in a country, we must manage or serve this country with local resources. We train ordinary workers into skilled personnel suitable for the local market, and our senior management team also includes Indians," Zhu Lianyu said.
Chen of Zijing Mining is also proud of the overseas investment his company has made.
In 2006, Zijin Mining acquired a 70-percent share of a mine in an underdeveloped region of Russia's Tuva Republic. Overcoming various difficulties caused by cold weather, poor local infrastructure and lack of experience on the Russian side, the project finally achieved success. "This year, the project will bring 600-700 million yuan ($91-106 million) of cash flow and 400 million yuan ($61 million) of net profit to us. The project has also made huge contributions to the local economy. It has become Tuva's biggest tax payer and provided more than 1,000 jobs to locals," said Chen.
Outside the oil and gas industry, the mine in Tuva is now the biggest investment project by a Chinese company in Russia, and it has been acknowledged by the Tuva government for making outstanding economic and social contributions.
"In terms of investment volume and demand for funds, India and South Africa still have a long way to go to become destinations for massive outbound investment. This is both our opportunity and our responsibility. If China can make big enough investments in the other four BRICS nations, the foundation will be very solid for the economic ties between BRICS countries and the [bloc's] new 'golden decade,'" said Zhu Xian, expressing full confidence in the next 10 years of BRICS cooperation. n
Copyedited by Chris Surtees
Comments to yushujun@bjreview.com